Giant Escape Disc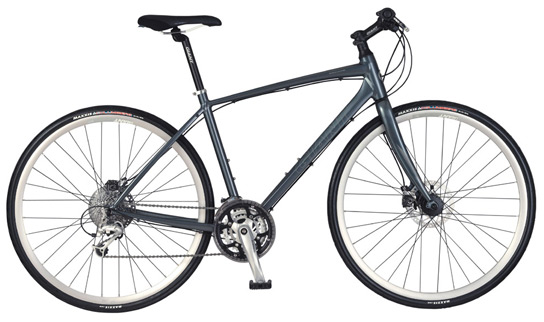 It's a bit of a weird name for a bike. I've just bought (ordered) one from a local bike shop. The Giant Escape Disc is a 'tackle anything' hybrid bicycle built on a lightweight AluxX SL Aluminium frame, with Shimano transmission and disc brakes, and mine will be fitted with a short-travel suspension fork for cycling off-road. Total weight is about 25lbs.
I'd been thinking of a hardtail mountain bike but this should suit me better as I want it for forest trails and bridleways, not cycling on rocky mountain tracks. I also wanted a bicycle suitable for roads, with mudguards on in winter. The Giant Escape Disc can take tyres up to 700x40c, but not with mudguards fitted, so I'll put smaller ones on then. Chainrings: 48/36/26 (the same as my Ridgeback), cassette: 11-28 (a slightly higher bottom gear).
It took me two days last March to clean my steel framed tourer properly. This new bike's aluminium frame will be less of a worry in terms of rust and its silver colour means chips in the paint won't be as obvious. Other plusses are minimal decals – almost non-existent – and cable powered (mechanical) disk brakes, not hydraulic. The bike is being supplied by MK Cycles in Bolton, and they're happy to swap components for different ones if required – such as saddle, pedals, tyres, stem, etc.
Components:
Shifters: Shimano Deore 27 speed
Front derailleur: Shimano Alivio (I changed to Deore)
Rear derailleur: Shimano LX
Brakes: Shimano BRM 416 mechanical discs with 160mm rotors
Brake levers: Shimano M421
Cassette: SRAM PG950 11-28
Chain: Shimano HG73
Crankset: Shimano M431 26/36/48
Bottom bracket: Shimano UN26
Rims: Giant CR40 Lite
Hubs: Shimano M475
Spokes: black stainless steel
Tyres: Maxxis Columbiere 700 x 32mm
I think I made a good choice. My touring bike can now be saved for loaded tours instead of wasting it on day-rides and getting salt on it in winter. I've enjoyed cycling off-road for over 25 years but haven't done as much since my old ATB became unsuitable a couple of years ago. I should have the Giant within a few days and will then post a photo of the actual bike. More info about the Escape Disc on Giant's website.