Are Folding Bike Locks Any Good? (The Pros and Cons)
Folding bike locks are a great alternative to any other bike locks in the market today. They have more lock options than a chain lock, more portable than a U-lock (or D-lock), and stronger than cable locks. However, you should note that folding bike locks aren't as secure as U-locks. But this shouldn't mean you avoid them, as folding locks provide excellent benefits that are worthy of their price.
In this guide, we'll delve into the practicality, portability, and functionality of folding bike locks. You'll also get to know how they work, along with their advantages and disadvantages. Finally, we've put together the top and recommended folding bike locks at the end of this article.
How Do Folding Bike Locks Work?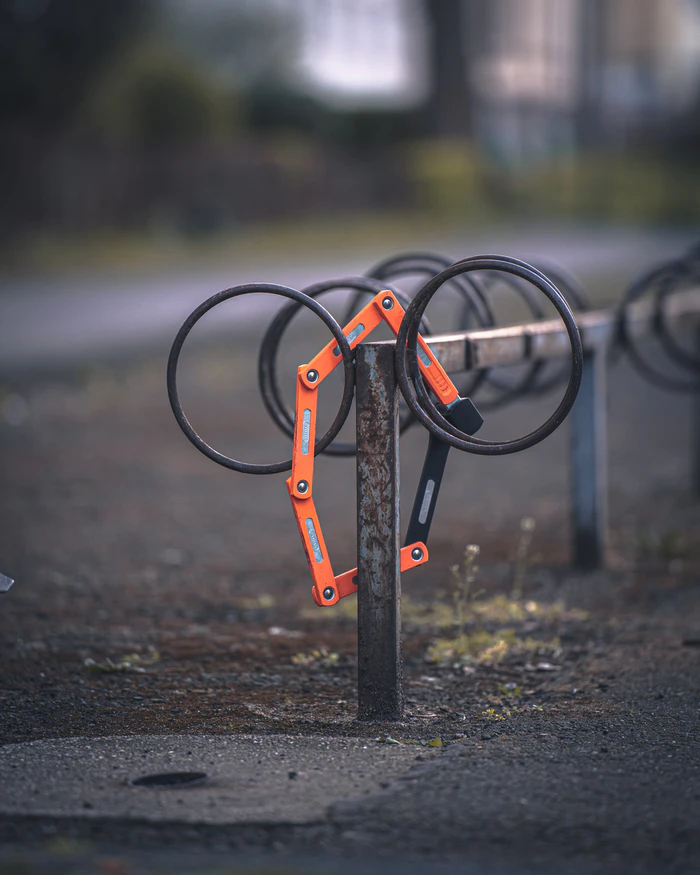 Folding bike locks are an excellent choice to keep your bike safe and secure with its functions and purposes. Moreover, these locks are designed with connected steel plates that use rivets to rotate the metals. These rivets provide the flexibility you need to form the lock into different shapes, often giving more room to secure wheels as well.
In fact, this type of bicycle lock is an answered prayer to cyclists' recurring problems with traditional U-locks, cables, and chain locks. Unlike U-locks, folding bike locks have adjustable metals that let you adjust and shape your locking options. This means that they are more flexible in terms of securing your frame regardless of the object you're locking your bike into. To put it simply, folding bike locks can be used in places that U-locks can't cater to.
Folding locks are also a reasonable substitute for cables and chain locks. Although cables and chain locks provide the same flexibility as folding locks, they aren't as secure as the latter because they're easier to break by thieves.
How Thick Should a Folding Bike Lock Be?
To ensure your bike's safety with a folding lock, you may need to have at least 4 mm. (0.17 in.) thickness. This standard provides impressive security to any bikes locked on any object.
Take note that folding locks are somewhat a newcomer to the bike lock market, so there aren't as many choices to choose from.
How Do You Use a Folding Bike Lock?
Folding bike locks are gaining popularity, thanks to their flexibility and versatility. The rivets components let you change the shape and size of the locking area, making it easier and more convenient to lock the bike's frame into various objects.
Nonetheless, the moving parts of a folding lock require great maintenance to keep it functioning correctly.
Pros of Folding Bike Locks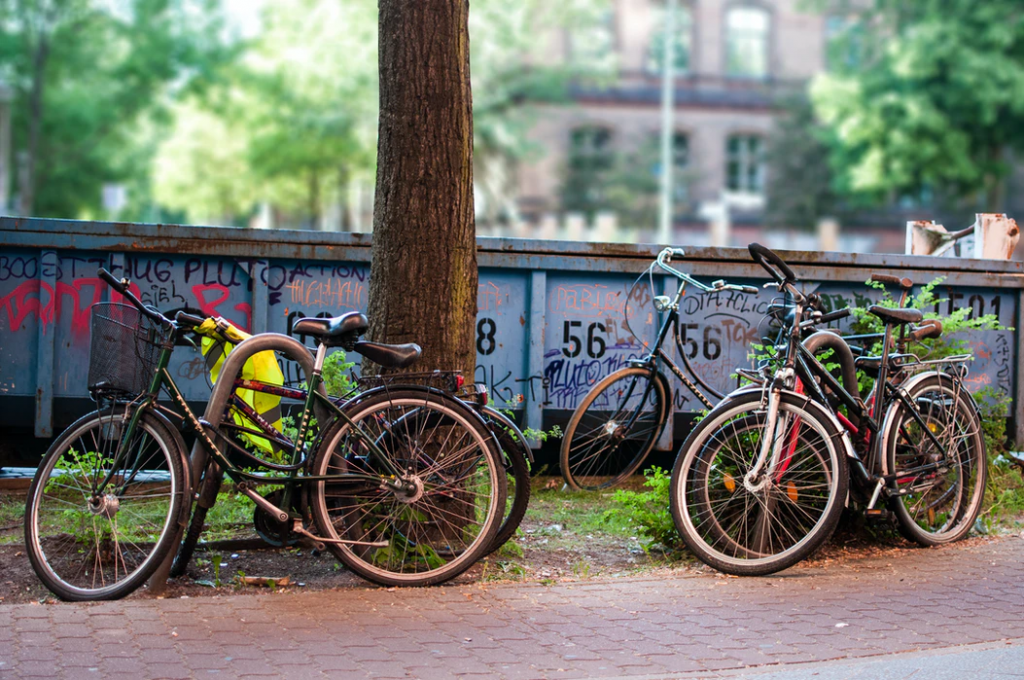 Bike theft is a real problem, especially in a big city. Good thing, such types of bike locks exist. Folding bike locks provide several advantages that other types of bike locks can't offer, like:
1. They are functional.
Folding bike locks are a great addition to your bike's accessories, especially when leaving it unattended for hours and so. They are solidly built with the purpose of keeping your bikes safe and fixed to objects.
2. They are more secure than cables and chain locks.
Cables and chain locks aren't as secure as folding locks because thieves could still break them easily. Folding bike locks provide more protection against bike theft since they can't simply be picked up, hammered, or carried away (extra peace of mind, yay!).
3. They take little space.
Another reason why folding locks are worthy of purchase is their compactness. As mentioned earlier, they are effortless to carry around. 
Some recognized brands accommodate this feature by allowing you to mount the folding lock onto your bike's frame. Folding bike locks are self-contained in most cases, which means you won't have trouble knocking other objects inside your bag.
4. They are more portable to carry anywhere.
With the little space folding locks take, you can easily carry them anytime, anywhere. They are always accessible whenever you need to lock your bike at a distance. 
Besides, it would only take you less than a minute to lock-unlock your bike (provided that you've already used this type of bike lock before).
5. They can complement your bike's aesthetics.
Finally, folding bike locks usually come in a black synthetic coating that looks best in any colored bicycle. Fortunately, they also have variations of colors if you aren't a fan of blacks. Security and beauty combined in a bike lock!
Cons of Folding Bike Locks
Folding locks aren't new to drawbacks. Some of these concerns include:
1. They take some time for you to get used to it.
Folding locks' operation isn't as straightforward as U-locks and cable locks. In fact, they're a lot trickier to wrap around different posts or objects where you want to fix your bike in place. There are also instances when folding locks are fiddly to manipulate. Thus, it takes some time to get used to the locking-unlocking process.
2. They need regular care and maintenance.
The rivets, pivots, and metal links are more vulnerable to grease and dirt build-up. What is more, thieves see these joints as a particular weakness of any folding lock. This means you need to regularly clean the folding lock to maintain its sturdiness and durability.
3. They might be too expensive (for some).
Trusted brands in the lock security field are known for their excellent rating and function but come with a cost.
4. They have limited options.
Folding bike locks are a newcomer on the scene, which implies that there are not that many manufacturers jumping into this trend. So far, there is a limited selection of folding bike locks available in the market as of this writing.
How Do You Know How Secure a Folding Lock Is?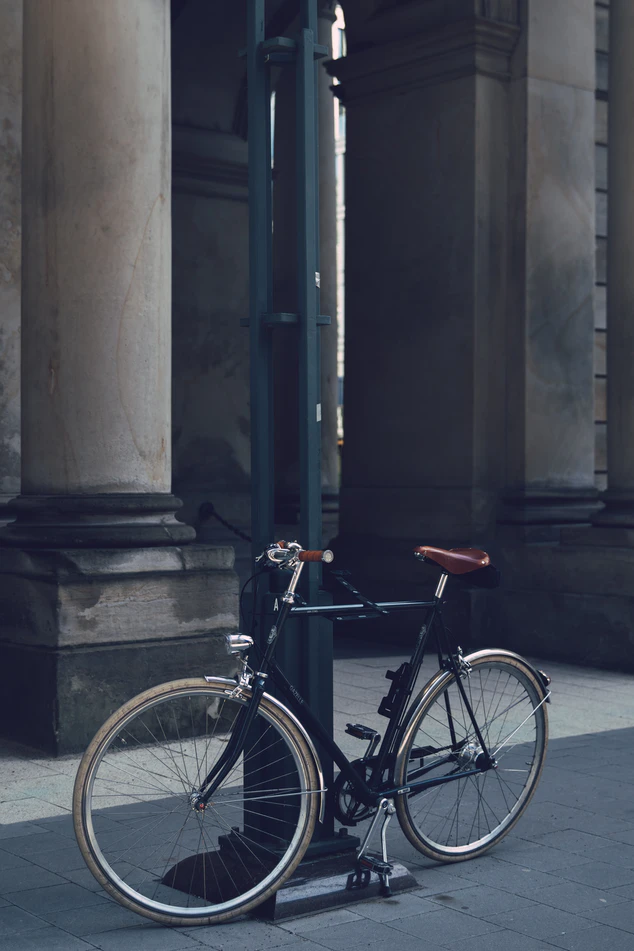 You can check a folding lock's security level by checking its Sold Secure rating.
Folding bike locks are designed for a purpose —that is, to keep your bike safe from thieves. In other words, knowing the security level of a folding lock is the first step you need to protect your bicycle against stealing.
Bear in mind that there are several factors that identify whether your bike gets easily stolen or not. The place you are in and the hours you leave your bike unattended is crucial when determining the "risk" level, which then determines your Sold Secure rating bike lock.
But wait, who or what is Sold Secure?
Sold Secure is an independent organization that checks, analyzes, and verifies the bike lock's security level. They provide ratings to bike locks and categorize the security level into four classifications: Diamond, Gold, Silver, and Bronze, from highest to lowest level of security, respectively. 
They determine the security level by implementing standardized tools and processes, which are actually used by real bike thieves in the street. As such, Sold Secure includes brutal force and tools to ensure the lock's durability and reliability in protecting the bike.
Top 5 Best Folding Bike Locks of 2021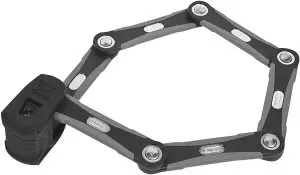 Sold Secure rating: Gold
Material: Stainless steel
Thickness: 5 mm.
Sold Secure awarded the ABUS Bordo Granit XPlus 6500 with a Gold rating that provides maximum security your bike needs when left unattended. ABUS Bordo Granit XPlus 6500 currently has the top security rating (15/15). Thus, it's safe to mention that it is the most robust folding bike lock for "high-risk" situations.
ABUS company boasts their Granit XPlus mode's superb level of security and versatile folding technology. In fact, it can easily outperform medium-security U-locks for its folding mechanisms. Not to mention the outstanding 5-mm thickness level of its steel bars that can't be broken down easily. It comes with two keys; one has an integrated LED light to help you locate the lock barrel in the dark.
Yet, convenience and great features don't usually go along very well. With the excellent security components that ABUS Bordo Granit XPlus has, expect more weight (approximately 3.48 lbs.). Nevertheless, this shouldn't worry you about portability. ABUS folding lock collapses down neatly and compactly. You won't even feel any rattles on your bike once the lock is mounted on the frame!
Sold Secure rating: Silver
Material: Hardened steel and glass fibers cover
Thickness: 5 mm.
You won't need to worry about SeatyLoclk's FoldyLock Compact's security features at all. Solid Secure rated this folding bike lock as Silver. You'll be impressed with its quality build. While it features excellent security features, FoldyLock Compact only weighs 2.2 lbs. Thus, the most lightweight folding bike lock today.
The model's series of metals encompass a 5-mm thickness, which is the same as ABUS Bordo Granit XPlus that can resist any attack form. Besides, the UV-protected plastic finish of this model makes a nicer profile when attached to the bike.
As for portability and convenience, FoldyLock Compact delivers. It's easy to attach to the bike's frame (you can even mount it into the water bottle mount). You won't discern any clangs with its light feature while riding your bike with the FoldyLock Compact mounted on the frame.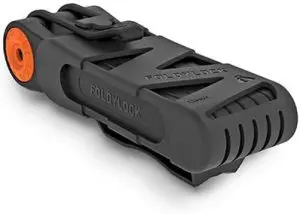 Sold Secure rating: Silver
Material: Alloy steel
Thickness: not mentioned
Another Silver-rated Sold Secure in this list is the Pedego Foldable Lock that comes with a carry case. What you'll love about this folding lock is its construction that is very solid and sturdy, keeping scratches away from your bike's frame once mounted. It features an anti-theft design, wherein steel links are hardened enough to stand against sawing and cutting.
In addition, the alloy steel used is rustproof. So, little maintenance is needed to prolong its life. Pedego folding lock comes with three keys. It can go up to 37.4 inches long, which means plenty of room to shape the frame.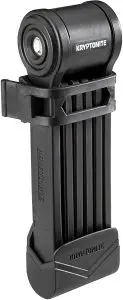 Sold Secure rating: Bronze
Material: Hardened Steel links
Thickness: 3 mm.
Kryptonite is among the biggest brands in the lock security world. The Kryptonite Keeper 585 received a Bronze rate from the Sold Secure, meaning it gives you a medium-security folding lock for your bike. It has the same length and comparable protection as the FoldyLock Compact but has thinner steel series with a 3-mm. thickness.
Yet, this shouldn't stop you from purchasing one. Customers get an optional Anti-Theft Protection Offer, paying them a particular value if the Kryptonite Keeper 585 is defeated by a thief. As for the keys, you'll get the first two keys for free (if you lose the original) when you register them on their Key Safe Program.
Besides, this folding lock is relatively easy to transport —it isn't heavy nor light. You'll love how easy this Kryptonite Keeper 585 can be mounted-unmounted on the bike's frame.

Sold Secure rating: Bronze
Material: Alloy steel, silicone
Thickness: 5 mm.
Another ABUS-manufactured folding bike lock on the list is the Bordo 6000, offering 5 mm. thickness that is slightly less than the ABUS Bordo 6500. Yet, this model gained a Bronze rate from the Sold Secure for its lock and security properties that any other brands couldn't offer.
Compared to ABUS Granit XPlus, Bordo 6000 has a score of 9/15, perfectly sitting at the mid-level security. As for its portability and convenience, Bordo 6000 is effortless to carry. It comes with a mount that can fit on your bike's frame.
The natural beauty of this Bordo 6000 comes with its fully-coated steel bars that don't create a "scratch" into the bike's frame. Additionally, it is much longer but cheaper than well-known ABUS-manufactured locks in the market. Perfect folding lock if you are in a low-risk area.
Is There an Unbreakable Folding Bike Lock?
"Unbreakable" folding locks don't exist since bike thieves always come up with multiple ways to break them with ease. 
Thus, opting for reliable and more potent folding locks is the best purchase decision you can make. But keep in mind that the stronger it gets, the pricier it becomes.