Best Gravel Bike Stems Today
A stem might only seem like a reasonably tedious, slightly significant part of a bike attached between the fork steerer and handlebars. But in the grand scheme of things, this bike part plays an essential role in its geometry, affecting the handles and your riding comfort.
In fact, there are various considerations to weigh in if you're planning to change or upgrade your stem. It includes checking on the length and angle, the material of the stem, and if it would suit your bicycle. In this article, learn about the fun and complex world of gravel bike stems and explore the best stems available today for your gravel riding.
What is a Bike Stem?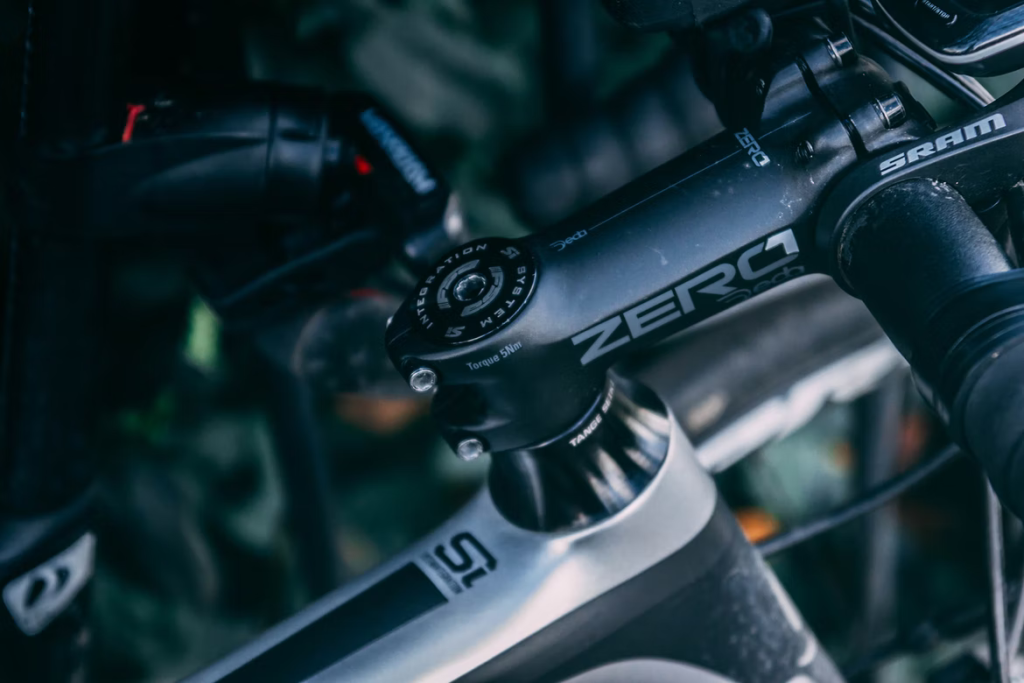 In its simplest form, a stem's purpose is to connect a bike's handlebar and the fork steerer tube to the rest of your bike frame. The stem has a hole with pinch bolts to clip the item to the steerer tube from one side, located nearest to the rider's seat. Then, the stem clutches the steerer tube in place.
On the other side, a familiar faceplate is connected with four bolts, with two apiece at the top and bottom, which serves as a casing of the handlebar. Furthermore, the most common materials used between the stem faceplate and steerer tube include aluminum, carbon fiber, and titanium.
While the essential function of a bike stem has already been explained, similar to many bike parts, there are still some complications and exceptions that may arise in the process.
Geometric Features of a Bike Stem
1. Length
A stem's length is perhaps among the key factors when considering changing or upgrading your bike's stock option. For a gravel bike, the usual location of the stem would sit somewhere between 80mm to 120mm as the frame size expands. Moreover, the stem length, similar to other bike parts like head tube angle and fork rake, also significantly affects your bike's handling.
Typically, a smaller stem would mean faster handling, while the bigger it is, would result in much slower and predictable handling. In return, fine-tuning your bike stem may be necessary to tweak your bike's handles. However, as you do this, remember that your stem does not solely exist, so changing the stem length would also directly impact your bike's positioning.
With that, you may want to change your stem length to the point that it would balance the reach from the saddle to the handlebar. Hence, a shorter stem means reduced reach and more impact on your upright position, which may be beneficial if you have stretching concerns. On the other hand, if you're cramping up faster, opting for a slightly longer stem will help elevate the reach.
2. Rise
A rise pertains to the stem's angle corresponding to the fork's steerer tube, ranging from 6 to 20 degrees. Nowadays, most items are standard on bikes located at the scale's lower end.
Most stems equipped on the off-the-shelf bicycles carry an average number of rise. Still, stems containing an excessive number of rise gives the alternative to adjust your handlebar's position. Since stems are engineered to be flippable, you could put the stem down in angle to get a lower and more aerodynamic position depending on the amount of rise it could carry. Moreover, you could also place the handlebar in a more upright stance.
However, note that handlebar length is also adjustable with adding or moving spacers under the steerer tube on the stem.
3. Diameter
You have two options for diameter to get right when selecting a stem. The first is from the steerer tube and the second from your handlebars. Either of the two comprises a variety of standards. In addition, the steerer-tube diameter is usually quoted in inches. At the same time, the bar is measured in millimeters, which some riders may find confusing.
The standard diameter for steerer tubes is around 1-⅛ inches, while some bikes carry a 1-¼ inches steerer diameter. Handlebars offer a variety of diameter ranges, meaning the stem's faceplate needs to fit as well.
Nowadays, road and gravel bike bars are typically measured at 31.8 mm in diameter at the center, while older bars are usually 25.4 mm.  
Top and Best Gravel Bike Stems Available Today
1. Zipp Service Course B2 Stem – Best Overall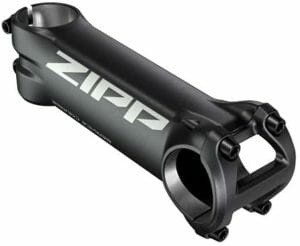 With the vast growth of stealthy black components on fixies and road bikes, this B2 Stem from Zipp took a traditional approach with a touch of modernity with their new silver finish optimized to hit the watts of style. And while the aesthetically pleasing silver finish on the service course is a sure hit to our eyes, Zipp doesn't come up short with the innovation of its structural design and fit options with the consultation of the peloton's top riders.
Manufactured with topnotch weight stiffness and an all-new faceplate that's very easy to install, the B2 stem is out for a renewed style with the same quality for gravel riders.
Furthermore, this Zipp item provides all the needed specifications you'd want in a stem— power, precision, reliability, precise fit, versatility, and sleek appearance, which complements the aesthetics of contemporary frames.
Pros
Outstanding finish and aesthetics
Excellent craftsmanship
Very functional with a confident and solid feel
Cons
Needs Torx tool for a better installation
2. REDSHIFT ShockStop – Best for Rough Gravel Ride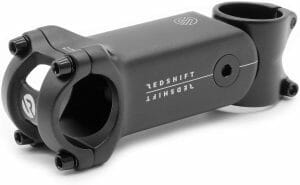 This patented ShockStop bike stem model from Redshift should be on your bucket list to smooth out road imperfections and lessen fatigue and strain. Whether you're with your group on the ride or going solo on your gravel travel, the ShockStop stem aims to provide you with a smooth, fast, and pleasant ride.
Moreover, the simple yet elegant design of this ShockStop model goes along with the aesthetic of modern gravel bikes. It also blends seamlessly into your suspension seat post system for smooth-riding off the terrain to make it even faster and more comfortable for you.
Performance-wise, it is undeniable that this bike stem has been an absolute revelation as it could make an instant difference to your cozy off-road and gravel trip.
Pros
Most effective on rough gravel and broken roads
High-level shock absorption
Reduces fatigue and strain
Simple yet elegant appearance
3. GANOPPER 25 degrees 31.8 bicycle stem – Most Comfortable
This multifaceted bike stem from Ganopper suits various bikes from gravel, road, fixed gear, mountain, downhill, and tracks. It stands at 40 mm with a length of 90 mm at the center distance of the two holes.
Furthermore, it has a rise of 25 degrees suited for a 31.8 bicycle handlebar clamp diameter and a 28.6 mm steerer tube, a very helpful and convenient build to raise or lower the height of your handlebars.
The Ganopper 25 degrees bicycle stem is engineered with high-strength 6061 T6 aluminum alloy, known for its lightweight and durability. If you're looking for a very affordable and high-quality upgrade to your gravel bike, this stem would surely be something you should consider.
Pros
It helps reduce neck and shoulder pain
It helps raise the handlebar
Proven comfortable ride
Cons
It fails to hold up at times
Putting any weight on the bars may cause unnecessary movement
4. FOMTOR 31.8 – Most Dynamic for Durability and Comfort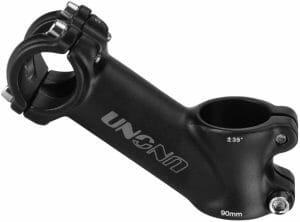 This 35-degree bike stem from FOMTOR features unique prowess and durability that allows gravel riders to adjust their handlebars to their preference. In addition, the 35-degree specification provides improved flexibility over the bar's position and its ceiling. If you're engaged with aggressive and competitive riding, this bike stem will suit you as it gives a stable and reliable foundation fit for an enhanced bike performance.
Made from 6061 aluminum alloy, this stem from FOMTOR is absurdly sturdy and alleviates muscle strain as you pedal. It also helps raise or lower the handlebar's height and is a suitable replacement for an adjustable stem.
It's also a perfect fit for its comfortability, incredibly light, and durable weight. The easy installation is also a plus, especially if you're keen on time management on and off the road.
Pros
Helps to raise or lower handlebars' height
Perfect for older riders with back issues
Suitable replacement for an adjustable stem
Provides a very comfortable ride
High strength with aluminum alloy 6061 T6 CNC
Cons
Not stable enough for continued use
It causes creaks and pops at times during rides
5. WHISKY – Bicycle axle No.7 – Most Versatile Bike Stem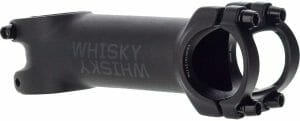 This versatile stem from Whisky gives gravel riders a polished, classic appearance that goes at par with most cockpit items. The No.7 gravel stems offer a solid connection for modern bikes with a 4-Bolt faceplate design for convenient installation.
Besides, they effortlessly blend with the aesthetics of other cockpit materials from Whisky, with their bead-blasted, chromatic finish. Every stem manufactured by Whisky is also 3D-forged to provide the needed strength for gravel rides.
Since stems play a massive part in achieving a comfortable and satisfactory ride, this Whisky-manufactured item would surely provide all you need with its lightweight aluminum with a +/- 6° rise. Engineered to fit with 31.8 mm handlebar clamps, this stem would be ideal for your outdoor exploration.
Pros
Precise handling and clearance
Flat mount brake provides clean caliper fitment
Compatible with post mount brakes with adaptors
Easy to install
Lightweight and superb quality
Excellent hold on handlebars
Cons
A few complained of being not well-machined
6. Ritchey WCS C220 84D Aluminum Alloy – For High-Quality Performance and Appearance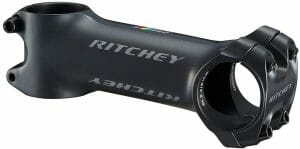 If you're looking for an extreme riding performance with a top-notch design, the WCS C220 84D from Ritchey would be excellent. This bike stem is quick and easy to install and remove because of its press-fit handlebar clamp interface and front-facing hardware. This Ritchey bike stem model also provides 6 degrees of positive or negative rise.
The clamp design enables a lightweight faceplate and stem body without compromising your bike's strength and stiffness. The clamp is also aligned with bolt forces, making the stem body capable of embracing the handlebar and less prone to damage.
Besides, it contains 2014 aluminum that allows further weight reduction and an excellent performance from CrMo steel bolts.
Pros
Lightweight, excellent quality, and finish
Quick and easy to install
Secured interface on handlebars
Less likely to damage the light bars
Sleek and modern look
Cons
Reported error in measurements
Too expensive
7. BUCKLOS 6/17 degree – Improved Handlebar Control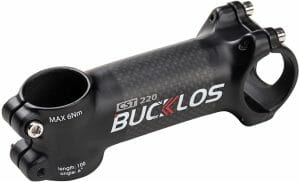 The Bucklos 6/17 degree bike stem is made of carbon fiber, providing a delicate, lightweight, and flexible option to your handlebars. It is most suitable for bikes with a 28.6 mm front fork and 31.8 mm handlebar that would make a perfect road bike, gravel bike, fixed gear bike, and mountain bike.
Moreover, it is easy to install, so you won't spend too much time assembling and attaching the item to your bike frame. Its bolt rod clamps could also fix the rod in place firmly. It has various stem selections, from 6 degrees to 17 degrees, weighing about 130 to 160 grams.
Pros
Solid and heavy-duty performance
Superb handlebar control
Cons
The front Allen hole may break off
8. RXL SL Mountain bike stem – For Convenient Usage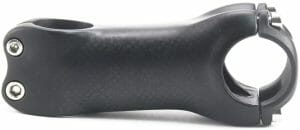 For steady, convenient, and lightweight riding, this bike stem from RXL SL provides all the essential things you need for your ride. The stem is made of 3K carbon fiber and aluminum alloy with lightweight and higher strength dynamics.
This RXL SL bike stem model is engineered for versatility that can carry out bikes from the mountain, BMX, hiking, road, racing, fiber, and mainly gravel.
It is easy to install, so it won't eat up a lot of your time in assembling and attaching it to your bike frame. Furthermore, it has a four-bolt clamp that holds the bar in a secured position.
Pros
Manufactured for versatile use
Easy to install
The arm holds firm and looks great
Cons
Some riders reported factory a defect