Best Gravel Bikes Under $2500: Ranked and Reviewed
Purchasing a satisfactory gravel bike requires a ton of cash. The elements and materials containing these high-end two-wheelers are immensely engineered with excellent quality. Hence, it's crucial to choose a gravel bike that would make every worth of your penny count.
As the industry vastly evolves, gravel riders could seize on some premium gravel bikes as it starts to trickle down to entry-level pricing. Here are some of the excellent gravel bikes under $2500.
1. Specialized Diverge Comp E5 – Best Overall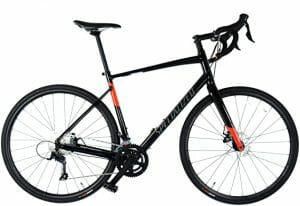 The Specialized Diverge Comp E5 is perfect for gravel racers that prefer a fast-paced ride with comfort. Designed with an alloy-framed gravel bike that resembles the form of an endurance road bike, its 72.5 head angle and short wheelbase are essential for an adventure on asphalt ground.
It has a Future Shock damping system that excels with 20mm of travel, taking the edge off on off-road chatter. However, it doesn't come with a lock-out feature, which riders should note, especially for those engaged in road riding.
Additionally, its alloy frame and full carbon FACT fork enable you to have a secure and cozy experience on the road. In essence, this new Diverge is simply the fastest, most capable – and perhaps the most fun alloy bike you could carry on your gravel escapade.
Pros
Versatile, comfortable, and smooth use, even with bigger tires

Topnotch quality frame and fork

Very smooth handling

Convenient for long day rides on ultralight bikepacking adventures
Cons
It has wider tires than the standard bikes

Not designed to carry heavy loads
2. Trek Checkpoint ALR 5 – Most Improved Gravel Performance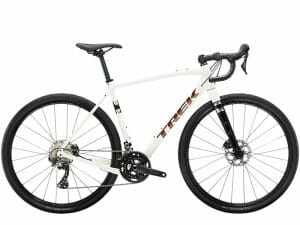 If you're looking for a gravel bike with a decent value for a high component level ride, this 2021 model of Trek Checkpoint ALR 5 will definitely suit you. The bike is built with a reasonably high trail standing at around 61, giving the rider stability and comfort. It also has a 425 mm-long chainstay which is relatively short for an average gravel bike to provide a quick and snappy rear control.
The Checkpoint ALR comes with the Shimano GRX RX600 with lower gears for an uphill ride or through rough gravel and Shimano 105 HG700-11, 11-34 cassette. The bike has a sturdy aluminum frame, a vibration-resistant carbon fork, hydraulic disc brakes, and wide 700x40c gravel tires to give gravel riders the needed grip and stability.
Additionally, the great reviews of this product have been a solid testament to its quality, durability, and versatility.
Pros
Exceptional frameset with excellent specifications and performance

Suited for single speed riders due to its adjustable rear dropouts

Best companion for all kinds of weather conditions

Top-notch aluminum frame makes the bike lightweight
Cons
Relatively smaller tires

It would look even better if replaced with bigger tires

Runs a little bit slower than usual
3. Giant Revolt Advanced 2 – Most Versatile on Gravel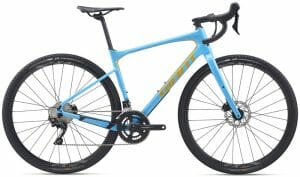 Unveiled in 2018, the Giant Revolt Advanced 2 boasts a smooth dynamic for gravel racer agility to go with multifaceted durability and comfort. While it is mainly designed for racing, it could also provide many features highlighted by its effortless riding on mounts for racks and mudguards.
Engineered with gravel-riding geometry around a lightweight advanced composite frameset, it enables gravel riders to endure long, challenging rides with superb control and less exhaustion. It contains a solid Shimano 105 with an integrated frame for disc brakes and clearance for bigger tires up to 45C. It gives a floating effect against rough stuff for light bikepacking.
Throw in some of its brilliant frame details, notably the X-Defender downtube projector and innovative mount system for the accessories and racks; it is easily one of the best bikes for your gravel expedition.
Pros
Fares significantly better for a ride up hills among other gravel bikes

Perfect for speedy gravel racers due to its dynamic stiffness and comfort

Gravel riders that are used to an endurance road bike would feel at ease riding this bike

More pronounced tread for tires that leads to a tremendous off-road performance

Adaptable luggage options
Cons
The overall bike weight is relatively heavy

Handles are slightly vague through corners
4. All-City Gorilla Monsoon Apex – Best for All-around Riding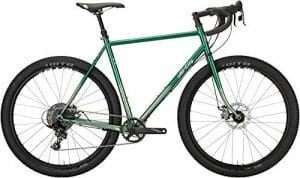 The All-City Gorilla Monsoon APEX comes with mechanical disc brakes and a dropper post set in motion from a compact bar located underneath the left brake hood. This 2022 model highlights a "Charred Berry" color scheme and is designed to handle heavier loads with its 612 Select steel frame from their cyclocross lineup.
It contains a stealth dropper post routing, mounts for racks and fenders, and a 73 mm threaded bottom bracket. Furthermore, it also comes with a 27.5 x 2.4" platform with clearance for 700 x 42mm tires.
This model provides excellent versatility compared to other gravel bikes available on the market. Whether you prefer a rugged commute or touring the road, this bike's large tire clearances and bolts for guards and racks will not disappoint you from having fun in your outdoor travel.
Pros
Clearance for huge 2.4" tires due to 73 mm bottom bracket shell

Fast-paced performance considering its relatively massive tires

Great deal of mounts, which includes three for bottles and a mid-blade fork mount

Provides versatility on rides
Cons
Frame and wheels are too heavy

Saddle may cause uncomfortable riding at times

Potential fork upgrade is limited due to the non-tapered headtube
5. Cervelo R2 105 5800 – Most Exceptional Balance and Control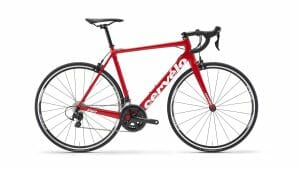 With Cervelo R2, you'll never have to worry again about hammering out of the saddle. This model elevates every rider's confidence to a whole new level as attributed to the pro-level performance it provides. It has a stable handling control that goes well with a versatile premium fit that enables you to unlock new heights in your riding performance.
The bike's fit also enhances geometry, as emphasized by a base standover height and extra toe room. Then there's the 28 mm tire clearance that offers much better stability and performance-boosting support.
Furthermore, Cervelo R2's Shimano wheels, alloy cockpit, seat post section, and a comfort race saddle make this bike stand out on outdoor rides.
Pros
Exceptional balanced ride with effortless handling

Full Shimano 105 groupset allows a slick, dependable shifting and superb disc brakes

Integrated cabling with superior frame design and quality
Cons
Heavyweight tires hinder the bike's climbing capability

Wheelset can be costly
6. Impulso Allroad GRX 600 – High-Level Performing Aluminum Gravel Bike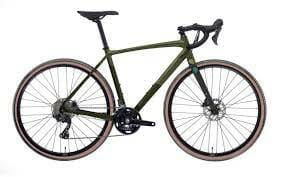 This excellent bike from Bianchi comes with various authentic parts from Shimano. It is powered by their Triple Hydroformed Technology at the top tube and headtube for a high strength and steering response. It best suits gravel riders looking for a lightweight and efficient pedaling mechanism.
Apart from it, the bike's tubes have been welded together from the initial hydroforming before undergoing the same procedure for its molding and reshaping formula. Making the frame dynamic is a full carbon fork to balance the bike's weight and stiffness. The brake is powered by a pair of GRX 400 hydraulic disc brakes for an all-weather stopping ability.
If you are on for a meaningful ride full of fun in the saddle and tackle, this Bianchi model will surely comfort your needs.
Pros
Convenient for a ride up hills

Friendly aluminum frame especially for gravel ride starters

Smaller gears which could be helpful in going up for local dirt climbs

Geometry provides comfortable and upright stance for a more confident ride against rough terrain
Cons
Too heavy at 22.43 lbs

Not the best bike for riding or sprinting downhill
7. Jamis Renegade S2 – Best for Adventure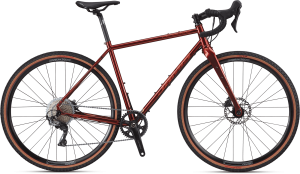 For a high-end steel model that goes along with exclusive features that include mounts for rack and fender, multiple bottle mounts, top tube bosses, and triple pack for the fork legs, Jamis Renegade S2 is an absolute material. It is designed with Stans Crest wheels, a Shimano GRX 1×11 drivetrain, and a 40 tooth chainring GRX 1x crankset.
The smallest pair of frame sizes contains 650 b wheels, while five of its larger sizes come with 700 c on top of WTB Raddler 700 x 40 mm tires. It has an outstanding top tube boss engineered for a better gravel riding experience.
The Renegade S2's frame is designed from Reynold's renowned 631 Air-Hardened steel tubing, which makes a big difference in ride value from seamed Chromoly and anything aluminum.
Pros
Lightweight frames for an improved balance and control

Superb handles for a confident riding

User-friendly bike for both beginners and regular riders

Excellent chassis with good value in the rough
Cons
Heavy tires that tend to slow down the on-road performance

Experts have suggested a light upgrade in rolling stock
8. Surly Midnight Special – Best Long-term Value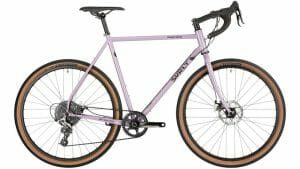 If you're looking for a high-performance bike that could go through gravel, roads, and daily commutes, Surly Midnight Special is the one you need. It comes with plump 650 b wheels and tires and the potential to run a 700 c setup.
Adding a fresh dimension to the bike's superb feature is its capability to carry three water bottles. If you're looking for mounts on racks and fenders, this Surly model indeed provides it for you for a better ride on rainy days and multi-day expeditions.
Furthermore, it is a heavy-duty steel bike with a stock gear setup, which best suits cyclists that go up and down the city.
Pros
It contains attachment points that secure the water bottle cage and frame bag during rides

Rack and fender mounts allow riders to stay dry outdoors and carry panniers

Proven stability even with a loaded gear

Nimble riding position for better control

Excellent long-term value
Cons
Massive weight at 26 lbs

Riders with hand complications may consider opting for an alternative handlebar
9. Kona Rove NRB DL – Most Reliable Shifting Mechanism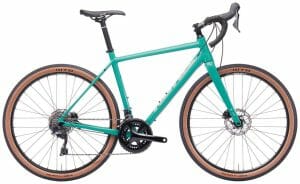 Kona Rove's NRB DL is manufactured with 650 b wheels that are fatter and complements 'road-plus' tires. The bike is designed for a contemporary riding experience on the road. It is a nod to its speedy performance that can withstand long hours on various surfaces. It has thru-axles, hydraulic disc brakes, clearance for chunky tires, and modern component choices, which is a plus for fun and control across multiple surfaces.
The bike presents a butted aluminum frame coupled with a full carbon fork. Its drivetrain combines Shimano Ultegra and 105 to give gravel riders superb function and quality at a very manageable price.
In terms of the appearance, its sand-colored paint, along with gum wall tires, is an aesthetic stunner. NRB DL's speedy and effortless control can easily keep pace with faster group rides.
Pros
Ultra-reliable shifting

The stopping power allows riders to be confident in rides

Excellent tires with minimal flats for a smoother outdoor adventure

Secured attachments for the rack and fender mounts
Cons
Below par brake performance

Tires are too heavy
10. Scott Speedster 10 – Best Performing Grip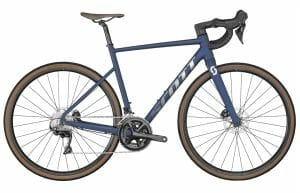 Maximizing your gravel ride while having fun at an attainable cost is what everyone would desire. With that, Scott Speedster 10 delivers fun and performative experience that totally lives up to its price tag.
Taking a cue from its carbon fiber sibling, the Scott Addict, this all-new Speedster model shares a similar geometry and technology feature as proven in its spectacular value in cycling. It embodies a strong yet lightweight alloy frame and a carbon fork for rattle absorption, enhancing the rider's endurance.
Designed with a Shimano 105 2×11 drivetrain, hydraulic disc brakes, and reliable Syncros Race 24 tires, this gravel bike model will give your ride the needed agility and balance that's absolutely cost-efficient.
Pros
Neat appearance and satisfactory ride feel

Internal function of mech cables and brake hoses

Comfortable hoods and offer excellent grip, which allows a better shifting performance

Hydraulic disc brakes help alleviate hand complications
Cons
Relatively shorter frame and isn't optimally fast for an uphill ride

Experts observed the need to install some shock absorber