Top 8 Cheap Women's Folding Bikes
Over the past few years, many commuters have shifted from regular bikes to foldable ones for daily commuting. It has become a more practical choice and growing trend riders actively pursue. 
Hence, bike manufacturers have produced more and various options of folding bikes since there has been a rise in demand. Bicycles designed to fold into a compact size and be transported to different locations are known as folding bikes. 
Because of their utility, they are simple to carry on public transit, unlike regular bikes that are not allowed to enter subways and train stations. Moreover, this article delves into the best affordable folding bikes for women today.
Best and Affordable Folding Bikes for Women
While these bikes have their purposes and benefits, it is challenging to determine which brands and features would provide the most security and comfort, especially for commuters who rely on other modes of public transportation.
Worry not, as we will provide all the answers and recommendations for you. Here are the best and most cheap women's foldable bikes offered in the market today.
1. ZiZZO Campo 20-inch Folding Bike with 7-Speed, Adjustable Stem, Light Weight Aluminum Frame – Best Overall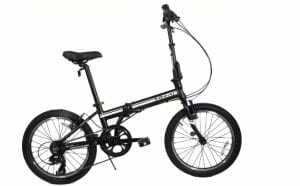 ZiZZO Campo is among the most convenient folding bicycles, giving you an overall purpose due to its versatility. It can be used on a level road, uphill, or downhill with similar ease. This model is composed of Shimano parts to provide a degree of performance complementing its price.
Its folding dimensions are 27″ x 31″ x 12.5″, weighing 29 lbs recommended for ages 16-75, with a 20″ frame and Wanda 202.0 off-road tires.
Pros
It comes folded, tuned, and aligned, so you don't have to worry about the gears. Overall, it's a simple setup.

Despite being strong, it is lightweight (aluminum frame)

Standard rack mounting components that are durable.

Seat and handlebar heights are easily adjustable.

Has a magnet Catcher to keep the folded frame together.
Cons
A few layers must be removed to confirm that everything is in working order.

The first few times you try to widen the fork, it can be difficult.

Campo does not have a handlebar that can be adjusted, unlike Ferro
2. ZiZZO Ferro 20-inch 29 lbs Light Weight Folding Bike – Best Quality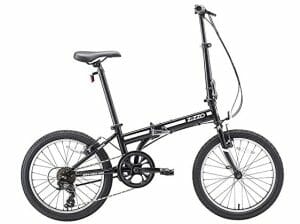 This EuroMino ZiZZO folding bike is well-liked for its lightweight and cost-effective aluminum frame, making it ideal for commuting and leisure riding. You can ride smoothly without the feeling of steepness; the brakes are on target so that you can come to a safe and gentle stop. This is most likely one of the most comfortable folding bicycles available. 
Its folded size is H-27″ L-31″ W-14″ with a 20-inch wheel size, accommodating the max load weight of 240 lbs. The frame specifications include high tension steel, fork, and steer tube. In addition, brake levers are made of alloy and plastic bodies. Note that the pedals are non-folding.
Pros
Made of aluminum frame for a lightweight, in seconds folding time, and is easy to carry

Consists of genuine Shimano parts, including a grip style shifter and 7 speeds

Built with folding pedals and a single fold stem

There is no need to take hands off the handlebars since the grip shifter is mounted on the right side

Its 4-point folding system enables it to be folded down to the smallest size
Cons
Cannot withstand through rocky and rugged terrains (mountain bike-style riding)
3. Costway Goplus 20 In. 7-Speed Folding Bicycle Bike for Adult Lightweight Iron Frame Dual V-Brakes – Most Compact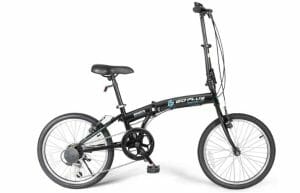 The folding design of the Costway Goplus 20″ Folding Bicycle is ideal for storing in a compact place. The bike is made of an iron frame that is lightweight and robust and holds a solid load-bearing capacity. Seat and handlebar heights can be adjusted for a more comfortable ride. The twin brakes are sufficiently flexible to provide a more decisive braking action. 
Furthermore, the ergonomic anti-slip grip alleviates the strain that comes with extended rides, and safety can be ensured by using flexible twin brakes.
Pros
With no discomfort from lengthy riding, you can effortlessly modify the pace as desired.

Possesses a high load-bearing capacity

Riders can carry this folding bike and store it with ease

Tires are non-slip and puncture-resistant

Suitable for mountainous or rough terrains

Consists of a few simple installation steps
Cons
When compared to other folding bikes, it is heavier.

Some of the bike's components are of poor quality and can fall in a short period.

It can't handle a lot of gravel or muddy roads and passageways 
4. Columba 26" Folding Bike – Best for Long-Distance Rides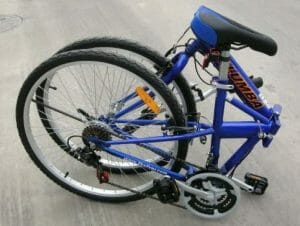 Columba 26" foldie is the best option for long-distance cycling due to its larger wheel size. Its powertrain is robust and solid, allowing it to handle both paved and slightly rocky terrains. It is composed of an alloy front and rear V-brake, weighing 40 lbs with 20-inch steel. It features rigid suspensions at an 18-speed shifter and derailleur.
Pros
Traction and brake systems are reliable

Precision gear transitions and a long-lasting drivetrain

Without using any tools, the handlebars may be readily removed.

Easy to maneuver and folds up into a small space
Cons
The folding hinge requires periodic lubrication to make folding more smooth

Heavier than standard folding bikes
5. Eurobike 26 Inch Mountain Bike Folding Bicycle – Best Traction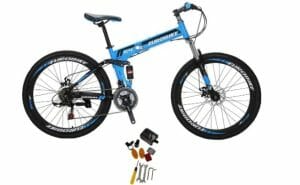 Eurobike 26" folding bike features a full-suspension frame to make your ride more convenient while ensuring an austere material to store and transport everywhere. It has Shimano 21-speed Shifters, including a TZ-30 front derailleur, a TZ-50 rear derailleur, and an EF-500 3 x 7-speed shifter located on the handlebar for easier use, making it ideal for beginners. More importantly, it is more affordable than folding bikes with similar performance.
Pros
Composed of a 21-speed shifting mechanism 

The twin-disc brake system enhances braking effectiveness while increasing safety.

Features are wide, multi-tooth tires that provide good traction and shock absorbers 

. The folding procedure takes only a few seconds, and the folded product takes very little space.
Cons
You need to assemble some parts (front wheel, pedals, handlebar, seat, and air up the tires)
6. IDS Home unYOUsual U Transformer 20″ Folding City – Best for Commuting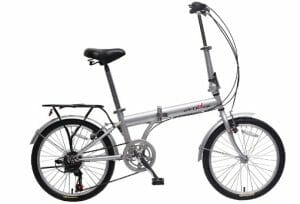 IDS Home unYOUsual U Transformer is suitable for commuting bikes in urban areas. It can be folded and stored quickly once you arrive at your destination. This 20-inch folding bicycle is simple to put together and use, and it's built for commuting and exercise.
The folding bike's dimensions are 33.45 x 25.5 x 13.5 inches (85 x 64.8 x 34.3 cm) with a wheel size of 20 inches (50.8 cm), weighing 0.09 lbs (0.04 kg). It is made with aluminum material suitable for adult use. Please press the saddle down until it is stable when folding the bicycle. 
Pros
With its aluminum alloy frameset, it is for a light bike.

Convenient to use and assemble

Easy acceleration using PP pedals with ball and reflector

It has firm suspension, making it suitable for even paved roads

Front handle stem is easily detachable
Cons
When folding entirely, there is a need to create a seat post out of the seat tube as a stand to keep the crank safe
7. Schwinn Hinge Folding Bike – Best for Urban Commuters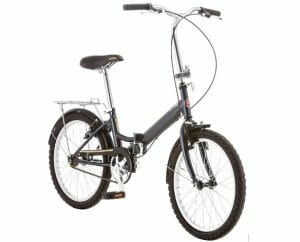 The Schwinn Hinge folding bike is made to accommodate a variety of riders. Commuting is effortless with the 1-speed drivetrain, which allows you to slow down when you need a break. This compact single-speed folding bike is especially suitable for commuters who want to skip the traffic and ride to work.
Schwinn Hinge's folded dimensions are  28″ x 26″ x 13″ with 20-inch wheel size, weighing a total of 33 lbs. It has a sealed bottom bracket system and an alloy linear pull for brakes. The package comes with extra accessories, including CPSC reflectors, rear rack, kickstand, fenders, and carrying bag.
Pros
Comes with full-wrap accessories to maintain your folding bike long-term
Convenient folding system and a sturdy steel frame

Best works for paved road riding, but also used for leisure and travel purposes

Comes with front and rear fenders as well as a rear cargo rack, making it possible to ride the bike in all conditions
Cons
Can be bulky and heavy to carry

Some straps are required to secure the two wheels and the stem
8. Outroad 26 Inch Folding Mountain Bike – Best for Newbies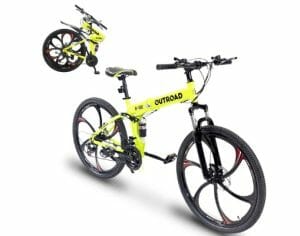 If you prefer a folding bike with more robust and dependable quality while on rough terrains and busy roads, then the Outroad 26-inch mountain bike is one of the most excellent  bang-for-your-buck options. 
It is a 21-speed full suspension MTB Foldable Bicycle with twin disc brakes and non-slip material. This bike is ideal for someone who wants to conveniently get started in mountain biking.
Pros
You will be given all of the tools to complete the assembly.

The set includes free pedals and a comfortable seat.

Seat height, brakes, and transmission are all adjustable.

Allows you to swiftly switch between gears using your fingertips.

For fast stops, there are front and rear disc brakes.
Cons
You'll need to put the pedals on and put the front tire on.

Not quite as light as some other more advanced materials