Huffy Bike vs. Schwinn Cruiser Bike: What's the Difference?
The most ideal cruiser bike in the market is the one comfortable to ride and can excel on smooth surfaces. 
Schwinn and Huffy have been two of America's most sought-after cruiser bike manufacturers. Both companies offer an extensive selection of bikes on the market. Their models have always kept at par with each other. Thus, comparing the two companies became a staple among people due to their esteemed reputations.
As the bike industry grew over the last few decades, some brands have failed to adapt to the innovative trajectory. Fortunately, these two vaunted brands have always found a way to be competitive in the market as Schwinn and Huffy continue to provide novel features in their cruiser bicycles.
Similarities of Huffy and Schwinn Cruiser Bikes
Schwinn and Huffy have a rich, long history. Both brands' production of quality cruiser bikes that enchants bikers worldwide speaks volumes about their lengthy track record throughout the decades. Ideally, cruiser bikes have had to align with the modern setup, especially when you consider that the evolution within the bike industry continues to advance.
As the biking preferences changed and grew into unprecedented orbits, both Schwinn and Huffy made efforts to keep up with the drastic turnarounds brought about by people's needs. Both companies responded by manufacturing bikes for distinct purposes and experiences, including road bikes, mountain bikes, and especially cruiser bikes.
Bicycles engineered specifically for cruising put a premium on a lot of comforts. Both cruiser bikes by Schwinn and Huffy boast an ergonomic saddle that comes with padding for added comfort. This saddle contains springs attached to the seat post for better shock absorption during rides. It will ensure that you won't feel the sting in rides as you go through gnarly surfaces. 
Their cruiser bikes are also less stressful to shop for, as both bicycles prioritize comfort and fashion over function. 
Huffy aims to manufacture trendy bikes and comfortable cruiser bikes for people of all ages and genders. They also offer a wide array of styles and colors while featuring a basket fixed to the front of the bike. It is also easy to ride and maneuver, so young children and teenagers would quickly love them. Huffy cruiser bikes thrive in leisure riding with a style that you can ride with your family or solo. That's not even the best part, as the Huffy cruiser bike comes in at a reasonable and affordable price.
On the other hand, Schwinn closely goes hand in hand with its counterpart's features. However, they produce significantly lower cruiser bikes than Huffy. Nevertheless, Schwinn's cruiser bikes are also very high in quality. Some even contain added features that you won't find in Huffy. Some of its cruiser bikes even come in a tricycle or electric with extra storage to carry your snacks and beverages.
Differences between Huffy and Schwinn Cruiser Bikes
There are a lot of factors to weigh when you're choosing which cruiser bike is the better choice. The discussion arises when you consider a bike's tendency and ability to give comfort, variety (sizes, colors, etc.), safety, and security.
Considering these, Huffy bikes sport adjustable components that enable you to turn your bike into a customized position, helping you minimize your back and shoulder stress. Huffy's cruiser bike models also vary in colors that fit well with various outdoor activities. They have a solid brake system and sturdy handlebars for better control and a safe stopping distance.
On the flip side, Schwinn marvels at high-quality parts that make them stand out from the rest of its competitors. Schwinn cruiser bikes perform exceptionally on the road from their frame, suspension, wheels, tires, and forks.
Generally, Schwinn has always been a great choice to cop a superb quality bike. While both brands are arguably two of the most popular in the bike industry, Schwinn's superiority over Huffy in terms of quality was never questioned. 
Overall, if you want a comfortable cruiser bike to ride and feel smooth and firm for a safe, enjoyable experience, you should go for Schwinn. However, suppose you wish for a cruiser bike that provides comfort and stability and adjusts better to your needs at an affordable price. In that case, you'll enjoy riding a bicycle from Huffy.
What Makes a Huffy Bike?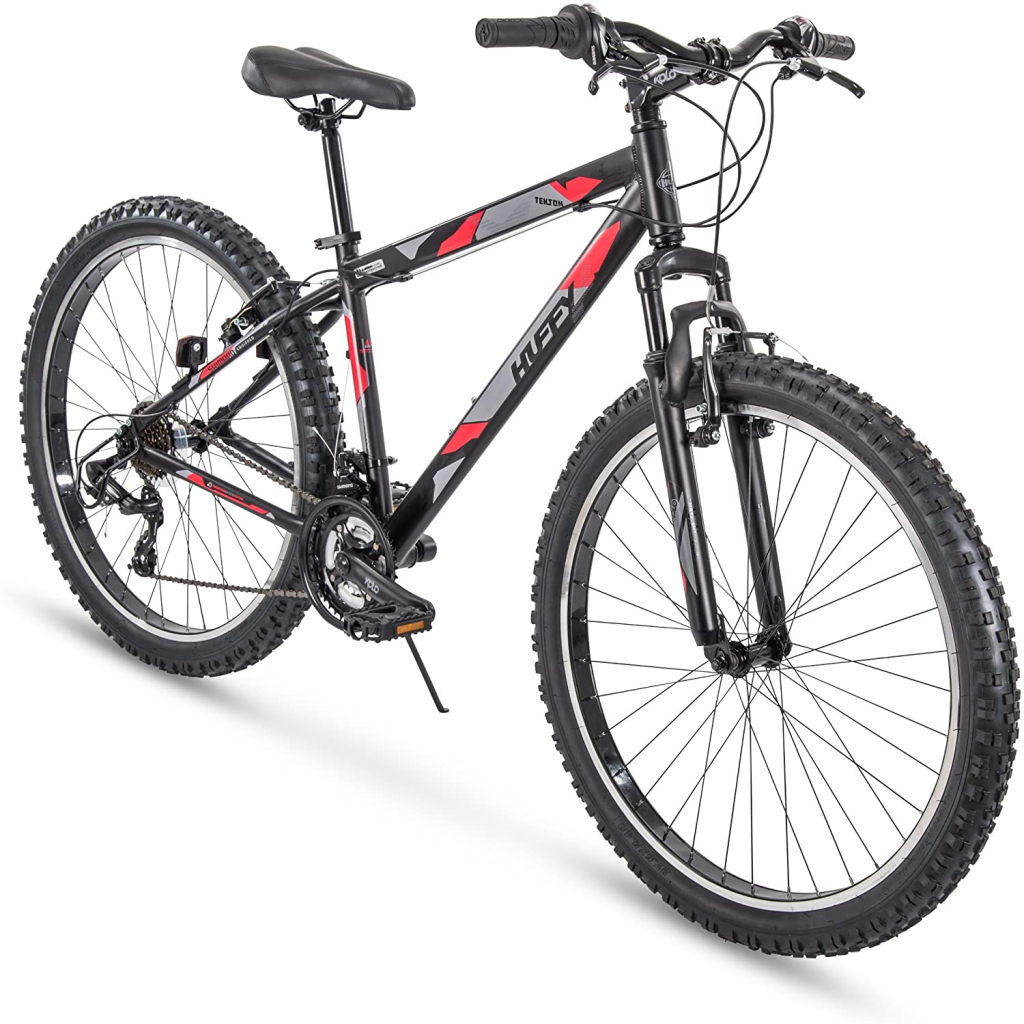 Huffy cruiser bikes contain an urban comfort steel frame. This frame pattern enables the rider to be in an upright position due to its lower saddle and higher handlebar placement. The lowered seating allows both of your feet to touch the ground when in a steady place. These extraordinary features are what make Huffy cruiser bikes ideal for shorter people.
Furthermore, their cruiser bikes also boast a Perfect Fit frame design containing a 26-inch aluminum frame to provide a more accessible handle and high-speed performance. Huffy's lightweight frame also suits their sunset appearance and wood-type panel accents to offer a sleek, modern, and comfortable ride. The cruiser bike's geometry aims to let you have a seated back with a low center of gravity and full leg extension to ensure that you are riding with stability and adaptability.
To provide an ultimate experience in steering and braking control, Huffy has soft and foamy grips in their cruiser bikes. Besides, they have easy-to-adjust, high, and swept-back handlebars that blend well with their soft cork-style grips, adding to the modern look of the bicycle. 
It also has a length of handlebars that contributes to maintaining your proper riding posture as the soft cork-style grips help reduce wrist and back stress when riding. Adding to the rider's comfort, Huffy cruiser bikes also have a removable cooler feature on some of their models.
Moreover, Huffy's cruiser bike wheels contain wide 26-inch tires with color-coordinated fenders and rims. Their balloon tires feature an eccentric tread design to gain more traction and comfortable riding on the beach, gravel, and gentle trails. They are easy to handle and KT coaster brakes could also give riders a potent steering and braking control.
What Are Huffy Bikes Good for?
If you're looking for high-quality and excellent cruiser bikes and accessories, you might have encountered Huffy bikes as you search through the web. 
Since cruiser bikes are characterized for providing comfort and agility to riders, the products manufactured by Huffy will surely take you on a fantastic journey that you'll love. Huffy's build quality is superbly engineered at an affordable price.
From sturdy frames to high-resistant and customizable handlebars, their cruisers are precisely what you imagine a bicycle should be. These bikes are proven excellent for hassle-free riding and give you a pleasant experience outside. Since comfortability has always been the niche of their cruisers, Huffy bikes provide a great entry-level bike that comes with a fantastic steel frame and builds quality.
The build attribute is what separates a great bike from a good one. Unless and until the frame build is excellent, you won't be able to use your cruiser bike for too long. All of Huffy's cruiser bikes ensure that you would maintain an upright position at all times, further proving how comfortable their bikes are.
All materials provide a comfortable ergonomic position, from Huffy cruiser bike seat posts to their handlebars. Despite riding the cruisers for an extended period, you surely wouldn't get bored of hanging them. In addition, all of their bicycles are made from aluminum, which is rust-proof.
Their suspension quality has always been beyond the standard in terms of durability, as they are built to endure several collisions and vibrations. 
Huffy Bikes: The Pros
The handling was sharp and sophisticated
The bike's geometry suits well with a casual, cruisy approach
Easy and efficient assembly
Well-built and sturdy
The sprung saddle is comfortable for long rides
The fenders are excellent in wet conditions
Huffy Bikes: The Cons
It lacks a back carrier
Some tubes may tend to be punctured by unfinished spoke nipples and valve edges
Some factory errors may result in lopsided and bent handlebars
Bent axle and coaster hub failure may occur after months of use
Some scratches may be evident
What Makes a Schwinn Cruiser Bike?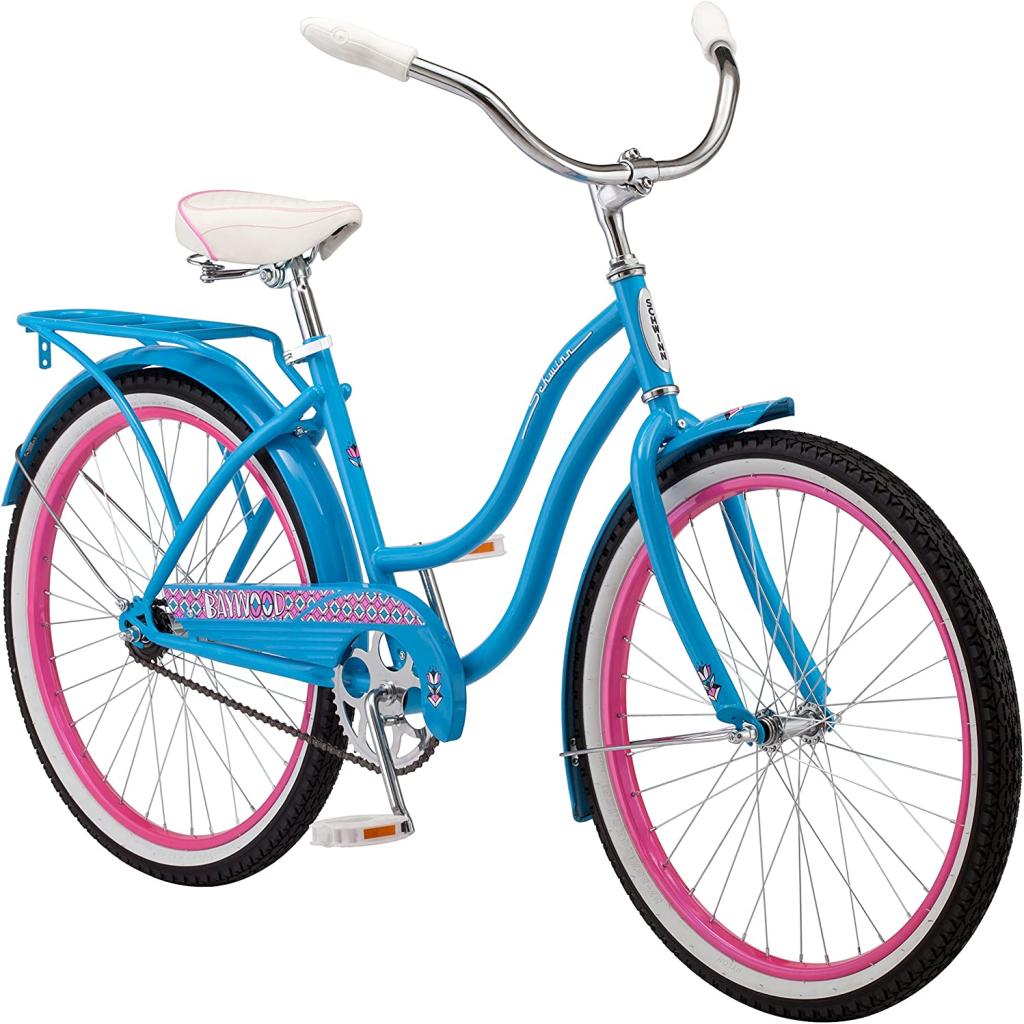 Schwinn cruiser bikes boast a feature frame as well. Their build also comes with a lower seat and elevated handlebar for relaxed riding. It has a feature that caters to a curved cross tube that has a space for a water bottle or a pedal-assist battery. The lower seat also makes it easy for riders to reach the pedals.
As you pedal around the city, you might think of going to shop at a convenience store or souvenir shop at some point. Most likely, you'll need a bike carrier to take your shopped items as you ride back home. With Schwinn, you'll maximize all the benefits of a bike carrier. They have spacious and durable transport for your items attached to their cruiser bike. 
A Schwinn cruiser would be the perfect fit for your leisure riding around the city or the countryside. Its steel-durable frame is suited for urban riding, while the raised cross tube enables capacity storage.
Schwinn's Shimano 7-speed derailleur allows an exciting experience for you on the road. You don't have to endure excessive pedals that result in sweating and muscle stress when cruising up the mountains. The bike's higher gears provide a faster movement to take you to your destination.
What Are Schwinn Cruiser Bikes Good for?
Schwinn makes cruiser bikes slightly fewer than its competitor. Still, the available bicycles they offer are proven to be of top-notch quality and have excellent attributes that you may not find in other brands. The Schwinn cruisers resemble a classic style in a multi-geared finish that you'll usually find in three-speed or seven-speed.
In their long, rich history of producing quality bikes, the cruisers from Schwinn ensure that you'll have an easier and faster ride on light trails. Some of their cruiser bikes even come in electric types.
Generally, you'll find their cruisers with baskets, rear racks, and many other attachments. Their cruisers usually have a 7-speed drivetrain while providing you the necessary convenience of a step-thru and step-over frame. Considering its dual suspension, you won't have a hard time dealing with lighter trails.
Meanwhile, Schwinn's cruiser bikes also provide convenience as it seeks to help regular commuters who desire to go faster on the road. The electric cruisers come with robust and durable motors with long-mileage batteries for sufficient assistance. Overall, getting an electric cruiser is an excellent idea if you want to ride longer and faster.
Schwinn Cruiser Bikes: The Pros
Solid and sturdy rig
Capable and flexible enough to carry larger riders
Theft-proof due to the absence of quick-release skewers on the wheel axles and seat clamp
Easy to follow instructions
Good looking, retro-classic appearance
The rear rack is helpful for computers on shopping trips
Schwinn Cruiser Bikes: The Cons
Tires may only operate at lower pressure, which may limit the bike to a 'squishy' ride
The tubes may tend to explode due to failing along the central seam
A relatively heavy bike
Reported cases of squeaking, creaking, moaning, and a noisy riding experience