Can Folding Bikes Satisfy Your Need For Speed?
Yes, folding bikes can easily hit the roads with a blazing speed of 12 miles per hour on an average, depending on your fitness level and pedaling power. If you have the capacity to push speed to its limits and beyond, you can go as fast as 16 miles per hour. 
Factors That Affect the Speed of Folding Bikes
Several factors influence the performance of bikes in general, including folding bikes. Chief of which is the mechanical components, which play a big role in determining the speed capability of folding bikes.
Material used
Aluminum and carbon fiber are the most common types of material used in the frame of folding bikes. The former, which is relatively light and stiff, is the top choice for entry-level models because it is affordable. The latter is more expensive but lighter and absorbs impact better. Some brands adopt steel because it is cheap but folding bikes crafted from this material are heavy.
Wheel size
Most folding bikes used 20-inch wheels, which roll smoothly on the road. This size is considered large in folding bike standards. Foldies fitted with types of wheels can match the speed of full-sized bikes but with more effort exerted. These are recommended for traveling long distances. The smaller 16-inch wheels, which are suitable for city riding, work well on stop-and-go rides.
Weight
The weight of a folding bike determines the extent of effort required by its rider to get it going. In general, folding bikes are heavier than standard-size bikes because of their folding system, which adds to the weight of the frame. In addition, the weight of the rider is a determining factor. A few extra pounds diminish the overall load capacity of the folding bike.
Gears
The range of teeth on the cassette is also a crucial factor. A 10- or 11-speed cassette means you have enough gear options to go fast. For example, 11 cogs on the rear cassette and two on the front give a cyclist 22 different speed options. Finding the right combination of front and rear gears will result in more efficient and steady power, hence a faster folding bike.
Proper Maintenance to Make Your Folding Bike Fast
Keep it clean
A clean bike is a fast bike. Mud and grime from daily riding build up from the cables and drivetrain, especially during winter and rainy months. Give your folding bike a quick wipe down after every ride then perform a thorough cleaning and after a long ride. A clean bike also means fewer expenses on replacement parts in the future.
Lube regularly
Your folding bike needs to be well-lubricated to ensure a fast ride. This is done to protect the moving parts from wear and tear and friction. The chain needs the most frequent lubrication because it is the part that transfers powers from the pedals to the drive-wheel of the bike. The derailleur, the pedals, and the brake and shifter levels also need drops of oil to keep functioning properly.
Check your tire pressure
Before every ride, always check the pressure of your folding bike tires. Running at lower pressure means an increase in rolling resistance, which means you need to exert more pedal power to maintain a constant speed. Poorly inflated tires are also susceptible to puncture. Higher air pressure, on the other hand, enables the tires to roll easier and faster. 
Does Folding Bikes Have Speed Limit? 
Yes. Remember that bikes in general, including folding types, are considered vehicles on the road so they must follow the same traffic laws that apply in your location. The speed limit of a folding bike depends on the maximum speed allowed in your area so it is best to always check the designated speed limit before satisfying your need for speed with this little machine.
How Does a Folding Bike Fair With the Speed of Mountain Bike and Road Bike?
Folding bike is slower compared to the speed that mountain and road bikes can achieve. Mountain bikes have an average speed of 17 miles per hour; while road bikes, which are designed for racing, roll as fast as 22 miles per hour.
Is Buying a Folding Bike Worth It?
Yes. Each type of bike has its own benefits, but if you're the commuting type, then buying a folding bike is definitely worth it. Their small wheels allow for better handling and maneuverability, resulting in quicker acceleration suited for urban riding. Because of their size, they are easy to take on public transport. They can be carried and not worry about it being stolen. In addition, folding bikes don't take up so much space, which is perfect for condos and small apartments. 
Best-Value Folding Bikes
For those still testing the waters, getting a folding bike that won't break the bank is highly recommended. Below are some best-value models that combine speed and practicality: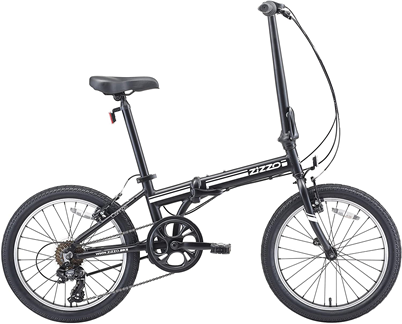 EuroMini might not be among the heavyweights in the folding bike category but it doesn't mean that it can't compete with the giants. Featuring an aluminum frame and specced with decent Shimano components, this is the ideal entry-level model for people venturing into folders—whether it is for recreational or commuting needs.
The Zizzo Campo is a practical option for those who are on a tight budget. Even at 28.5lbs, the bike is easy to carry. The 7-speed hub provides a decent range of gearing, with the Shimano Tourney derailleur making shifting smoothly. This rides well on flat surfaces and vibrates less when negotiating rough pavements.
Its folding mechanism is superb. The bike can be stripped down to a size of a carry-on bag, so storing it will never be a problem. For its price, this little machine is a very capable folding bike, especially for short-distance travels.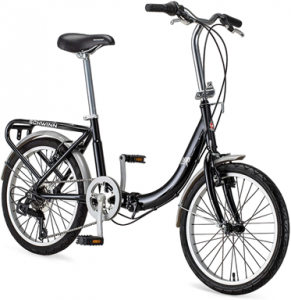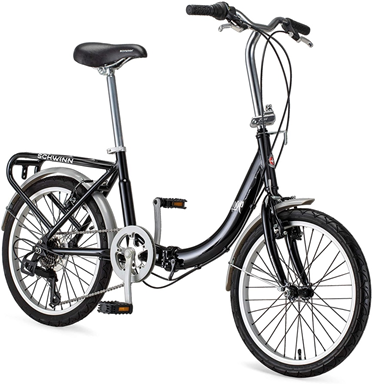 One of the best-value folding bikes you can in the market today is the Schwinn Loop, which sports a modern classic frame equipped with a 7-speed Shimano Tourney derailleur. Marketed with a "commute happy" tagline, this one will surely make every ride a joyous experience because of its well-rounded performance. 
The attractive looks of the Loop are going to earn you some style points when riding. The pair of fenders for cycling in wet conditions and a nylon bag for small cargo storage complete the retro feel. Although it doesn't scream fast because of its short frame, the bike can pack serious speed. The drivetrain has enough low gears that will get even newbie cyclists through steep hills.
The bike tipped the scales at 33 pounds, which is not the lightest build out there, but the weight is hardly noticeable once it starts rolling. In terms of speed, this can hold its own against most folders, thanks to its 20-inch wheels.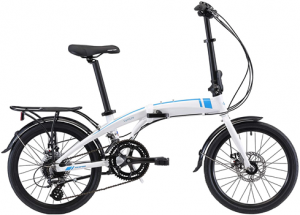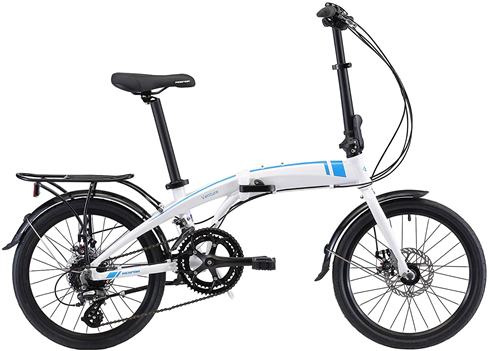 The Kespor Venture should be your best bet if covering a few blocks a few minutes faster is your goal. Armed with an 8-speed Shimano Altus cassette and alloy disc brakes, this folding bike is a real blast to ride day in and day out. Weighing 30 pounds when fully assembled, this aluminum rider is built to last the rigors of urban riding.
Buyers looking for a fast folding bike will not be disappointed with the Venture because of its 16-speed setting. This feature is a refreshing change from the norm as the majority of folders only have 7- to 8-speed gears. The additional gears of the Venture easily turn climbs and inclines into a less daunting chore. The ride quality is smooth, even when on the lowest gear.
This bike folds into a semi-compact 29x29x19 inch so it takes up minimal space at home, which is a good thing for those living in a small apartment. It can fit into the trunk of a car without any issue. Carrying the bike into a bus or a train poses no problem at all. 
Premium and Faster Folding Bikes
For those who are a sucker for speed, the following are some faster (but more expensive) options that you can consider: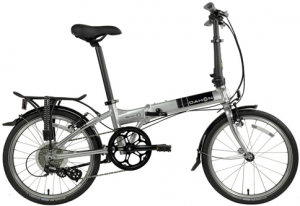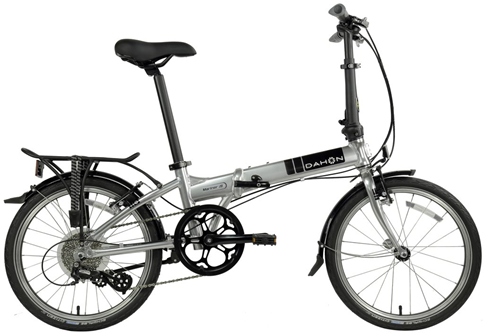 For the folding bike aficionados, Dahon needs no further introduction. The Illinois-based manufacturing giant continues to impress with its latest releases, including the Mariner. Built from lightweight 7005 aluminum, this silver beauty is touted as one of the best commuter folding bikes. Its 8-speed Shimano Altus derailleur churning out enough juice for quick accelerations.
It's hard not to fall in love with this thing. Comfortability is the Mariner's main draw. The cushioned saddle works like a charm, especially on longer rides. The hand position is comfortable and the brake levels are easy to reach and engage, which is perfect for sudden braking after some speed bursts.
Speaking of braking, the provided front and rear aluminum V-brakes have excellent stopping power. This will come in very handy in urban commuting, especially in slowing down at an intersection with traffic lights. Once you get home, folding is easy. It won't take you 15 minutes to fold it. This also means that the Mariner is very convenient to carry in public transport.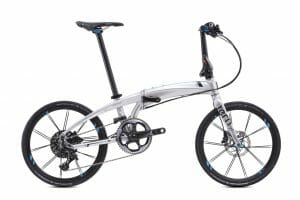 From the looks to its specs, everything about the Tern Verge X11 is fast. While most folding bikes are limited to short commutes, this premium rider is made for the long haul. This is thanks to its SRAM's Force 1x crankset and a 52-tooth chainring that delivers a smooth rolling and quick acceleration. With the Shimano Deore disc brakes, stopping power is excellent.
The first thing you'll notice about this good-looking bike is its larger wheels. At 22 inches, they provide better stability and faster rolling. The bigger wheels added to the size of the Verge X11, but the Taipei-based brand still manages to make it compact. In addition, they resulted in a higher top gear, which carries more momentum.
The adjustable stem is heaven-sent, making switching from aggressive riding to casual cruising as easy as one-two-three. The price could be a deal-breaker, but the bike's shiny specs make this a worthy investment in the long run.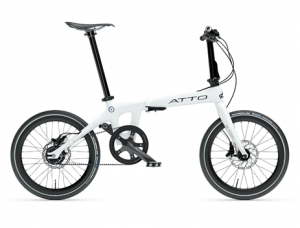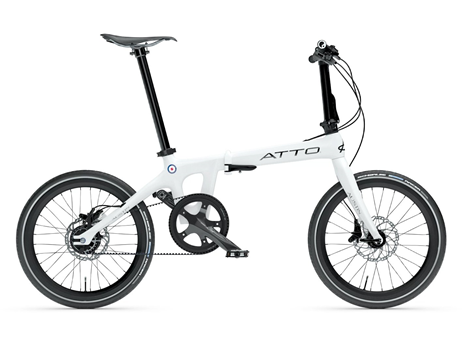 The latest offering from Austin Cycles will make ordinary cyclists ride like a pro. Used by some professional teams to get around Rio de Janeiro during the 2016 Olympics, the Atto folding bike features a carbon frame with an immaculate white paint job and sports Shimano hydraulic disc brakes. Completing the package are the high-speed Novatec hubs and dependable Schwalbe tires.
Weighing 17 pounds and change, the Atto is engineered from high-grade Toray carbon fiber and is one of the lightest folding bikes available. Powered by an 11-speed Shimano Alfine hub gear, the bike can breeze through the flats in no time. Shifting is so spot-on that changing gears feels like maneuvering a road bike fitted with a Shimano Dura-ace groupset. 
Folding is swift, too, so carrying is easy. Once you get acquainted, it takes less than 20 seconds to complete the process. The Atto is both comfortable being ridden and hauled. Overall, this is a low-maintenance bike.
Round-Up
Because of their perfect mix of performance and practicality, folding bikes are a great option for touring the city or riding to work without having to worry about locking them up when you arrive at your destination. Although they might not be as speedy as their mountain or road bike counterparts, they can go fast by adopting a few mechanical upgrades. The plethora of folding bike options available in the market today makes buying the right folding bike a bit confusing. The rule of thumb, however, is to purchase one that suits your capability, preference and needs.