Are Folding Bikes Good for Commuting? (8 Pros and 6 Cons)
Folding bikes are an excellent companion for short trips or leisure cycling. Unlike traditional bikes, foldable bikes offer convenient, portable, and versatile features that make them good commuters. Yet, not all riders may find folding bikes a great travel companion for commuting, as they aren't a one-size-fits-all approach.
Suppose you're wondering whether to invest in a folding bike or not for your commuting needs. In that case, you'll need to understand its benefits and drawbacks first. This will enlighten your mind on a folding bike's commuting capabilities and features and learn if they'll be helpful to you.
The Pros of Folding Bikes for Commuting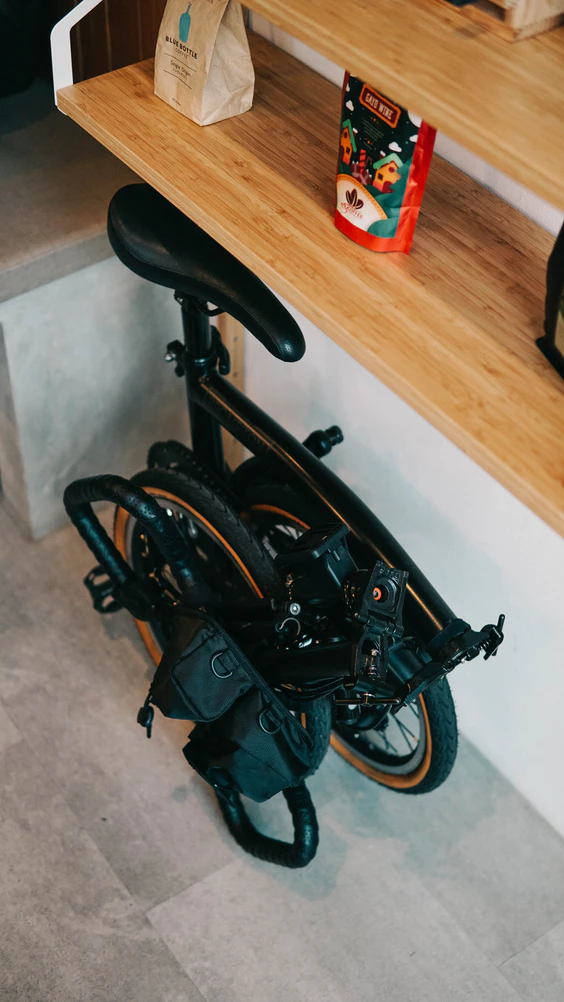 1. More convenient and portable to use
Most folding bikes have a lighter and more portable design than large-wheeled cycles, making them easier to use. Folding bikes are not that difficult to transport. 
This is especially true for suburban commuters who cycle to the train station, take the train, and then bike back to work. Because folding bikes are so portable, you won't have to leave them somewhere they may be stolen.
2. Easier to store
When folded, folding bikes have a small footprint. As compared to regular bikes on the market, they take up considerably less room. You won't have to worry about finding a place to store the folding bike at home, in your car, or even your office. 
As a result, when not in use, you may either tuck it beneath your bed, store it near the rear door, or slide it under your workstation. 
3. They are accepted on any transportation
Because folding bikes are compact and save a lot of room, you can take them with you anywhere: on the bus, in a cab, or on the train! All you have to do now is fold it next to you and enjoy the trip without worrying about where your bike is. Fortunately, you won't have to pay to carry a foldable bike on any public transportation.
You can now just hop on the subway easily, without losing any chance of an important meeting with your boss. After all, no one wants to get side-eyed by the boss for coming late at work!
4. Gives you a sense of security
Security is not a problem with foldable bikes because they are constantly close at hand. You won't have to worry about your bike being stolen if you lock it up on a bike rack. Alternatively, being able to keep your bike with you at work minimizes the chances of it being stolen. This will make you feel more at ease.
5. Offers maneuverability
One of the best features of foldable bikes is that they're ready to maneuver and ride right away. You'll need to perform the basics, such as checking your tire pressure, but that's all the most. Additionally, they also come equipped with accessories, like fenders, lights, and a rear rack. Some come with a front basket, too!
Foldable bikes are incredibly nimble, particularly in congested areas. Much better than a regular bicycle.
6. Comes in a variety of styles
Due to their simple design and ease of folding, carrying, and storing, folding bikes have lately acquired appeal. They look to be an excellent option for commuting to work or for cycling around college campuses.
Even if you're dressed for work, you'll look great on it. Folding bikes have been seen on the streets by a slew of celebrities. Moreover, you won't have to worry about your clothes (long cardigan or blazer) getting stuck because the tires are lower than regular road bikes.
7. Gives you a thrilling ride
Perhaps you opt to take an inexpensive trip to another nation or a neighboring island while exploring. With a foldable bicycle, you can easily pack it up and fly. These side visits will be prohibitively expensive if you tour on a full-size bike. 
If your folding bike breaks down and you can't ride it, you can transport it in even the tiniest of automobiles (with a full-size bike, this is impossible). Traveling and vacationing on and with a foldable bike is incredibly convenient. It expands holiday horizons by providing options not available on larger bicycles, whether for a weekend getaway or a lengthy trip.
8. Saves you money
And finally, commuting your way to work or college campus with a folding bike saves you a lot of money. You won't have to pay anything, like petrol and transportation fees (if your commute is short). You'll be surprised at how much money you're going to accumulate after a year of cycling your way to school or work. What's more, cycling is a good exercise, making you healthier as well!
The Cons of Folding Bikes for Commuting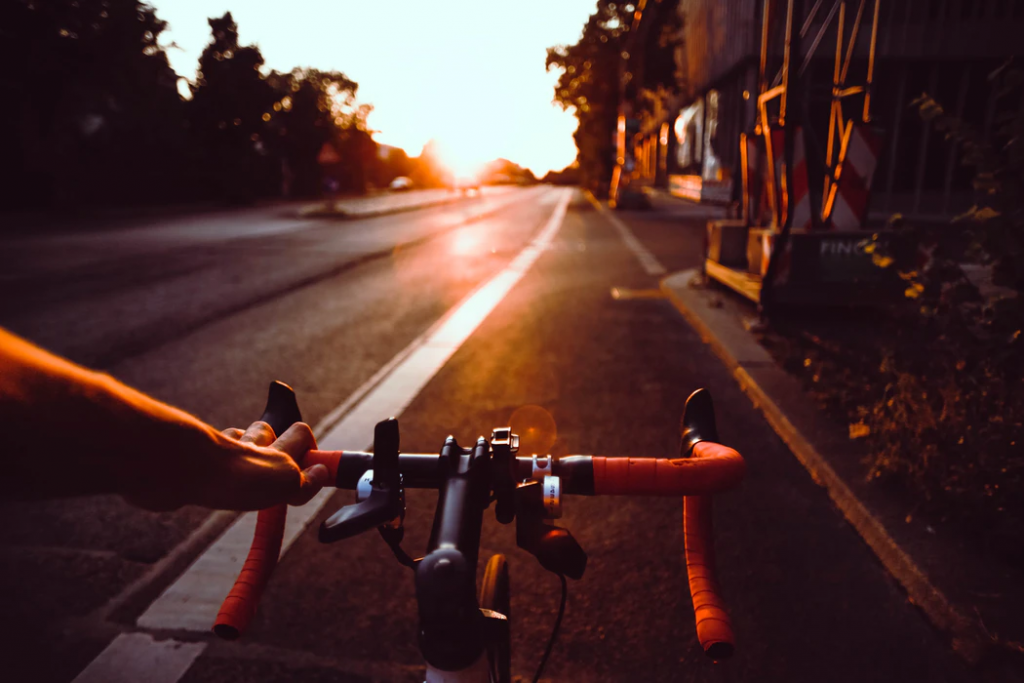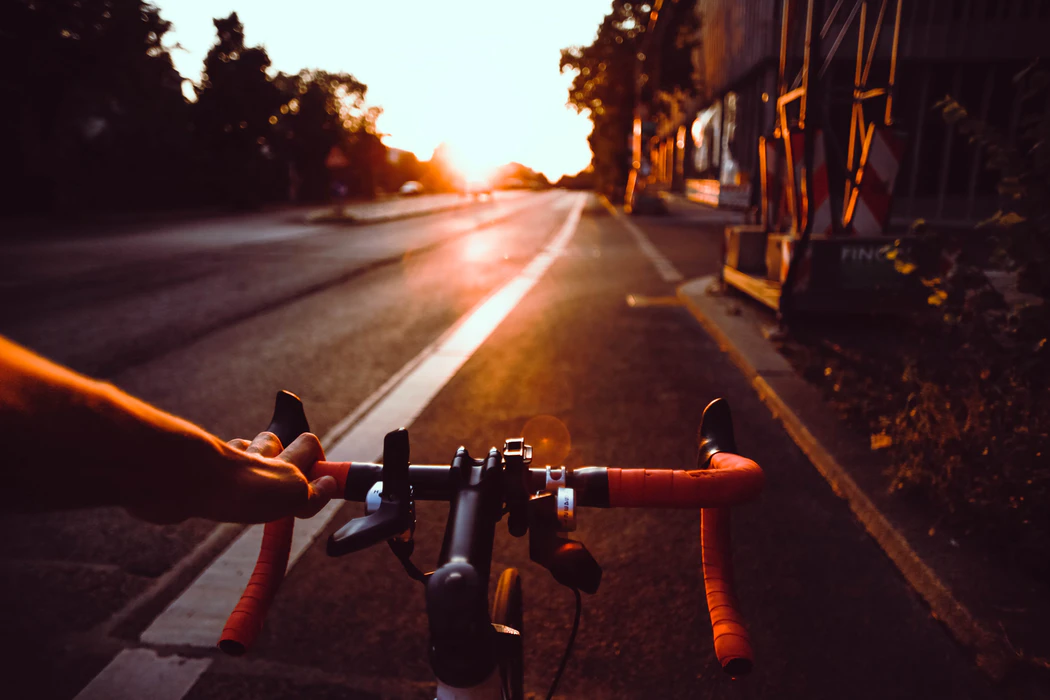 1. Comes with a price tag
Folding bikes are the only bikes known to have transportable qualities, adding to their distinctive attributes and pricing. It's worth mentioning that the more lightweight a folding bike becomes, the more pricey it gets. Plus, the better quality it offers for long-distance commuting trips.
2. They might be heavy
As mentioned, folding bikes aren't a one-size-fits-all approach. Some parts contribute to a bike's heaviness or lightness, which are mainly dependent on the materials used on the frame. Other components that add to a bike's weight include the wheels, gears, and seat material.
Furthermore, you don't want to overburden yourself carrying anything heavy (aside from pedaling) while commuting.
3. Might be less comfortable
Because foldable bikes come with small wheels, expect some not-so-comfortable experience on the roads. Take note that smaller wheels aren't the type of wheels that can overcome bumps and irregularities on the street, so you'll need to be careful!
The same goes with taller and heavier people. You wouldn't want to resemble yourself like a clown in a circus riding a tiny bike (for taller riders) or get your folding bike's tire flat all the time (for heavier riders). What's more, there are additional factors that add to riding discomfort.
4. More fragile than your regular bikes
Folding bikes might break easily, but it still depends on how you use and maintain the bike's condition after using it for commuting. 
To add, they cannot withstand the abuse that a traditional or regular bike can. Foldable bikes are considered more delicate because of their folding mechanism. The hinges in a folding bike create a weak area in the frame, making them less durable than regular touring cycles. Indeed, there's still a price to pay for the capacity to fold.
5. They are not as fast as road bikes
The speed gearing of a bike is affected by the wheel size. As a result, smaller wheels reduce end speed, whereas larger wheels do the reverse. As a result of being more vulnerable to road irregularities, folding bikes have slower speeds than road bikes. 
The speed, though, is still determined by your pedaling abilities.
6.They are not suitable for uphills
Folding bikes, as previously said, have smaller wheels, generally ranging from 12 to 20 inches, as opposed to full-size wheels, which vary from 26 to 32 inches. 
Because folding bikes have tiny wheels, they have a restricted gear range, which makes them unsuitable for cycling uphill or over rugged terrain.
What Types of Folding Bike Is Best for Commuting?
Lightweight folding bikes
While lightweight folding bikes aren't the best for long-distance rides, their light features make them a good companion for short commutes. This type of foldable bike generally has portability features and has no storage issues. They're also compact and can be mounted and unmounted as you move. 
The lightest folding bike ever manufactured is the Hummingbird Single-Speed Folding Bike, weighing only 15 pounds. This vehicle was first introduced through a Kickstarter campaign and then put into production with Prodrive, a British motorsport business, in 2016.
Comfortable folding bikes
After all, you don't want to have a folding bike that wobbles when you pedal. Otherwise, you'll be more prone to hazards and accidents (no one wants that!). To make sure you're getting the most out of your folding bike, consider the components that make them. In this way, you can guarantee the comfiness of your bike without compromising your commuting quality at all.
Sturdy folding bikes.
And lastly, it would be embarrassing to commute when your folding bike isn't well-made. Else, you'll find yourself getting unwanted attention due to your bike's jiggling components.
You'll find tons of sturdy folding bikes in the market that are built with various frame materials. As such, they don't compromise the quality and folding mechanism, which you'll surely appreciate when cycling your way to your destination. Note that sturdy folding bikes are worthy of your investment that'll save you money in the long run.
How Much Should I Spend on a Commuter Folding Bike?
While there are tons of brands offering folding bikes out there, you'll need to find a foldable bike that's convenient, portable, and lightweight to use. Thus, expect spending an average price range between $499 and $999 that'll give you these specifications.
You can also find folding bikes sold for under $499, which would still give you decent quality. Whereas some folding bikes (like known Dahon and Brompton bikes) go even higher, which is a worthy and hell-of-a-ride investment you could have.
Regardless of the chosen brand, your commuter folding bike should give you the quality and comfortable ride you need as you cycle your way to your destination.
Recommended Folding Bikes For Commuting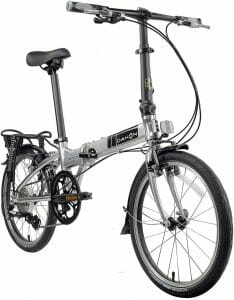 Dahon folding bikes are worth purchasing since they are less expensive, lighter, and more compact than other brands. It would also be easy to replace accessories or deal with warranty concerns because they are spread globally.
With its excellent features and specifications, it's no surprise that Dahon Mariner D8 made it on our list. It provides you with a lightweight bike frame without sacrificing comfort and rideability. It features a solid and durable body that ensures you don't wobble when riding this folding bike when commuting your way to work or anywhere.
Furthermore, the Dahon Mariner D8 has a fantastic folding option. It's small enough to fit in trunks, public transit, and closets. With its pricing, you get terrific speed, a comfortable ride, and a user-friendly travel buddy.
Obsidian, pine, cloud, rock, and cobalt are among the five hues available to rock your riding style.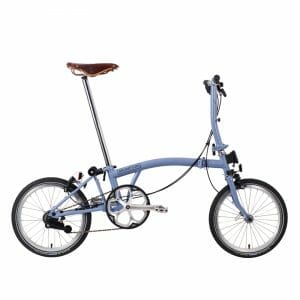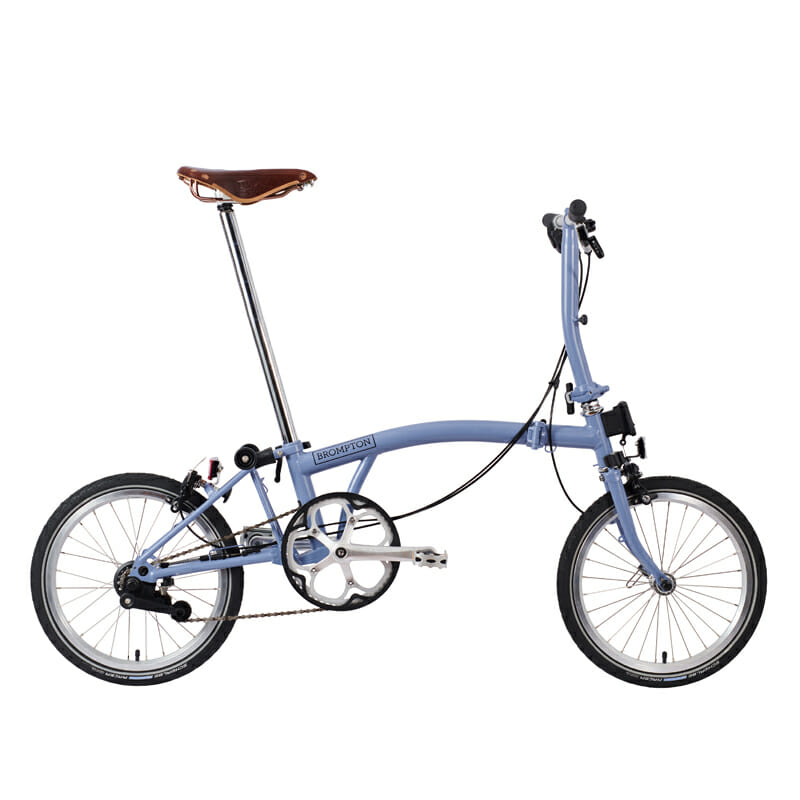 With its feature-rich features and attributes, the Brompton S2E quickly made it to this list as well. Brompton is perhaps most known for its primary selling point: a unique frame design that folds and unfolds in less than 20 seconds.
Getting comfy while pedaling this model should not be a problem for you, especially when commuting or leisurely traveling. It's a comfortable bike to ride for those who enjoy more thrilling adventures on the street.
Furthermore, Brompton's own mudguards are efficient and do not interfere with the folding process in any way. You'll enjoy a ride that's convenient, comfortable, and portable, thanks to its simple 2-speed derailleur gearbox.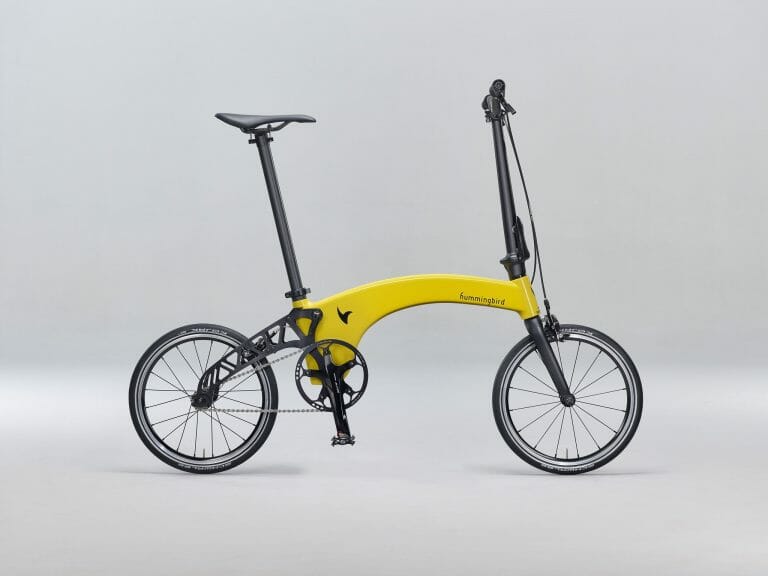 With so many features, it's no surprise that the Hummingbird Single-Speed Folding Bike is the lightest in the world, weighing only 15 pounds. Thus, the best companion for your commuting needs.
This Hummingbird folding bike model has a unique three-step folding system that folds and unfolds in less than 5 seconds. Furthermore, the frame is constructed of carbon fiber that has been precisely cut and aligned. This makes the model easier to store and carry when you need to take a train (as required when commuting).
Meanwhile, the wheelset features a 16-inch tire size and is made of ultra-light aluminum alloy. But don't be tricked with the small-wheeled size because it encompasses features similar to traditional road bikes. The Hummingbird Single-Speed Folding Bike provides super-fast acceleration as well as a sturdy and rigid commuting ride.