9 Best Lightweight Folding Bikes Reviewed in 2021 [And Ranked]
Lightweight folding bikes are a great companion for everyday use. Whether you're commuting your way to work or just to want some leisure touring around the city, these folders got your back.
Moreover, lightweight folding bikes are getting the attention of cyclists. Aside from them being portable, they're much more manageable and convenient to carry. There are many advantages you'll actually get from getting a foldable bike than the traditional ones. But of course, the decision depends on your activities and purpose.
Lightweight doesn't mean compromised quality. In fact, several lightweight folding bikes are worthy of attention today. Brand names play a big part as well, from specs to features and upgrades involved.
In this article, we'll delve into the advantages of getting a lightweight folding bike, plus the ideal and best options you can consider for your purchase.
What Are the Pros of Choosing a Lightweight Folding Bike?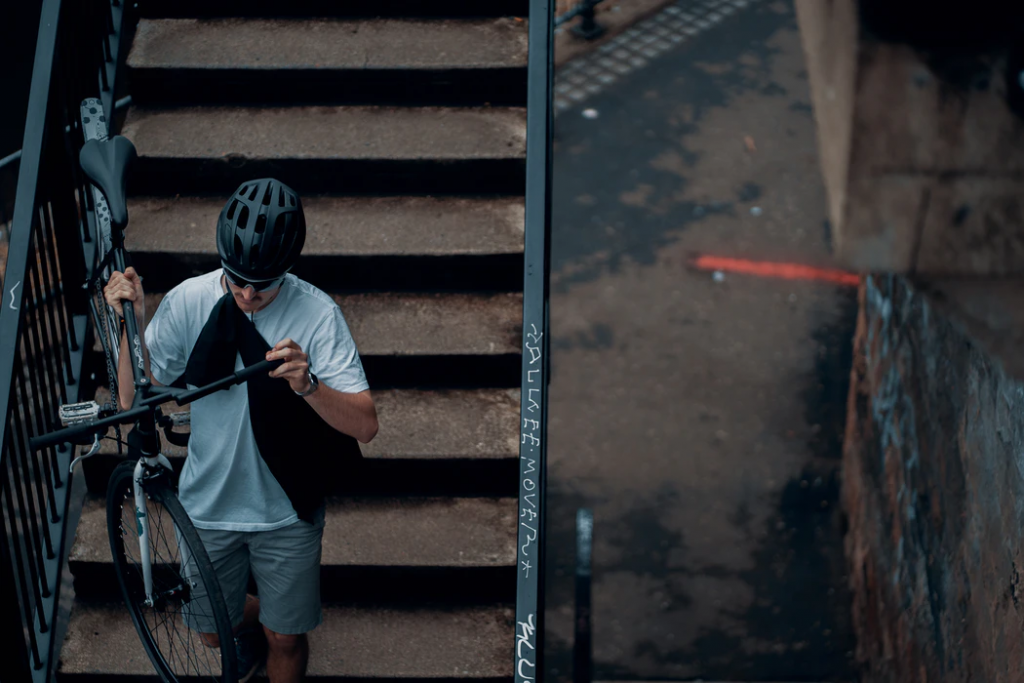 Obviously, lightweight folding bikes are remarkably known for their light attributes. Whether you're a commuter or a traveler, cycling with a foldie is much more enjoyable. There's so much more with a lightweight foldable bike. Let's take a look at some of their advantages:
1. Easier to transport and carry 
Due to their delicate features, lightweight folding bikes are convenient to carry. You can take them with you anytime and anywhere without any significant problem. This means you'll never get burdened while traveling to your destination. You'll also make your commuting time quicker; just hop off your bike, ride the station, and keep your folder close to you.
2. Requires no extra parking requirements
Foldable bikes are generally known for their small footprint. Thus, you won't have to worry about fitting one in your car's trunk, inside the train station, or at the side of your workspace. Regardless of your location, folding bikes can be folded small enough that no one would even notice. Folding bikes encompass quick-storing and space-saver features; great for a weekend escape!
3. Folds and unfolds effortlessly
Today, a lightweight folding bike's folding mechanism is revolutionary. Most recognized bike brands advertise their folders' fast-folding process —some can even be folded and unfolded within seconds! They're great if you're always late on a train at the last minute. Just a few steps, and that's it.
4. Ride them with style
Finally, there's a lot of bike manufacturers today that cater not only to a folding bike's specs and features but also their aesthetics. Of course, nobody wants to cycle with a so-so folder. It's also best to invest in an excellent and attractive foldable bike.
Nevertheless, being lightweight doesn't necessarily mean being less durable. There are existing brands (we'll go into this topic later) that comprise comparable performance and features as traditional bikes.
How Much Do Foldable Bikes Weigh?
The weight of a foldable bike is something to think about when purchasing one. The weight of your bike impacts your riding speed and acceleration, particularly while going downhill or uphill. Furthermore, the average weight of foldable bikes is around 28 pounds. However, some might be less (approximately 15 pounds) or higher (around 35 pounds) (about 36 lbs.).
However, it's worth noting that a bike's weight is influenced by several factors, including the frame material and tire size. So, if you're looking for a light or heavy foldable bike, keep these factors in mind when shopping.
Note: A slight adjustment in a material's weight may significantly impact your ride quality and cycling performance.
What Is the Lightest Folding Bike?
The lightest folding bike in the market today is the Hummingbird Single Speed folding bike, weighing a surprisingly 15 lbs. (approximately 6.8 kg.). This vehicle was first introduced through a Kickstarter campaign and then put into production with Prodrive, a British motorsport business, in 2016.
Best Lightest Folding Bikes Ranked and Reviewed
The section below lists other lightweight folding bikes that are worthy of your attention. Our review of each model will also help you make an informed decision.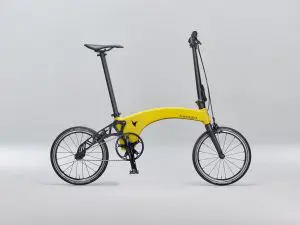 Maximum weight limit: 242 lbs. (110 kg.)
Folded size (dimension): 46 x 23 x 8 in.
This Hummingbird Single Speed folding bike model is considered a revolutionary state-of-the-art folder, encompassing a unique three-step folding mechanism that folds and unfolds in less than 5 seconds. Furthermore, the frame is constructed with carbon fiber that has been precisely cut and aligned (this material makes the folding bike lighter than any other brand).
Meanwhile, the wheelset features a 16-inch tire size and is made of ultra-lightweight aluminum alloy. You'll feel a sense of balance and symmetry while cycling. With these components, the Hummingbird Single-Speed Folding Bike provides super-fast acceleration as well as a sturdy and rigid ride.
The Hummingbird Single Speed folding bike can hold up to a maximum weight of 242 lbs., including other accessories in the luggage. Nonetheless, you'll get the best of frame material and folding mechanism worlds with the Hummingbird Single Speed folding bike model.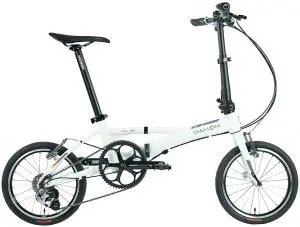 Maximum weight limit: 220 lbs. (100 kg.)
Folded size (dimension): 11.7 x 25 x 30 in.
Another contender in this list is no other than Dahon, one of the globally recognized bike manufacturers in the market. Dahon VISC SL9 model encompasses an alloy aluminum forged lattice material that's responsive and light but great enough to give you the quality ride you deserve.
The rims are in a 16-inch double-walled size, with spokes of 14-gram stainless steel. With just over 21 lbs., we're pretty sure commuting or leisure traveling using the Dahon VISC SL9 would just be a breeze.
You'll greatly appreciate how this folding bike model performs on city roads and busy streets. You can commute and travel with ease or any burden since this model weighs less. Thanks to this nimble machine, you'll get a dynamic and sturdy frame design at your fingertips!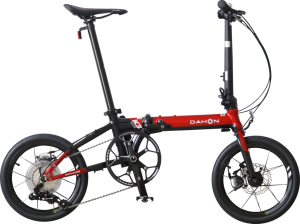 Maximum weight limit: 187 lbs. (85 kg.)
Folded size (dimension): 25.5 x 16.5 x 26.7 in.
Another Dahon-manufactured lightweight folding bike on the list is the K3 Plus, weighing a few more pounds than the VISC SL9 model. Although it only weighs 21.6 lbs., you'll get a nice and rigid bike that can instantly pull through on any road or terrain.
Dahon K3 Plus folding bike attributes its lightweight feature with its aluminum Sonus tubeset frame material incorporated with Vise-Grip technology. It's actually an updated version of Dahon K3 but with a sturdier geometric frame and design.
As for the wheelset, Dahon K3 Plus comes in a 305 16-inch size. The model has a custom 9-speed trigger shifter that best fits any leisure touring you have in mind.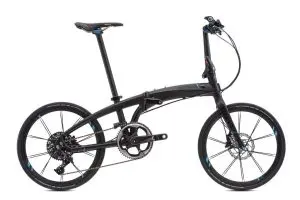 Maximum weight limit: 230 lbs. (104 kg.)
Folded size (dimension): 15 x 31.5 x 29.1
Weighing in at just 22.5 lbs., the Tern Verge X11 could be your next commuter companion. This model actually is the Hummingbird's greatest competition when it comes to folding mechanisms, which can be folded and unfolded within ten seconds or less.
Though lightweight foldable bikes aren't generally known for their stylistic appearance, Tern Verge X11 delivers a sleek and futuristic design that doesn't compromise your riding quality. It's made with a monster 10-42 cassette material and powerful Shimano Deore hydraulic disc brakes, letting you ride your folder in steep climbs and spirited descents.
Cyclists who've already had the Tern Verge X11 model deemed it as among a fast hybrid folder. It's pretty stiff but accelerates excellently more than what you expect for a lightweight folder. You can quickly put the bike over your shoulder without burden as you walk or hop on a train or a bus.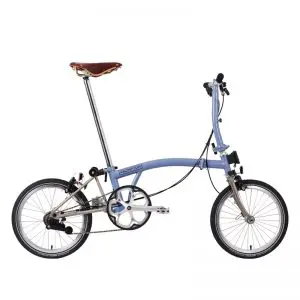 Maximum weight limit: 242 lbs. (110 kg.)
Folded size (dimension): 22.2 x 23 x 10.6 in.
Brompton company undeniably made it to the list of the best lightweight folding bikes with its Superlight S2E, which only weighs 22.7 lbs. This company has a remarkable reputation when it comes to commuting folding bikes that give you a solid and smooth riding experience.
The major difference between Brompton Superlight and Classic models is that the former combines steel and titanium specs for the frame material. As for the folding mechanism, Brompton delivers. It will only take you a few steps to fold and unfold the bike.
What makes cyclists love the Brompton Superlight S2E is that it's incredibly light to carry. Thus, it will be easier for you to jump in and out of trains or take your folder as you walk on stairs. After all, you'll get your money's worth with this model, knowing that Brompton folders are known for quality build and performance.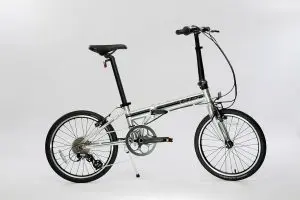 Maximum weight limit: 240 lbs.
Folded size (dimension): 27 x 31 x 12.5 in.
If you're a bit taller, EuroMini ZiZZO Liberte might work wonders. This folding bike model can accommodate a rider height between 4'8" and 6'3", as advertised on their website. Similar to other reputable brands on the list, the Liberte model uses an aluminum alloy for the frame and fork that really gives off a light structure.
This folder is actually an excellent companion for longer-distance rides, letting you ride fast and ride responsive at all times. It also features a secure "vise grip" locking mechanism that guarantees a safety lock to prevent your folder from any accidental (this benefits the ride).
The EuroMini ZiZZO Liberte folding bike also features a genuine Shimano Revo 8-speed grip style shifter. This spec allows you to experience a smoother and hassle-free ride despite bumpy roads and terrains ahead.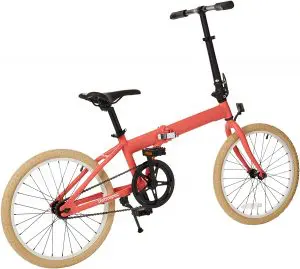 Maximum weight limit: 250 lbs. (113 kg.)
Folded size (dimension): 33.7 x 25 x 12.7 in.
Perhaps the Retrospec Speck Single Speed folding bike might be your ideal choice if your intended budget is under $399. It weighs 23.5 lbs and caters to a maximum load weight of 250 lbs.
Purchasing this folding bike model gives you a hand-built aluminum folding frame and fork. In addition, it encompasses 20-inch size Kenda Kwest bike tires and a rear coaster brake for a fast but smooth cycling experience. This just means you'll have improved stability on the roads.
In terms of folding mechanism, the Retrospec Speck Single Speed folding bike delivers. In fact, customers from Amazon deemed the model fun to ride. It's also easy to fold and light enough to throw in your car's trunk or slide underneath the desk without any hassle.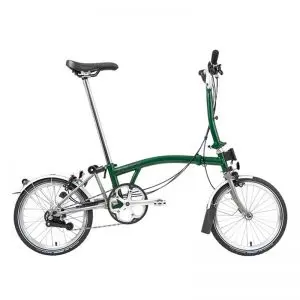 Maximum weight limit: 242 lbs. (110 kg.)
Folded size (dimension): 25.3 x 23 x 10.6 in.
Another Brompton Superlight folding bike that provides you with undeniably light and quality specs is the M6L model. The folder combines steel and titanium frame components that make them more accessible and lighter to carry than Brompton's Classic models.
You won't find yourself putting much effort when carrying this model at all. Indeed, it's one of the most classy folders today, encompassing a folding mechanism that folds and unfolds down quickly.
If you're a rider with a shorter commute at slow speeds, the Brompton Superlight M6L is the right fit.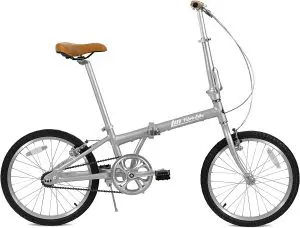 Maximum weight limit: 209 lbs. (95 kg.)
Folded size (dimension): 9.8 x 29.9 x 21.6 in.
Finally, if you're looking for a lightweight folding bike with great features, the FabricBike Single Speed is the answer. Its frame material is made with a foldable aluminum build, guaranteeing 30% lighter components than a conventional bike.
This model has what it takes to be on the list of the best and lightest folding bikes today. They're perfect for use for recreational tours and commutes. What's more, you'll get the smallest foldable bike footprint with the FabricBike Single Speed. In this case, you won't have to worry about getting a room for your bike as it can be slid easily anywhere.
The tires of this model are also made with Kenda Kwest, featuring water dispersion, which gives you a comfortable ride as well.