Are Folding Bikes Good for Long Rides?
Folding bikes are generally intended for short rides, but their versatile features let you have long-distance rides too. However, your pedaling speed and fitness level can influence your cycling distance.
Folding bikes have been on the market since the 1980s. They're mainly known for their portable and lightweight features that urban dwellers and commuters love. Folding bikes provide the same quality and speed that traditional bikes offer. 
In this article, we'll delve into the significant advantages and drawbacks of using folding bikes when traveling long distances. Several factors are also involved, so make sure to consider them before buying one.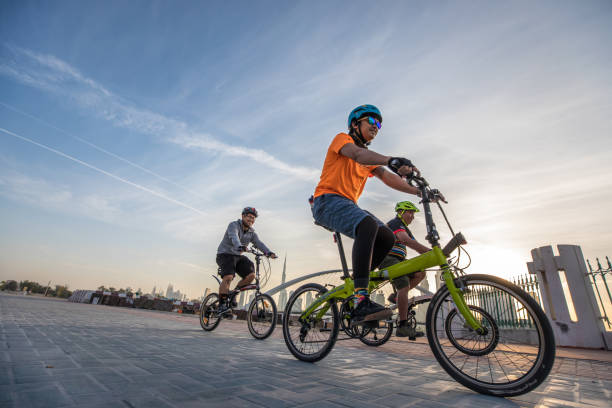 How Far Can You Go On A Folding Bike?
The average distance any cyclist can go (beginners and professional) with a folding bike is between 6.2 to 12.5 miles in a day. Further, we can denote that the "farthest" distance a folding bike can do is between 30 to 60 miles.
However, several factors can influence how far your folding bike can go. These involve your fitness level, height, age, and the folding bike's wheels and frame.
For instance, healthy and active cyclists would perform long rides better than those with underlying medical conditions. Thus, affecting the time and distance one can travel on a folding bike. 
The same idea goes with a rider's height. If you're taller, you might feel cramped when cycling, making it challenging to pedal comfortably. In this case, you'll feel more tired and not be able to go on.
As for the folding bike's wheels and frames, stability counts; smaller wheels would create a "fast" speed but wouldn't be stable enough when traveling on rough terrains.
Since every cyclist is different, it's recommended to try and test folding bikes to find what works wonders for you, including the distance.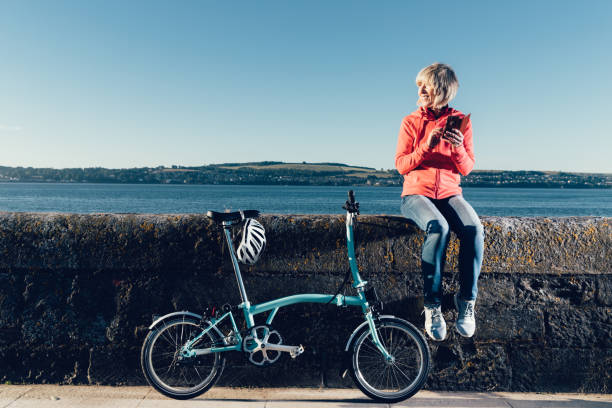 Benefits of Folding Bike for Long Rides
Cycling long-distance rides using a folding bike offer significant benefits that other types of bikes can't provide. These involve:
Convenient to carry and use.
Most folding bikes come with a lightweight and portability feature, making them more convenient to use than large-wheeled bikes. You won't find folding bikes challenging to carry. This is especially true for suburban commuters who commute to the station, ride the train, and bike again on their way to the office.
With folding bikes' portability, you won't have to leave them in a place risking being stolen.
Saves you a lot of space.
Folding bikes have a small footprint once folded. Further, they take up far less space compared to traditional bikes on the market. You won't find yourself looking for space at your home where you can store the folding bike. 
As such, you can either slide it under your bed or keep it at the back door when not in use. Well, the choice is yours.
Unrestricted access to any public transport.
Since folding bikes are portable and can save you a lot of space, you can bring them anywhere with you: be it on a bus, a taxi, or a train! You'll only need to fold it next to you and enjoy the ride without worrying about your bike's whereabouts. 
Fortunately, you don't need to spend a dime carrying a folding bike on public transport.
Good for exercise.
Cycling for longer distance and hours have positive effects on your physical fitness and health because it increases your heart rate. Likewise, it reduces your chances of developing serious diseases, such as diabetes, depression, stroke, and arthritis.
TIP: It's essential to perform some warm-up exercises or stretches before cycling to avoid injuries.
Beginner and professional-friendly.
As the social distancing and lack of transportation continue, more workers and commuters are buying to get a bike for mobility.
Folding bikes are generally beginner and professional-friendly. They cater to different riders, yet they aren't a one-size-fits-all approach. Furthermore, they're also ideal for those who have small space at home or want a bike for commuting or running errands.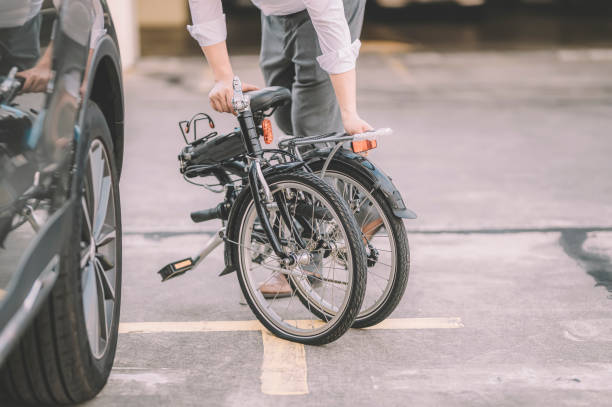 Problems of Folding Bike for Long Distance
Folding bikes have smaller wheels compared to traditional bikes, which make them at a significant disadvantage. Here are the other drawbacks of using a folding bike for long-distance rides:
It won't provide the same speed as road bikes.
A bike's wheel size affects the speed gearing. Thus, smaller wheels tend to decrease end speed while larger wheels do the exact opposite. Subsequently, folding bikes have slower speeds than road bikes, as they're more susceptible to road imperfections. However, the pace still depends on your pedaling skills.
It isn't great for uphill climbs.
As mentioned, folding bikes have smaller wheels, typically ranging between 12 to 20 inches, against the standard full-size wheels ranging between 26 to 32 inches. Since folding bikes have small wheels, they have a limited gear range, which isn't ideal for riding uphills and rough terrains.
Expensive than traditional bikes.
Folding bikes is the only known type of bike with portability features, adding to its unique characteristics and price.
The more costly a folding bike is, the lighter and more quality it provides for your long-distance rides.
What Makes a Folding Bike Difficult to Ride?
Folding bikes dedicated to long-distance traveling wouldn't give you a hard time riding it unless they aren't configured well.
Furthermore, you'll need to customize your folding bike so it's more comfortable to use for long cycling hours. 
You can also check these questions before riding your folding bike:
Are the wheels properly inflated?
Are the chains lubricated?
Are the axles loose or overtightened?
Is your folding bike optimized for touring?
Does it cater to your weight and height?
With these things mentioned, you won't need to sacrifice your bike's rideability for portability.
What to Look For When Buying a Folding Bike for Long Rides?
The best way to make folding bikes a worthy investment is to keep a keen eye on their attributes. Moreover, focus on the following components that will make your cycling enjoyable, especially for long-distance commutes.
Folding mechanism
It would be a pain in the neck to have a "folding bike" that doesn't come with ease of portability. For those who commute, a bike's folding mechanism must be considered. You also need to consider how easy and quick the bike folds down (beneficial if you're getting to the train at the last minute).
Weight
There are cases where some paths are only accessible by walking (some by climbing on stairs). You don't want to carry a folding bike that's bigger and heavier than yours, right? Take note that the lighter the materials, the pricier it would be since fewer but premium-quality gears are needed. Further, the ease of transport primarily depends on your folding bike's folding mechanism and weight. 
Wheel size
As described above, a disadvantage of folding bikes is that they encompass smaller wheels. Standard folding bikes include a 20-inch wheel size, which is light enough to carry anywhere with you. For longer distances, it's best to opt for a wheel size that maximizes your pedaling input but doesn't compromise the weight and foldability.
Upgradeable accessories
You can have a better and enjoyable cycling experience if your folding bike is customized for long-distance rides. For instance, tuning up the frame or suspension helps improve your ride's quality. Yet, it comes with a price.
Is It Worth Buying A Folding Bike For Long-Distance Rides?
The answer to this question depends on your personal reasons. Yet, standard bikes offer far more and better benefits when cycling long distances than folding bikes. The place you're going to is another factor to consider when buying one.
Regardless, folding bikes are dedicated to the following types of people:
Those who have insufficient storage room for traditional bikes
Those who commute on trains or buses then walk their way to work
Those who want to improve physical health (since cycling is a good exercise)
Those who want a cleaner and greener environment (bikes don't contribute to pollution)
Moreover, the biggest mistake of newbies is expecting folding bikes to perform the same as mountain or road bikes. Folding and mountain bikes can be used for long rides, but the latter performs better on rough or uneven surfaces.
So if you're using bikes with the sole purpose of cycling on terrains, uphills, rocky roads, or mountains, refrain from folding bikes at all.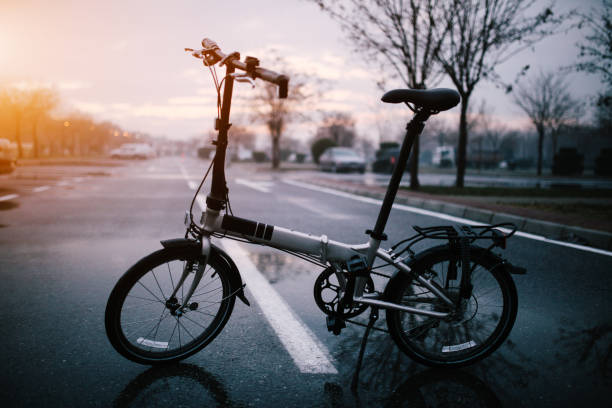 4 Best Folding Bikes for Long-Distance Rides
Folding bikes are typically fun-packed transportation means that you can bring anywhere with you. If you're looking for one, here are the best folding bikes you can use for long rides.
Choosing Schwinn Loop Adult folding bike is a no-brainer (and most probably famous for long touring). Even when cyclists have to go far and long distances, the folding bike's hefty frame made with aluminum steel keeps their ride stable. Moreover, you'll also find the frame durable and sturdy enough when riding the bike on uneven surfaces.
Short and tall cyclists would never have to worry whether their folding bikes can cater to their height. Schwinn folding bike accommodates riders between 4.6 and 6.1 feet in height. Thus, you'll feel more comfortable pedaling and cycling for hours, making it an excellent choice for a better-touring bike.
Besides, the gear and suspension can be operated smoothly with its 7-speed twist shifter feature. For your security, Schwinn implements front and rear linear-pull brakes (cantilever style). Great touch on this folding bike is the rear carry rack, letting you take whatever you need for that long journey. It has everything you need for a long but smooth and comfortable ride, maintaining a steady 10mph touring.
In terms of convenience, Schwinn delivers. Customers and cyclists reported that folding the bike only takes 10 seconds. This is a good choice for cyclists who hop on a train (as part of their commute) at the last minute. A nylon bag is included as well for easy storage. Furthermore, its 20-inch alloy steel lets you pedal your long way to work with style and comfort.
ZiZZo specializes in folding bikes that are great for cozy, long-distance rides.
Among the reputable brands known for manufacturing premium-quality folding is the ZiZZo. The EuroMini Campo 2019 is one of the lightest and practical folding bikes in the market that doesn't compromise your ride quality, especially for long-distance journeys. Nonetheless, cyclists love Campo 2019's sleek-yet-simple design that's perfect for distant commuting or leisure riding.
As for the setup, assembling the folding bike would just be a piece of cake. Moreover, cyclists appreciate its Genuine Shimano components, along with the 7-speed and grip style shifter. This folding bike's seat adjusts to your most comfortable riding position and proper support while cycling for hours. 
Besides, it has folding pedals and a broader but comfortable saddle, giving your feet comfortable movements while cycling long-range distances. Most of the reviews boil to several conclusions: EuroMini Campo 2019 folds easily and quickly, lets you have a comfortable and smooth long ride, and doesn't take too much room when stored. Finally, it only weighs 28 lbs. It caters to a maximum of 240 lbs, ensuring a cozy, lengthy ride.
Another ZiZZO-manufactured folding bike that can cater to your long-distance cycling needs is the EuroMini Forte'. Furthermore, it's engineered for smoothness, coziness, and durability. It can accommodate cyclists of all sizes but comes with a costly tag. 
Nevertheless, you'll get a nice, lightweight folding bike that only weighs 28 lbs. and is excellent for traveling or touring. On a side note, customers appreciate how comfortable it is for them to ride this folding bike on long-distance journeys. It caters to tall cyclists; you'll have no comfy worries even if you're 6'5".
Like ZiZZO Campo 2019, the Forte' involves Shimano components that are recognized as premium-quality bike components. As such, Forte' incorporates a 7-speed grip shifter, a 20-inch wheel size, and a linear-pull brake style that can assist you with longer rides. Additionally, you can adjust the stem according to your height. 
But the features don't end there. You'll also get front and rear fenders in case you encounter muddy or watery surfaces on your journey. With its magnet catcher, you can easily hold the components altogether once folded. Unlike the previous ZiZZO folding bike, Forte' can cater up to 300 lbs. of weight capacity.
Finally, the IDS Home folding bike made it to this list. All thanks to its practical and functional features that make it a not-so-basic bicycle in the market. It weighs a little heavier (compared to the top three items above), with around 32 lbs. However, this shouldn't be a problem when traveling long distances or carrying a bike while climbing the stairs or walking.
Another interesting attribute of this folding bike is its 6-speed Shimano gear, with a simple twist-grip shifter, and WANDA tires for speedy acceleration. This feature lets you ride your distant way to work comfortably. 
Nonetheless, this folding bike guarantees you a better performance at such a reasonable price point. It's pretty straightforward to assemble and decent to use. To add, it lets you adjust the seat height for a more convenient riding position, even if it takes you hours to cycle.
Similar to some traditional bikes, the Transformer folding bike comes with a bell. It acts as your safety device that lets pedestrians and other riders recognize you're around (beneficial for cyclists who use folding bikes as their means of transportation). 
Customers share their experience with this folding bike as an excellent companion for leisure riding or just hopping around the town. Other than that, the frame's durable and stable enough and doesn't feel flimsy at all.