Are Folding Mountain Bikes Any Good?
The short answer is yes. The long answer is that they are a great way to get around town, and if you don't have the space for a full-sized mountain bike, can be an excellent solution for your transportation needs. However, there are some things to consider before buying one of these foldable mountain bicycles.
What a folding mountain bike primarily provides is the convenience of being able to ride all-terrain (which you normally get from mountain bikes) while also being convenient to store as needed (since they are still folding bikes. They really are easy to carry around and fit easily into most car trunks. In fact, some people prefer using them instead of normal bikes because they're smaller and lighter. However, typical and more affordable folding bike models usually lack certain features found pre-installed on traditional mountain bikes such as suspension forks and disc brakes. So as long as you feel like the convenience and comfort matches or exceeds expectations despite the expensive price tag, then you're good to go.
The Differences of Having A Compact Folding Mountain Bike vs. a Full-Sized Mountain Bike
Foldable Mountain Bikes Are More Affordable Than Traditional Two Wheelers
If you're thinking about buying a folding mountain bike, one thing you should consider is price. In general, folding mountain bikes tend to cost less than non-folding counterparts. That said, some manufacturers charge significantly higher prices for their folding designs. However, if you shop around, you shouldn't have any trouble finding an entry level model priced between $100-$200. As far as quality goes, you can expect high build standards across the board. There are no major differences between brands aside from size and design.
You Can Ride Them Anywhere
One of the biggest advantages of owning a folding mountain bike is its portability. Whether you choose to carry it in your trunk, backpack, suitcase, or simply leave it stashed somewhere else, you can take advantage of the convenience offered by foldables anywhere you'd normally drive or walk. You don't need special permission to use public transportation either. Just make sure to pack everything before leaving home so you don't forget anything.
It's Easy To Store Away
When you buy a folding bicycle, you usually receive a bag or box along with instructions on where to put it. If you plan ahead, this will help ensure that you always find space for your bike whenever you want to bring it out again. It also helps prevent damage to your bike during transit. Most models come with wheels attached which means you only need to remove the frame when you store it. This saves time and energy while keeping your investment safe at all times.
It's usually cheaper
Depending on what type of folding mountain bike you purchase, you may be able to save money over purchasing a standard version. For example, many companies sell complete packages including frames, forks, brakes, etc., but not saddles. On average, you could end up paying half the amount for a similar product without having to spend additional cash on accessories like tires, tubes, locks, lights, racks, bags, fenders, etc.
Foldable Bikes Make Great Commutes
Many commuters rely heavily upon public transit to get around town. Unfortunately, buses and trains rarely run during peak times. That leaves plenty of opportunities for delays and cancellations. Foldable bikes provide an easy solution to this problem. Since they don't use any type of fuel, they won't cause congestion on crowded highways. In fact, they can travel up to 50 miles per hour! As long as you maintain safe speeds, you'll never encounter any major accidents. Plus, you can ride them anywhere. So whether you're commuting to school or heading out for a leisurely afternoon stroll, you can count on a foldable bike to make things much simpler.
Ease of Use of a Folding Mountain Bike
While most people think of mountain biking as being outdoorsy, riding a folding mountain bike doesn't necessarily mean spending hours outside. With proper care, you can enjoy the benefits of a folding mountain bike just about anywhere. And since they're designed specifically for off road adventures, you can even go places other types of bikes cannot reach.
Whether you decide to explore trails near your house or venture into remote areas, you'll appreciate how much more comfortable and stable you feel behind the controls of a folding mountain bike. Plus, there's nothing quite like getting away from civilization and enjoying nature. The best part? When you return home, you won't have to worry about carrying your gear back because you already packed it!
The Pros and Cons of a Folding Mountain Bike
While mountain biking has proven to be quite a hit in the world of sports, people have been looking forward to more accessible and more convenient. With this in mind, its also important to highlight the pros and cons of owning a folding mountain bike. While they're worth considering if you're interested in exploring new ways to travel, its important to know if they're for you before you cash out. 
The Advantages Of A Folding Mountain Bike
One advantage that comes with having a foldable bicycle is that it can easily fit into your car or truck when not being used. This makes traveling much easier than carrying around an entire set up. It's also easy to store away as well since there are no bulky parts attached to them. They make great gifts too!
Another benefit is that these bikes are usually lighter than their non-folding counterparts. Since they don't require any extra weight on top of what you already carry, you'll find yourself riding faster without even realizing it.
You'll also notice how comfortable they feel while riding because they provide better support than traditional bicycles. The seat will keep you from feeling uncomfortable during long rides which means less chances of getting sore muscles. You won't need to worry about hurting your back either thanks to the adjustable handlebars. These features allow you to ride comfortably all day long.
If you want to explore different trails, then you should consider buying one of these bikes. There are many places where you can go just by taking off down the road. If you live near mountains, forests, lakes, rivers, etc., then you may enjoy going on some adventures. Just remember to bring along plenty of water so you stay hydrated throughout the trip.
 While most folding mountain bikes aren't meant to replace traditional two-wheeled vehicles, they still offer plenty of versatility. From cargo bikes to kids' bikes, there are countless options available depending on your needs. Foldability makes them easier to handle! Since most folding mountain bikes require less effort to operate, you'll feel better equipped to maneuver through crowded streets and parking lots. Plus, you won't have to worry about carrying extra weight or struggling to keep balance.
The Disadvantages Of A Folding Mountain Bike
There are also several downsides to owning a folded mountain bike. One disadvantage of a folding mountain bike is that they aren't very durable compared to other types of bicycles. However, most manufacturers offer warranties so you shouldn't worry about anything breaking down after purchasing one. 
When shopping for a folding mountain bike, look for ones made with quality materials like carbon fiber frames. Carbon fiber is lightweight but strong enough to withstand heavy use. Its also durable meaning you shouldn't expect anything to break after years of usage. Look for models that come equipped with disc brakes as well. Discs offer superior stopping power compared to rim brakes. Plus, they work best under wet conditions making them ideal for rainy days.
As far as safety goes, it's always good to make sure that whatever equipment you use is safe. Make sure that you check the frame carefully before making a purchase. Also, ensure that the brakes work properly and that the tires are inflated correctly. Lastly, look over the components closely to see if anything needs replacing. We recommend doing this before taking off on a big trip to avoid problems later down the road.
Another problem you may face when starting out is when you find out that they aren't very stable at times. When you're trying to balance on two wheels instead of four, things tend to get tricky – especially when you're not used to it yet.
This isn't helped by the fact that most models come equipped with smaller wheels compared to other types of bikes. However, you should still expect decent performance regardless of size.
Another thing to consider is that folding bikes tend to cost more than regular ones. In fact, they can sometimes cost twice as much. So if you plan on investing in one, make sure you shop wisely so you get the best deal possible. If you plan ahead, you might be able to save some money over time.
There are pros and cons to owning a folding mountain bike. But overall, they're worth considering if you're interested in exploring new ways to travel. They're convenient, affordable, and easy to maintain. The best part is that once you get started, you'll quickly realize that these bicycles are actually quite enjoyable to ride.
If you've ever wanted to try mountain biking but didn't know where to start, then read our guide below. We explain everything you need to know about choosing the best folding mountain bike for beginners.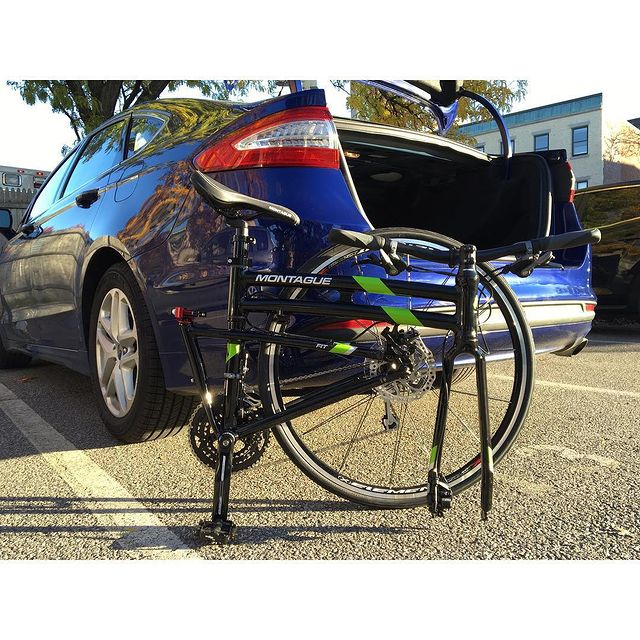 What Do I Need To Know Before Buying One?
If you've been thinking about buying a folding mountain bike, then you're probably wondering what you should know before making the purchase. There are a lot of different types of folding mountain bikes out there, and each has its own pros and cons. So, if you're looking to buy a new folding mountain bike, here are some things you should consider before making your final decision.
1) How Much Does It Fold?
The first thing that most people want to know is how much it folds up. This can be an important factor in deciding whether or not this type of bicycle will work for you. If you have limited space at home, then you may need something with more compact storage options than others.
2) What Type Of Frame Is Used In The Bicycle?
 Another big question when shopping around for a foldable bike is which frame they use. There are many different frames on the market today, so make sure that you choose one based on what works best for you. Some common choices include:
• Aluminum – aluminum is lightweight, durable, and easy to maintain. However, aluminum does tend to bend easily, especially under heavy loads like carrying kids or groceries.
• Steel – steel tends to hold up better against heavier weights but isn't as flexible as other materials.
3) Are Wheels Included With The Purchase?
Wheels are another crucial part of any bike, and wheels can vary widely between brands. You don't necessarily need expensive wheels, but quality ones can really help improve performance. When choosing wheels, look for features such as quick-release hubs, sealed bearings, and tubeless tires.
4) Can You Carry Kids On Your New Bike?
Many parents say that having a second child makes them feel less comfortable riding their bicycles because it takes longer to get going. But, if you do plan on adding a kid to your family soon, it might be worth considering purchasing a model that allows for multiple riders.
5) Which Features Should Be Added For Safety And Security?
One feature that every parent wants to add onto their bike is safety gear. While these items aren't necessary for all children, they can definitely come in handy during times of emergency. Items like helmets, knee pads, elbow guards, and backpacks can provide extra protection while riding.
6) Will It Fit Through Doorways Or Other Small Spaces?
One of the biggest reasons why people decide against getting a foldable bike is due to lack of room inside their house. If you live in a small apartment, condo, or townhouse, chances are good that you won't find enough space for a full size bike. Therefore, you'll likely need to invest in a smaller version instead.
7) How Easy Is It To Put Away Once Not In Use?
This last point is very important since it affects convenience. Most models require you to remove everything from the bike before putting it away. This means taking off both pedals, removing the handlebars, and unclipping the seatpost. Then, once everything is removed, you must put the whole thing together again. Depending on how long it takes to take apart and reassemble, you could end up wasting time just trying to store the bike.
What are The Best Folding Mountain Bikes?
The first thing you should consider is your own personal preference. If you like speed, go for one of the fastest models available. However, if you'd rather avoid crashes, select a slower option instead. Next, think about your budget. Are you looking at spending $500 or more? Or perhaps only $100-$200? Finally, look into the different types of frames offered. There's no right answer here. Each person has his or her own reasons for wanting certain characteristics. For example, some riders love having extra storage space while others appreciate the ability to carry larger loads. Whatever your reason may be, there's bound to be a suitable model that fits your needs perfectly.
The following list includes several popular brands with various features. It also provides links to each company's website so you can learn more about these machines.
Best Selling Brands and Models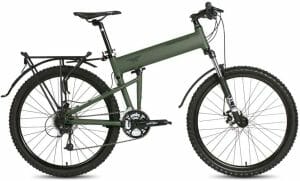 One of the best folding mountain bikes overall, the Montague Paratrooper offers great appointments and inclusion – providing an all-terrain performance that proves to be both unparalleled and just plain powerful.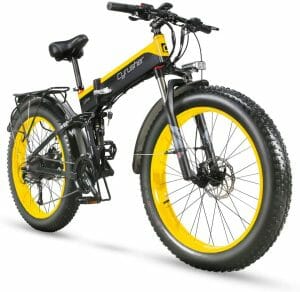 Falling second to the Montague, the Cyrusher FR100 boasts seamless speed transitions, amazing feel and ease of use, along with ease of folding (with great fastener clamps) that provides the space-saving quality you look for in a folding mountain bike.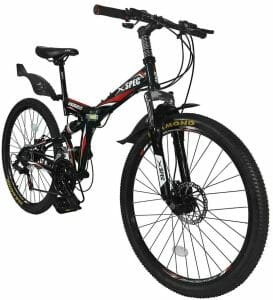 The Xspec Size 26 proves to be the best commuting folding mountain bike – especially with its easy to assemble nature along with its stable frame that makes it perfect for zooming and touring across the city as one would chase the skylines.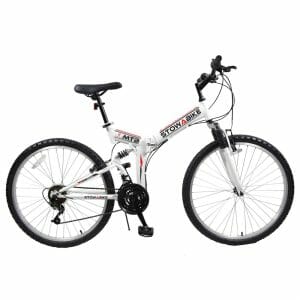 The Stowabike V2 is a perfect no-nonsense folding mountain bike for beginners. It offers super friendly features and designs, not to mention the fact that it's brakes are superbly strong – making its rider feel safe and secure.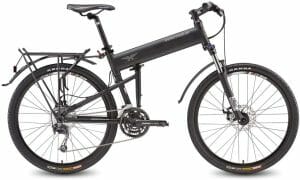 The Montague 27-speed Paratrooper is the perfect endurance folding mountain bike – with features and appointments that make it easy to adapt to an outdoor setting. The bike has a lightweight frame (for ease of maneuver and stability) and is blissfully paired with derailleurs and shifters that are super responsive.
How Much Does A Foldable Mountain Bikes Cost?
You'll find prices vary widely based on the type of frame, size, color, etc. But generally speaking, expect to spend anywhere from $300-$600 dollars. That said, it all depends on what you're looking for. So before buying anything, make sure you have a clear idea of exactly what you want. Then narrow down your search by price point. Once you've done that, take advantage of online deals and discounts. Many retailers offer free shipping as part of their promotions. Also keep in mind that sales tax varies greatly across states. In most cases, folding mountain bikes cost less than non-folding counterparts. 
To conclude – Is it worth getting a folding mountain bike?
If you enjoy riding outdoors then yes! You will definitely get value out of owning such a machine. As long as you know how to properly maintain them, they will last you years upon years. And when you do need to replace parts, you won't have to worry about finding replacements because they are readily available.
So whether you choose to buy a new folding bicycle or repair/upgrade an old one, I hope this article helps you decide which way is better suited for you.