How Much Is a Folding Bike? Quality and Features You'll Get Within a Price Range
Bicycles are designed to provide convenient traveling. One of the many types of bicycles is the folding bike. Folding bikes are designed to be compact, portable, and less space-consuming. 
Folding bikes are handy as they can be mechanically bent to fit small storage. In the 1890s, folding bikes became a helpful tool, especially to soldiers during the French War. In succeeding decades, folding bikes became a standardized mode of transportation for people living in non-spacious households.
There are several choices of folding bikes available today. Moreover, entry level folding bikes can start at $200 while average ones can range between $499 to $699. Folding bikes can even go higher than $1999, giving you great quality and features you'll need for a good ride.
By Folding Bike's Brand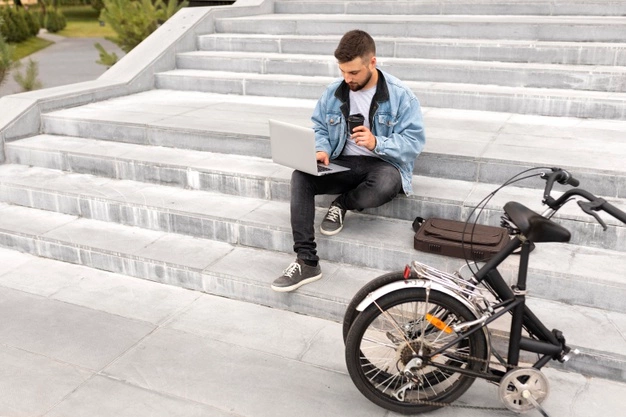 Today's market for folding bikes is evidently large. Many brands –old and new– compete to provide the kind of bike that fits a biker best. In folding bikes and bikes in general, the brand is one thing. The more the brand has been in the market, the more it is likely to be the first option for purchase, especially for those who prefer quality over price. 
Brompton
Brompton Bicycle was founded by Andrew Ritchie in June of 1976. A. Ritchie made the first design of a folding bike in 1975 and began its production in 1981. Having an engineering background, Ritchie created the Brompton Bicycle designs that fit people with tiny homes or small storage. Today, Brompton folding bikes offer traditional folding bikes and electric folding bikes that range from $1,100.00 to $4,050.00. 
Traditional Brompton Folding Bikes are classified into A-Line and C-Line. A-Line, also called B75, folding bikes start from $1,100.00. This line is the most affordable of the three. It offers a quick folding mechanism that would take 10 seconds to fold the bike thoroughly. 
The B75 folding bike has a standardized size suited for riders with a height of 167 cm to  193 cm. Lastly, the line has upgradable components which give the bike owner the option to improve their biking experience.
The Brompton Bicycle's C-Line is also known as the standard core bike. This line ranges from $1,410.00 to $2,040.00, depending on the specification. This bike line can be configured in five hundred different ways, making it suitable for bike owners who love modifying their bikes based on their taste. 
The line has more than one thousand two hundred parts fitted to make the bike low-maintenance even if used regularly. Like all the models of Brompton Bicycle, the C-Line is known for its purely hand-worked and beautifully soldered frames.
The last line from Brompton Bicycle is the Electric C-Line, also called the Brompton Electric. This line ranges from $3,080.00 to $4,050.00. It offers a riding distance from 40 kilometers to 80 kilometers on a single battery charge, 25 km. Like the C-Line, the Electric C-Line can be customized. The bike owner can choose their own gearing, handlebar type, seat post height, and saddle. 
Dahon
Dahon was founded by the Hon brothers in 1982. As of 2006, Dahon was considered the largest folding bike manufacturing company globally. The company's headquarters is located in Los Angeles, California, and has assembly factories in China, Macau, and Bulgaria. Dahon folding bikes range from $499.00 to $2,299.00.
Folding bikes from Dahon that range from $499.00 to $599.00 offer steel with Deltec material, making it affordable than most folding bikes in the market. From $639.00 to $1,499.00, you can get a folding bike with an aluminum frame with custom brakes and drivetrains. And at the price range of $1,899.00 to $2,299, one can avail of an electric folding bike with aluminum components.
Dahon folding bikes are known for their affordability and versatility. The company is also known for having lightweight frames and custom drivetrains. They offer both classic folding bikes as well as electric folding bikes. To sum up, the company has thrived in the market for its competitive price range, its beginner-friendly mechanism, and its easy-to-find replacement parts.
Tern Bicycles
Tern Bicycles was founded in 2010 by Florence Shen and Joshua Hon, the wife and son of Dahon's founder, respectively. The company's name was derived from a type of seabird known for being lightweight and small. The company's vision is to normalize folding bicycles instead of cars for a more sustainable future. Tern folding bikes range from $549.00 to $9,299.00.
Tern is known for its light products that can carry heavy packages. They specialize in creating electric folding bikes. Some of the electric bike lines that the company has are GSD, HSD, and Vektron. Below is a chart of the price range in each electric folding bike line.
| | | |
| --- | --- | --- |
| Electric Folding Bike Line | Electric Folding Bike Models | Price Range |
| GSD | GSD S10, GSD R14, GSD S00 LX, GSD S10 LX | $5,399.00 – $9,299.00 |
| HSD | HSD S+, HSD S8i, HSD P9, HSD S11, HSD P9 Performance | $3,699.00 – $5,699.00 |
| Vektron | Vektron S10, Vektron Q9 | $3,699.00 – $4,199.00 |
They do offer several non-electric folding bikes as well. In fact, the company created folding bikes with different folding styles. These are flat fold, standard folding, and ultra-compact folding. The lines under their non-electric folding bikes are BYB, Verge, Link, Eclipse, and Node. Below is a table showing the price range in each non-electric folding bike line.
| | | |
| --- | --- | --- |
| Non-Electric Folding Bike Line | Non-Electric Folding Bike Models | Price Range |
| BYB | BYB S11, BYB P8 | $1,299.00 – $2,499.00 |
| Verge | Verge D9, Verge P10, Verge S8i, Verge X11 | $1,149.00 – $2,699.00 |
| Link | Link D7i, Link D8, Link C8, Link A7 | $549.00 – $1,149.00 |
| Eclipse | Eclipse P20, Eclipse X22, Eclipse D16 | $1,199.00 – $2,699.00 |
| Node | Node D8, Node D7i | $1,099.00 – $1,299.00 |
Hummingbird
Hummingbird Bikes was founded by Petre Craciun in 2016. The brand's initial objective is to build a lightweight folding bike. This is why their bike components are mainly created from carbon fiber material. Today, their folding bikes are coined as the lightest folding bike available in the market. Aside from that, the brand claims to have a folding time of five seconds. Hummingbird Bike's price ranges from $1,600.00 to $6,300.00.
Schwinn Bicycle
The Schwinn Bicycle Company is an old bike brand founded by Ignaz Schwinn in 1895. During the 20th century, the brand became the most known manufacturer of American bicycles. The brand is known for creating different bike types such as cruiser bikes, mountain bikes, road bikes, etc. In the folding bikes section, Schwinn bikes can range from $160.00 to $499.00. 
Schwinn Bicycle folding bikes are considerably cheap compared to most folding bike brands. The company uses a steel frame, a cheap frame material, to make the bike affordable for entry-level bikers. Aside from that, Schwinn folding bikes are retro-designed and have a simple layout which makes them beginner-friendly, too. 
Raleigh
In 1887, Raleigh was founded by Sir Frank Bowden in Nottingham, England. Today, it is considered one of the oldest bike brands still existing. Raleigh folding bikes can range from $265.00 – $650.00. Below is a chart showing the Raleigh folding bike models available in the market today and their respective prices.
| | |
| --- | --- |
| Folding Bike Model | Price |
| Raleigh Classic Folding Bike | $260.00 – $285.00 |
| Raleigh Promenade 2006 | $239.00 |
| Raleigh Parkway 2009 | $252.00 |
| Raleigh Boardwalk 2006 | $385.00 |
| Raleigh Boardwalk Lite 2006 | $464.00 |
| Raleigh Evo-2 Folding Bike | $365.00 |
| Raleigh Stowaway | $650.00 |
Raleigh advertises their folding bikes with a competitive price range. Folding bikes from the brand below $400.00 are composed of steel frames, making them affordable. Aluminum framed bikes start from $401.00 and above.
Retrospec Bicycles
Retrospec Bicycles was founded in 2008 by Ely Khakshouri. The brand's primary mission is to provide affordable and stylish bikes to reunite people with nature. Their folding bikes range from $249.99 to $379.99.
Retrospec Bicycles has two models of folding bikes available at the moment. These are the Retrospec Speck SS Folding Bike and the Retrospec Judd Folding Bike – Single Speed. Both bike models are made to have fast-folding speed, minimalist design, and lightweight aluminum frames. The brand's folding bikes are ideal for commuting, exercising, and individuals who want a low-maintenance bike.
B'Twin
B'Twin is a bicycle brand created in 1999. Initially, B'Twin was advertised as Decathlon Cycle but changed its current name in 2006. The brand's folding bikes range from $249.00 to $1,199.00. Below is the list of B'Twin folding bike models and their current market price.
| | |
| --- | --- |
| Folding Bike Model | Price |
| B'Twin Tilt 100 Folding Bike  | $249.00 |
| B'Twin Tilt 120 Folding Bike | $299.00 |
| B'Twin Folding Bike Tilt 500  | $469.00 |
| B'Twin Tilt 900 Folding Bike  | $669.00 |
| B'Twin Electric Assistance Folding Bike Tilt 500 | $1,199.00 |
By Folding Bike's Category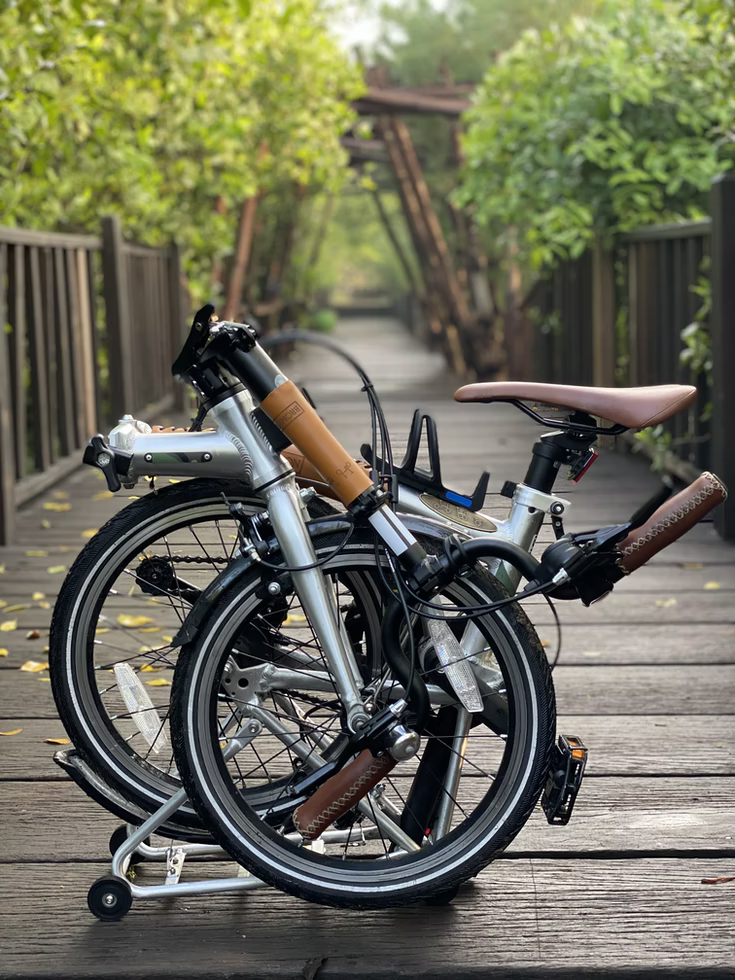 Some consumers do not rely on the brand but on the qualities they prefer their product. In order to ultimately feel that the investment is worth it, the product should hit the buyer's checklist. In folding bikes, aside from the brand, it is also common to weigh the bike based on what quality it has, the affordability, the unique features it possesses, and the convenience it can give.
Budget-Friendly Folding Bikes
It's often advised for beginners to purchase folding bikes that do the job but not hurt your pockets. Budget-friendly folding bikes have saturated the market since cheaper materials in the industry started. One of the materials considered helpful in making a folding bike cheaper is steel.
Affordable folding bikes that can do the job range from $200.00 to $450.00. These bikes often have a vintage or minimalist appearance, plain coating, and fewer accessories. Budget-friendly bikes are also mostly made of steel, which makes them heavier than other folding bikes. Though heavy, they do well in being compact once folded.
Most budget-friendly folding bikes are not as competitive as high-end bikes regarding durability and longevity. It is mainly because of the materials used in their components. Also, more often than not, budget-friendly folding bikes require keen maintenance as they are made of cheaper material and need regular cleaning to maintain their performance.
Quality Folding Bikes
For folding bike enthusiasts that can spare a reasonable sum to invest on a folding bike, a quality bike can range from $600.00 to $1,900.00. A quality folding bike is typically customizable, durable, comfortable to ride with, and easily folded. Since the main selling point of a folding bike is its foldability, some bikes' edge is the time needed to fully tuck itself into its compact form. Below is a list of some of the quality folding bikes available in the market, along with their prices.
| | | |
| --- | --- | --- |
| Folding Bike Model | Price | Selling-point Quality |
| Montague Boston | $700.00 | Single-speed flip-flop hubFold and unfold under 20 secondsMinimal maintenance |
| Dahon Mariner D8 | $869.00 | Smooth rideAdjustable handle postFolds and unfolds quickly |
| Tern Link D8 | $950.00 | Adjustable handlebarsPuncture-resistant tiresResponsive gear shifting |
| Bike Friday Pakit | $1,270.00 | Small and lightweightCustomizable one-to-11-speed drivetrain20-second fold time |
| Brompton M6L | $1,850.00 | Sophisticated six-speed drivetrainMarathon Racer tiresSteel frame for harsh urban riding |
Lightweight Folding Bike
Being lightweight is a plus factor for a folding bike since it is carryable once folded. Individuals that often travel find it advantageous if a folding bike is easy to carry and transport. Lightweight folding bikes are often made with light materials such as carbon fiber and aluminum. 
Lightweight folding bikes' cost can range from $300.00 to $4,850.00, depending on the build of the bike's other components. Below are some of the lightweight folding bikes available in the market that are also positively rated.
| | | |
| --- | --- | --- |
| Folding Bike Model | Price | Weight (kg) |
| Hummingbird Single Speed | $4,850.00 | 6.80 |
| Dahon VISC SL9 | $1,149.00 | 9.52 |
| Dahon K3 Plus | $1,499.00 | 9.80 |
| Tern Verge X11 | $2,699.00 | 10.20 |
| Brompton Superlight S2E | $2,330.00 | 10.30 |
There are also more affordable options for enthusiasts that require a folding bike's lightweight quality. The main differences apart from their price are the adjustability, upgradability, sophistication of design, and lifespan.
| | | |
| --- | --- | --- |
| Folding Bike Model | Price | Weight (kg) |
| EuroMini ZiZZO Liberte | $479.00 | 10.43 |
| Retrospec Speck Single Speed | $329.00 | 10.60 |
| FabricBike Folding Single Speed | $350.00 | 10.90 |
Electric Folding Bikes
In electric-assisted folding bikes, there are a lot of factors to consider to tell if it would be worth it to purchase one. The first to consider is the speed of the folding bike on different types of roads. Another is the battery life and motor power. 
Lastly, unique features can make the riding experience easier and more comfortable for the biker. These features include the capability to add bike accessories, the number of assist levels the folding bike can offer, and the folding bike's weight. Today, electric folding bikes can cost from $1,500.00 to $5,100.00. Below is a list of some of the electric folding bikes available in the market.
| | | |
| --- | --- | --- |
| Folding Bike Model | Price | Specifications |
| Rad Power RadMini 4 Electric Folding Fat Bike | $1,499.00 | Lithium-Ion BatteryFive-level pedal assistIntegrated brake light275 lbs payload capacity |
| e-Joe Epik Carbon | $1,699.00 | Samsung Lithium-Ion BatteryCan run up to 40 miles in one battery charge25 mph speed300 lbs load capacity |
| Aventon Sinch Foldable eBike | $1,699.00 | 20 mph top speed40 miles in one battery chargeFat tires for a smooth riding experienceRemovable Lithium-ion battery |
| Vektron D8 Folding Electric Bike | $2,799.00 | 400 watt-hour batteryCan run up to 56 miles in one battery chargeHydraulic disc brakesClass 1 Pedal Assist |
| GSD S10 Folding Electric Bike | $5,399.00 | Built to carry up to 440 lbs of weightParks vertically, consumes less spaceAdjustable cockpit for different biker heightsIntegrated Tern Valo direct headlight  |
Compact Folding Bikes
Individuals who regularly commute or travel find it awkward to load up a non-folding bike inside a bus or a train. A folding bike provides convenience to those people who have to alternately ride a mode of public transport and ride a bike instead of walking distances. 
The more compact the folding bike is, the better, especially on rush and peak hours. Compact folding bikes can range from $580.00 to $1,200.00. Below are some of the models that are usually picked for their compactness. 
| | | |
| --- | --- | --- |
| Folding Bike Model | Price | Compact Details |
| Tern Link C7 MO Folding Bike | $580.00 | Uses aluminum frame, FLB 2 Frame Joint, and Q-Lock handle post. Packs down to 85 x 65 x 34 cm. |
| Giant Halfway City 2015 Folding Bike | $730.00 | Uses aluminum alloy frame, alloy riser handlebar, and alloy folding stem. Packs down to 79 x 76 x 34 cm.  |
| Brompton S3L Folding Bike | $1,200.00 | The most compact in the market. Uses a hand-brazed steel frame and s-type shaped handlebar. Packs down to 58.5 x 54.5 x 27 cm. |