9 of the Best BMX Bike Grips Today
It is a fact that every biker would need an excellent performing grip to maintain control on outdoor rides. However, for BMX riders, having an excellent grip has a particular purpose. With the BMX being naturally built to absorb shocks, getting reliable grips and tires is crucial to handle the bumps. As significant as the riders who use them, high-quality BMX grips withstand excessive shock on rides.
An ideal BMX grip possesses the needed comfort and is exceptionally shock-absorbent, but its qualities go way beyond. As expressive and vibrant as the BMX world is, grips have become a staple in showcasing different styles, making their colors and patterns a remarkable element in the tracks.
While some may view BMX grips as not a significant part of the process of upgrading their BMX bike, learning a different dimension of having a grip would prompt them to change their mind. When looking for a new pair of BMX bike grips, always check out the weight, size, color, and the little features that would be the difference maker from the rest of the bikes on the tracks.
Benefits of BMX Bike Grips
Comfort
Maintaining the control and balance of a BMX should reply to how a biker would maneuver the body of the bike. Hence, handlebar grips and biker's hands should work side by side and ensure that the grips are comfortable enough to ride smoothly and effectively at all costs. BMX grips give the needed comfort with their thickness and softness feature that possesses shock-absorbing capacity.
Control
As mentioned previously, control is crucial to riding a BMX bike. With that, a BMX rider should carry a high-level finesse. With a quality set of grips, they would have the luxury of maintaining proper control on their bikes regardless of whether they're in mid-air or on the ground.
Style
Aside from providing the ideal control and comfort, BMX riders also use their grips as an avenue for personal depression. Grips from different brands and designs offer various patterns and colors. You could try to customize them by securing a pair that would suit your personality and liking.
Two Types of BMX Grips
Flanged Grips
BMX bikes commonly come with standard flanged grips, which give consistent control and hand placement in various activities. Flanges often come on the grip's inside edge, allowing the riders to backstop.
Flangeless Grips
Historically, BMX bikes were built to last on the race track. Still, as more riders gradually developed modern stunts and tricks, handlebar spins became popular. As some riders assessed that flanged grips were hindering safe landings, they tried to cut off their flanges. Over time, manufacturers have innovated their products and launched a trick-specified flangeless grip to suit their needs.
Top 9 BMX Bike Grips: Ranked and Reviewed
1. PNW Components Loam Grip – Best Overall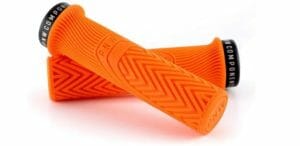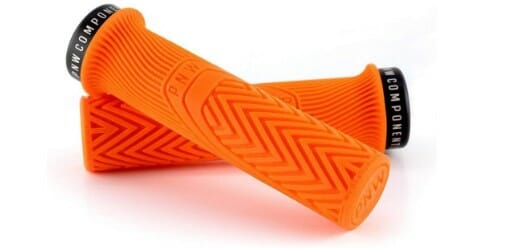 If you want to maintain your hands' smoothness and freshness in every ride, the Loam grip by PNW Components is worth a closer look. It has a ton of varieties, from its ultra tacky compound and ergonomic design to relieve your palms and feel less fatigue contributed by the trail and prolonged period in the saddle. 
This BMX grip model uses a tapered design, which adds to its aesthetic value. At the same time, its flange is also delicately ramped, making it easy and comfortable to position your hands on board. Its rubber compound makes the Loam grips soft yet sturdy, steamy vibration and maintains its shape under pressure.
Pros
Excellent at absorbing vibration

Balanced capability for comfort and durability

Hand-friendly grip pattern to enhance its traction
Cons
There are some issues regarding its comfortability
2. ODI Cult X Vans BMX Waffle Grips – Most Stylish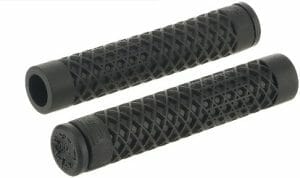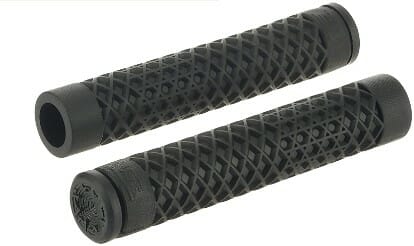 ODI has been famous around the market for years, which is why it became a handy idea for Vans to produce BMX grips by forming a partnership with a prominent bike manufacturer. The Vans soles, characterized by the iconic waffle pattern, ODI integrated the design in their flangeless grips available in different colors.
When this grip model was released, it quickly became a hit with the masses. It also helped that the two important brand names were attached to it, making it an intelligent way to market both the BMX grips and the shoe line. The grip has a soft rubber compound that keeps it gentle on the palm, while the pattern is not that elastic.
It is 10cm long, and the length is not too glaring, considering that it is designed to fit a common BMX feature. 
Pros
Easy to install with the zip tie method

Classic and stylish design

Very soft handle surface

Proven grippy

Tacky hold on the handlebars
Cons
Customers reported grip issues when used during hot weather

Durability concerns could arise
3. ODI Longneck Bike Grips – Most Versatile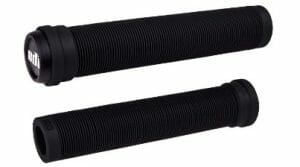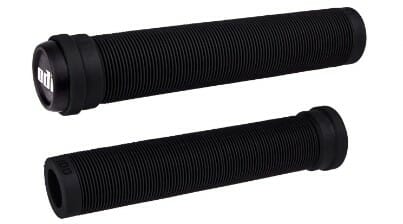 Another ODI bike grip making its way on the list is their Longneck model. As ODI prides itself in specializing in excellent grips for various types of bikes, it is without a doubt that this bike grip model possesses the needed quality to be popular among BMX bikers. Only a handful of grip companies would go deep in their research and testing like the ODI go through, and this bike grip is a testament to the kind of product they offer.
ODI Longnecks come in various styles, as it offers flanged and flangeless grips. It appears as a barrier on the inner part of your grip. There is another option in Longneck XL, which looks entirely the same, but its size is considerably long. It is commonly used by bikers who prefer to have their hands close to the middle bar. 
Pros
Made from high-quality soft compound material

Better vibration dampening through classic ribbed design

Squishy yet comfortable and stretches well

Best grips for riding without gloves
Cons
Some have reported that the end screw has compatibility issues

It could be challenging to install
4. Limit Handlebar Grips – Most Affordable Quality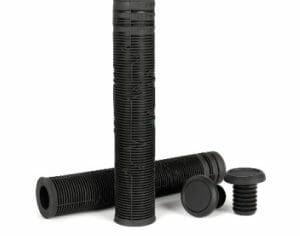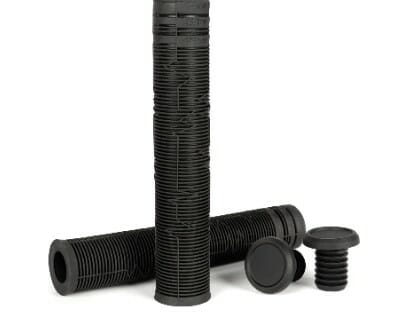 These BMX handlebar grips made by Limit contain high-quality TPE rubber materials that are nature-friendly, non-slip, and durable. Its soft ribbed grip design gives you great comfort with your BMX bike. 
An interesting feature of this product is that its grips length is customizable into 150/160/170 millimeters. At the same time, its 20 mm inner diameter size can be used for straight handlebars with 20-23 mm sizes. When ordered, the package comes with soft grips and nylon bar ends. Its unique tacky material is shock-absorbent, making it easy and cozy for you on rides as it reduces the fatigue factor from outdoor rides.
Moreover, the Limit handlebar grips give you a chance to combine two colors of your choice when you order. Hence, it allows you to express your style and character that's unique from the others.
Pros
Superb quality TPE rubber materials

Environmental-friendly materials

Offers a mixed color feature to empower your style

Customizable length to suit your comfort grip
Cons
The mixed colors could wear off over time
5. 25NINE Ronin Grip with Flange – Most Durable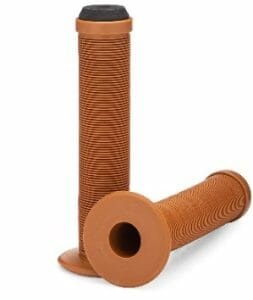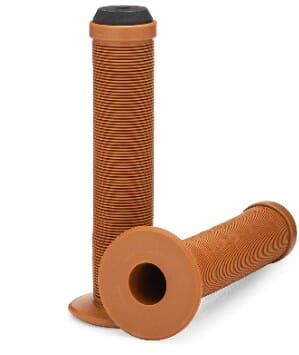 The 25NINE Ronin Grip with flange suits well for riders who are looking to reach repeatable hand placement for routine use. It is a 150-millimeter-long set of grips that provides riders the needed comfort to prevent overshooting the landing spot of their hands, which also helps form muscle memory over a long period of use.
It has a Kraton rubber compound that creates a soft yet durable feeling on the grip surface. It could build an excellent and cozy cover when integrated with the simple ribbed grip pattern. However, since it is 150 millimeters long and with its flanges, it cannot be trimmed at all.
Pros
Soft ribbed grip design enables a comfortable and slip-free performance

Works well with most standard BMX bikes

Long lifespan with its durable Kraton rubber

Squishy and spongy without being too soft
Cons
The grips could be too long for your comfort
6. Kutrick Handle Bar Grips – Best for Personalized Use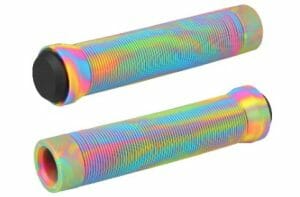 Kurick handlebar grips are one of the most versatile products on the list, as it fits on most 145-millimeter-long bikes. Its installation isn't too complicated due to its classic slip-on design. Their slips are kept simple as it settles on a streamlined appearance and skips the flanges. With a variety of options in colors available in select vibrant hues, it is a sure-fire hit for BMX bikers looking for excellent grips.
The ribbed grip pattern offers a vintage look, while its comfortability has been quite the most ideal thing you could get for your bike. The Kutrick 145 mm soft flangeless grips come with end caps to certify that you'll get a clean final look. However, this item's only downside is that it is not the most durable, which may prompt you to get your own end caps.
Pros
Soft and comfortable grips

Provides a tacky hold on the grips

Offers a wide pool of colors to choose from that allows you to personalize your bike appearance

Allows a lightweight relaxing riding

Stable bar plug to reduce the dust, rain water, and debris from your palms
Cons
Durability issues could arise over time
7. Marque Chevron BMX Grips – Most Eccentric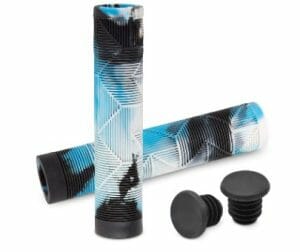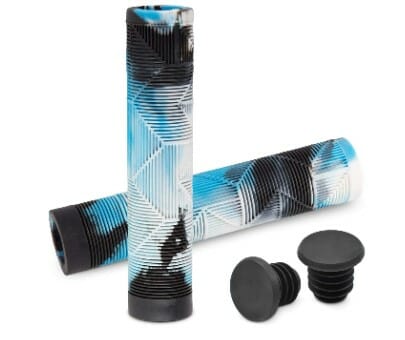 The Marque Chevron BMX grips value your personal expression, allowing riders to customize their handlebar grips that match their style and comfort. Its flangeless grip is 140 mm in length, and its TPR rubber element arrives with a wide array of sounding and marbled colors while providing a cushioned and tacky hold on your handlebars.
Additionally, each slip-on grip easily suits most handlebars as its outer diameter is measured between 20 and 23 mm. Its grip design comes with outlined chevrons with ribbing oriented vertically or horizontally leading to the grip's plane. 
On the flip side, these grips would sometimes have durability issues. Still, you always have the option to reach out to the manufacturers in case something wrong occurs.
Pros
Eccentric chevron grip design

Tacky TPR rubber material

Fits most bikes with straight bar

Shock-absorbent yet grippy enough for long rides
Cons
It has the tendency to get worn out quicker than expected

Hard rubber compound compromises its comfortability
8. LYCAON Bike Handlebar Grips – Best for Comfort and Security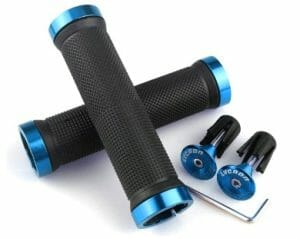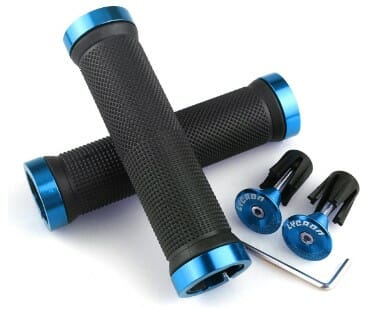 In terms of possessing an all-around feature for a bike grip, this model from LYCAON is something you should strongly consider buying. It is suitable for handlebar diameters around 20-22 millimeters long. It weighs considerably light at 116 grams, which makes it handy and comfortable to use on the trail. 
The LYCAON BMX grip has an excellent rubber adoption as contributed by its non-slip, anti-abrasion, and shock-absorption capabilities. It also means you won't have to deal with pain and fatigue on long rides.
Moreover, dual aluminum alloy locking rings for both sides of the handlebars helps the handlebar gloves keep intact and ensure your safety while riding. Its non-slip particle build with irregular texture is also perfect for rainy days and those with sweaty hands.
Pros
Lightweight to relieve the pressure off the handlebars

The high-quality rubber adoption lessens the pain in palms and fatigue on long rides

The double aluminum alloy locking rings ensure safe rides

Skid-proof TPR rubber grip is suitable for various riding conditions

Offers a wide selection of colors to express your style

Great gripping ability with gloves
Cons
Questionable durability

Light material might tear the item over time
9. Kasteco Mushroom Handle Bar Grips – Affordable and Convenient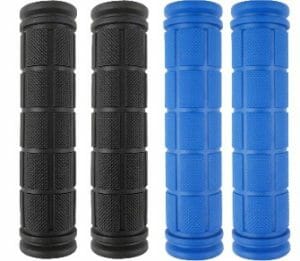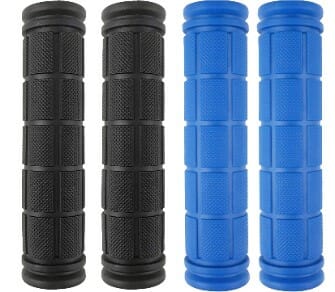 Whether you ride your BMX for leisure or regularly and are looking for an affordable set of grips for your bike, the Kasteco Mushroom bicycle handlebar grips are worth a closer look. It is a set of flangeless types with four grips in total, which is suitable for two bikes already. 
Each grip has a 120-millimeter-long length and an inner diameter of 22.2 mm, which suits most BMX bike handlebars well.
Furthermore, an added feature for this item is its antibacterial grip surface containing rectangular lugs, with a diamond checkered pattern on top of each grip for an improved grip. While the Kasteco Mushroom grips are soft and made to last, they might be too short for some bikes. Others may find the lean material insufficient for the cushion.
Pros
Offers comfortable riding

Easy to place and fall off

Perfect when gloves are worn
Cons
Durability issues could arise over time

Some have reported that the grips are too long to fit the handles