BMX Bike Paint Job Ideas [Plus Other Creative Ways to Enhance It]
Applying spray paint helps restore and freshen up your BMX bike while giving a new lease on life to a once two-wheeler filled with dents and scratches. Simply put, achieving good spray paint will save you enough time and money that you'll spend fixing your bike in a service center or station with fewer issues.
For the love of riding and biking, it is easy to say that sometimes the outside appearance and looks make you express your dedication and passion. Whether you have a brand new bike or an old model one and want to enhance its looks, color-match the components, or elevate your expression, we'll help you learn some new tips and ideas for your next BMX bike paint job.
Remember that you have the freedom to select the things you can do to showcase your style and creativity. There is a variety of stuff you could pull off, from applying for a brand new paint job to a less permanent one such as new grips or bar tape. You could choose your degree of creativity, like pulling off a hand-painted frame.
This article provides you with an extensive paint job list to make your BMX bike appear slick and stylish.
Six Steps in Painting a Bike Frame
Step 1: Begin by stripping the bike parts. Everything attached to your bike frame needs to be removed.
Step 2: Now, clean everything up. Cleaning everything up from the removed parts to the main bike frame will help your BMX achieve a neat appearance at the very least.
Step 3: Apply some sandpaper to smoothen and polish
Step 4: Cover up anything that you don't want to paint. You may use regular tape or some old newspapers to cover it up.
Step 5: You can now start painting!
Step 6: Put everything that you detached back to its proper place.
Best Paint Job Ideas For Your BMX Bike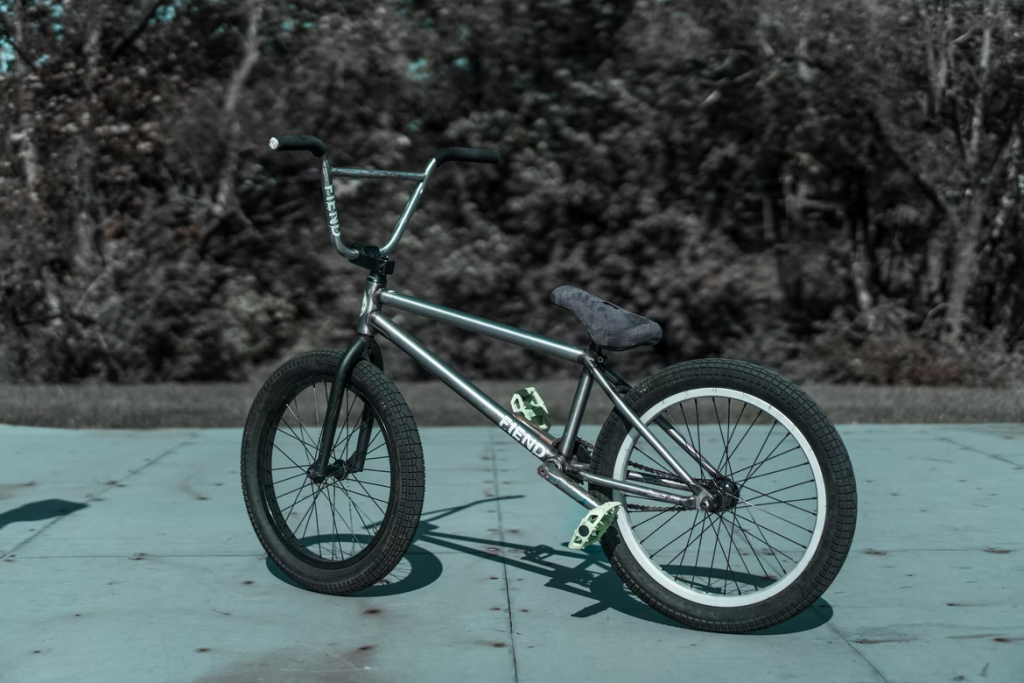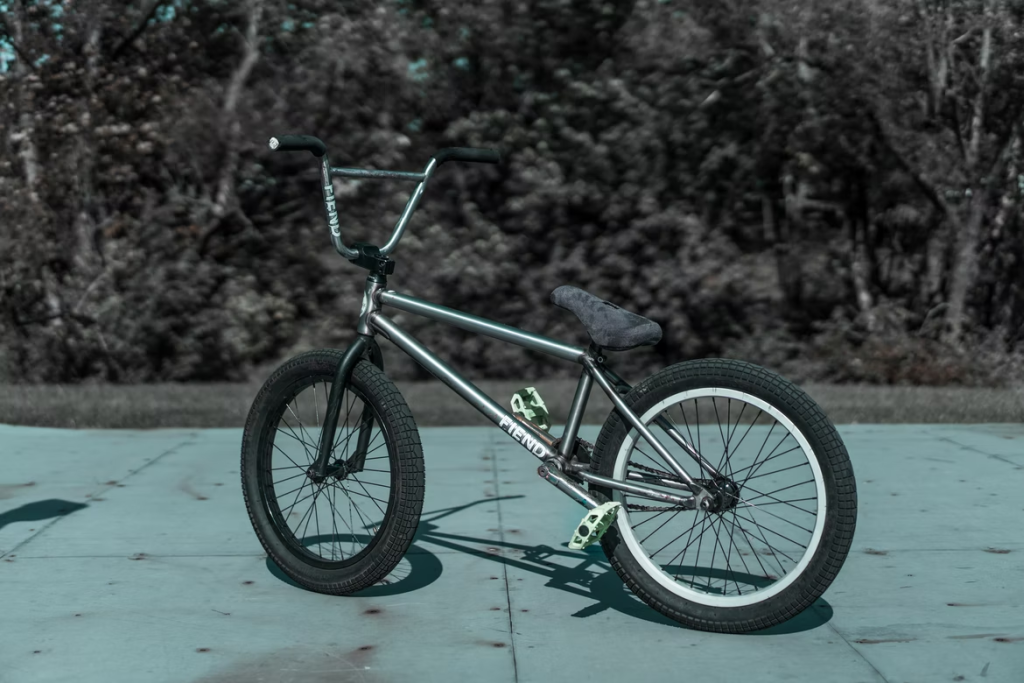 1. Single color gloss
This style possesses elegance, class, and a slick and glossy finish consisting of a layer primer, a pigment layer that allows you to choose any color available in the market, and a layer of gloss clear coat. It is perfect to pair with a black or white decal for a smoother finishing touch.
2. Multi-colored gloss
This design is an ideal blend of more than a single-color paint job in the form of a glossy finish. Its appearance is characterized by cuts, pearlescent, fades, metallic, and neon finishes. This one would be a catch for riders who fancy a modern look of a BMX bike. Moreover, it is suitable when you pull this one off with stenciling or hand airbrushing.
3. Matte finish
You can achieve a matte finish by applying an extra layer of clear coat to your BMX bike frame. Unlike the glossy finish, this one is a non-reflective coating and a perfect pair with almost any kind of color. However, remember that you should keep your frame safe on surfaces and areas that are constantly rubbed against since it could get polished and lose its essence. To preserve a matte finish, you must look for a matte finish cleaner for bike frames in the market.
4. Metallic
While metallic paints are comparable to a glossy paint finish, this one contains a touch of powdered metal flake for an added variety. You could choose the extent of paint flakes to apply to your frame. The more paint flakes, the more it reflects and provides a textured effect. In addition, the advantage of having metallic paint is that it is capable of hiding dents and scratches effectively because of its reflective essence and shiny features.
5. Pearlescent
This paint concept carries tiny bits of ceramic crystals known as "mica." Aside from being able to reflect the light, it could also refract it. Pearlescent paints provide a sparkle and a meaningful color variety that relies on different perspectives. Hence, it gives out interesting effects as the BMX frame and tubes would appear like it's bending and changing direction.
6. Neon
Slightly similar to a blended gloss paint finish, neon paints are bright, lively, and have a good effect on the sunlight. This highly customized paint finish contains a self-luminating chemical coloring that shines in visible light. The only knock against this design is its tendency to decay over time due to exposure to UV radiation. Nonetheless, these vibrant and glowing colors could be described as a tragic beauty.
7. Fades
Another excellent blend of colors on the list is the faded paint finish. From the word itself, an observable paint constitutes a fading color into another in such a short distance. The transition of coloring that occurs between two distinct components is called a "cut." Pulling off a cut could be expensive as it requires a masking procedure. You could apply the fade in any part of the frame from two to four colors of your choice.
8. Raw finish
This one traces its roots from the naturals. It contains simplistic features seen on a traditional BMX bike model and a touch of the modern look due to the excellent blend of finishing texture. It is a unique paint design as it aims to showcase and enhance the quality of welded steel frames despite having a clear coat on its raw frame finish.
Other Creative Ways to Enhance Your BMX Bike's Appearance
Aside from the creative paint jobs, there are also some alternative ways where you could express yourself and showcase your creativity with your BMX bike. Here are some of the ways to further enhance your bike's appearance:
1. Customized decals
To match your stylish paint job even further, you could opt for creative decals to elevate the appearance of your frames, forks, and wheels in a wide variety of colors. If you have the freedom to upgrade the looks of your forks, then decals could be an excellent way to go.
2. Apply some stickers
This is perhaps one of the easiest and most convenient ways to make your bike look lively. Putting some stickers on requires little to no skill, time, money, and effort. Some renowned brands in the market that offer accessories and novelties should be your go-to place. From your favorite cartoon characters, flowers, iconic brands, and inspirational messages, you could express yourself by putting some creative stickers on your BMX bike.
3. Colorful components
Whether you prefer your BMX bike to be neat, dashing, or coordinated, an ideal way to pull off that concept is to opt for some colorful components for your pedals, stems, cranks, etc. Many brands in the market could provide a wide range of colors that suit your riding style and expression.
4. Lively and engaging bar tape, grips, and hoods
Keep in mind that you don't have to stick to the traditional black colors for your handlebars. Various options nowadays provide you with a conventional and modern approach in terms of the color coordination for your grips, bar tape, and hood covers.
5. Freestyle using paint pens and brushes
If you really want to turn heads on the race track as you showcase your skill, having the pursuit of being creative with your fashion and style through your BMX bike would definitely give you an oomph factor. You could achieve this by decorating your bike frame using a freehand painting method. To do this effectively, you may begin by preparing some sketch design and try to trace it onto your bike frame. You could use fine paint brushes or paint pens for a simple yet great result. After all, it depends on your creative mind.
FAQS
Can you apply paint over chrome BMX?
Applying paint over chrome would require preparation time to achieve the desired shining effect. For the pre-procedure, you would need a wax and grease remover before applying a metal paint of your choice. It is even more achievable when you use a spray gun technique.
What is the best paint to use on a BMX bike?
You could use almost any kind of paint to decorate your frame with a spray gun. The crucial part here is to acknowledge that it would be more effective to spray paint instead of using a brush, as the former provides a more defined and professional result than the latter.
Can I apply paint to my bike frame by myself?
While spray painting a bike frame is much better than being one by a skilled bike frame painter, you could still do it on your own. 
What kind of paint methods are ideal for a BMX bike?
Getting your BMX bike frame a paint job could be achieved in two common methods – spray paint or airbrush paint. Both ways are not too complicated to use, and you can coat your bike in a short period.
Conclusion
The above discussion shows that bikes are not just a mode of transportation for most people. Along with the rides, it is equally important to choose a model, style, color theme, and materials that suit your character.