What Are the Best Folding Bikes You Can Buy Right Now? [Top Picks in 2021]
Folding bikes, folders, foldies —whatever you call it— are the most versatile bikes you can shop around for your leisure travel or commuting needs. They're a problem solver for most cyclists today. Got no room to store your bike everywhere, or need to carry your bike when you're commuting? A folding bike is the answer.
In fact, the ability of this bike to fold makes them a perfect companion packed on its own. You can get anywhere from point A to B, just like traditional bikes. Yet, the difference lies in a folding bike's portability, security, and compactness.
Folding bikes are getting the attention of cyclists (and even beginners) today. We've loaded our top picks for the best folding bikes you can buy right now in this article.
What Are the Best Brands When Choosing a Folding Bike?
In most cases, a folding bike's brand is a huge factor when determining its durability, rigidity, and folding mechanism. Bike manufacturers already have procedures and strategies in place to create their own unique and signature bikes. 
It's also worth noting that these companies put a lot of money on technology and high-quality materials to ensure that you receive your money's worth. Most known brands include the following:
Brompton
Brompton is undoubtedly up to something, giving clients superbly produced workmanship piece by piece, thanks to their decades of expertise. For instance, Brompton folding bikes are built of tough, long-lasting materials that have passed rigorous stress tests. Brompton folding bikes, in this case, will undoubtedly endure a long time.
Additionally, customers may personalize their very own folding bike according to their demands, which is one of Brompton's outstanding strategies. This method ensures that every customer is happy with their custom-made folding bikes. 
Dahon
Since riders realized how convenient folding bikes are, Dahon is considered Brompton's greatest rival in the industry, with an estimated two-thirds of market share in 2006. 
Nonetheless, Dahon folding bikes are known for their uncompromising wheel and frame combinations as well as excellent folding mechanics. Since then, it has been nominated for and won several awards. Dahon's cheap folding bikes are trendy among cyclists. This is because they are lightweight and small, providing a quality riding experience, with lots of gears and shifts you can choose from.
Tern Bicycles
And finally, Tern Bicycles considers itself as "a triple threat" to its largest competitors in the market. They offer style, speed, and exceptional comfort trapped in a convenient and compact package. What customers love about this company is its innovative design choices that let you ride faster and smoother.
Further, Tern Verge believes in the idea that going fast should always feel good. That's why it invests heavily in unique technology when creating its folding bikes' T-Tuned geometry and frame.
Top 12 Folding Bikes in 2021
1. Brompton Superlight M6L – Best Overall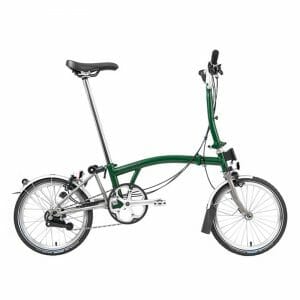 Specs:
Frame Material: Steel and Titanium
Folding Bike Weight: 23.9 lbs. (10.8 kg.)
Max. Weight Capacity: 242 lbs. (110 kg.)
Folded Dimension: 25.3 x 23 x 10.6 in
The M6L Superlight is the most popular (and best) Brompton folding bike category for most bikers. It comes with light yet high-quality specifications. This model includes a steel and aluminum frame that is sturdy and strong enough to endure any road conditions you might have in your way.
You won't have to exert much effort when carrying or riding this model. It is without a doubt one of the most elegant folders available today, with a folding mechanism that folds and unfolds fast at approximately 20 seconds!
The M-type handlebar of the Brompton Superlight M6L model provides a neutral riding posture. Short riders will be comfortable, while tall riders will be in a slightly athletic position. Moreover, this model comes with a 6-speed transmission, enough for long-distance trips and rugged terrains.
Pros
Ergonomic handlebar and seat post

Includes fenders and mudguards

Comes with front and rear lights

Folds smaller than any folding bikes

Does include customization for your quality ride experience
Cons
Not the most affordable folding bike in the market

Doesn't include a rear rack
2. Dahon VISC SL9 – Most Secured Folding Bike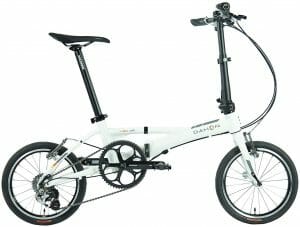 Specs:
Frame Material: Dalloy Aluminum Forged Lattice Hinge with ViseGrip Technology
Folding Bike Weight: 21 lbs. (9.52 kg.)
Max. Weight Capacity: 220 lbs. (100 kg.)
Folded Dimension: 11.7 x 25 x 30 in.
Dahon, as previously said, is one of the most well-known bike manufacturers on the market. Its Dahon VISC SL9 model features an alloy aluminum forged responsive lattice material and light while providing the high-quality ride you expect. This Dahon model defies the notion that folders are inherently unstable.
With a little over 21 lbs., we're confident that utilizing the Dahon VISC SL9 for commuting or leisure trips will be a breeze. It comes with 16-inch wheels, which some might find a downside. Yet, customers love how well this foldable bike type handles metropolitan streets and congested streets.
Because this model is lighter, you may commute and travel without difficulty. Its ViseGrip technology ensures that every hinge is secured from collapsing; thus, adding to your security.
Pros
Encompasses adjustable hinge's tightness

Locks the hinges securely with its technology

Made with extra-solid forged aluminum
Cons
Some cyclists aren't a fan of 16-inch wheel-sized folding bikes
3. Tern Verge X11 – Best Folding Mechanism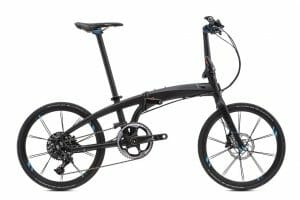 Specs:
Frame Material: Aluminum
Folding Bike Weight: 22.5 lbs. (10.2 kg.)
Max. Weight Capacity: 230 lbs. (104 kg.)
Folded Dimension: 15 x 31.5 x 29.1 in.
The Tern Verge X11, weighing only 22.5 pounds, might be your new commuter buddy. When it comes to folding mechanics, this model is the Hummingbird's main rival, as it can be folded and unfolded in 10 seconds or less!
Though lightweight foldable bikes aren't often recognized for their aesthetics, the Tern Verge X11 features a sleek and modern design that doesn't sacrifice riding quality. It's built with a massive 10-42 cassette and strong Shimano Deore hydraulic disc brakes, allowing you to ride your folder on steep climbs and fast descents. Nevertheless, it's not common for a folder to have such high-end specs, uniquely designed with Schwalbe Durano tires. However, expect to spend more when opting for this model.
Cyclists who have used the Tern Verge X11 model have described it as a quick hybrid folder. It's a little stiff, but it accelerates far faster than you'd think from a lightweight folder. As you stroll or board a train or bus, you may swiftly and easily sling the bike over your shoulder.
Pros
Encompass high-quality and impressive specs

Has an adjustable stem

Known to have a great folding mechanism

A bit faster than other foldies
Cons
Pricier than any folding bike

Isn't as compact as other bikes when folded
4. Dahon Mariner D8 – Best Riding Performance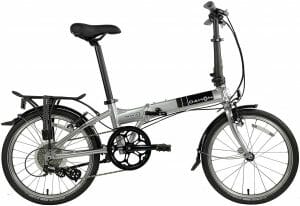 Specs:
Frame Material: : Lightweight Dalloy Aluminum Sonus Tubeset, Lattice Forged Hinge, w/ ViseGrip Technology
Folding Bike Weight:: 27.69 lbs. (12.56 kg.)
Max. Weight Capacity:: 230 lbs. (105 kg.)
Folded Dimension:: 25 x 12 x 31 in.
Every cyclist has probably heard of the Dahon Mariner D8, encompassing an 8-speed Shimano Altus rear derailleur (among the best and durable drivetrain brands today). It is a brushed alloy renowned for its exceptional build quality and cheap pricing.
It features an 8-speed Shimano trigger shifter that provides any user with a sturdy but smooth riding experience. Despite its weight of 27.69 lbs., this model does not compromise the pleasure of your rides. There would be comfort along the journey, regardless of the road's textures or bumps. When traveling on a busy roadway, the braking system is powerful enough to stop you.
You'll also like the Mariner D8's folding mechanism, which takes only seconds to use. The frame is composed of lightweight aluminum, making it far lighter than the standard folding bike. It also features an excellent rack to carry some items and a beautiful fender to protect road splashes off your clothes.
Pros
Has an easy and quick folding system

Sleek and stylish frame design

Encompasses adjustable handlebar height

Has a competitive price point
Cons
The stock saddle isn't designed with ergonomics

Quite heavy to carry
5. Brompton B75 – The Cheapest Brompton Bike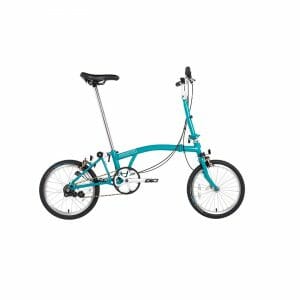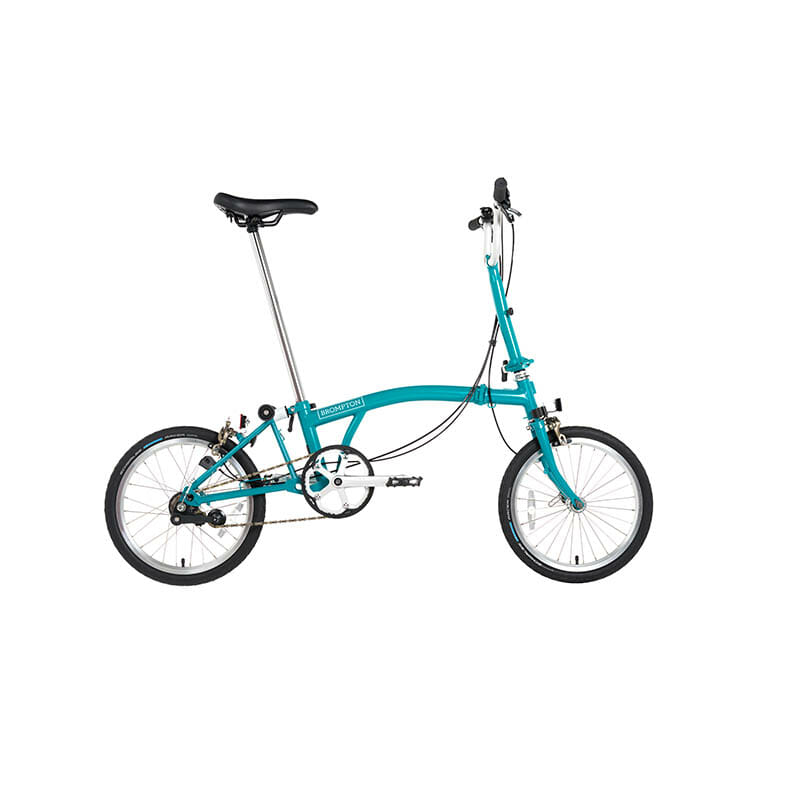 Specs:
Frame Material:: Steel
Folding Bike Weight:: 25.5 lbs. (11.6 kg.)
Max. Weight Capacity:: 242 lbs. (110 kg.)
Folded Dimension:: 22.2′ x 23′ x 10.6 in.
Brompton made an effort to reach out to novice and experienced riders alike, releasing its most basic and cheapest folding bike, the Brompton B75, in early 2019. It is presently used as a low-cost foldable bike. Nonetheless, it provides a fantastic opportunity for newcomers and bikers to learn about Brompton's unique characteristics.
However, it only comes in one color (Water Blue) and lacks a mudguard. The Brompton B75 has a traditional and shorter M Type handlebar, the same solid steel frame, a 3-speed gear system, no mudguards, a changeable saddle, an expanded seat post, and reflectors (alone) for illumination.
Despite its flaws, Brompton's release of this model is a game-changer, catering to a wide range of bikers and riders. For instance, the seat post can be adjusted, where the inside leg can reach up to 36 inches.
Pros
Gives you efficient rides

Most affordable Brompton folding bike

Branded, well-known for quality and specs
Cons
Comes only in one hue

Doesn't offer much customization
6. Schwinn Loop Adult Folding Bike – Best Value Folding Bike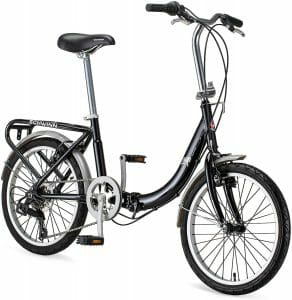 Specs:
Frame Material:: Light and Reinforced Aluminum
Folding Bike Weight:: 33 lbs. (14.9 kg.)
Max. Weight Capacity: : 230 lbs. (104 kg.)
Folded Dimension: : 32.5 x 26 x 16 in.
If you're looking for a folding bike that still does the job but is easy on your eyes and wallet, Schwinn Loop is the right choice. Generally, Schwinn is known to have the best value folders in the market today, with no more than $499. Cyclists who have this model say it just takes 10 seconds to fold the bike.
Aside from its affordable price, Schwinn Loop Adult folding bike delivers well with long touring or leisure traveling. Its reinforced aluminum makes up for every cyclist's stable and secure ride. Regardless of the terrain involved, you won't find yourself having difficulties with pedaling the foldie.
Besides, this model is suitable for riders ranging in height from 4.6 to 6.1 feet. As a result, you'll feel more at ease pedaling and cycling for hours on end. It also uses front and rear linear-pull brakes for your safety (cantilever style). The rear carry rack on this foldable bike is an excellent addition, allowing you to bring anything you need for that long ride.
Pros
Has an attractive look, specially made for urban commuters

Made with sturdy and solid frame material

Cheap and affordable, yet good performance
Cons
Heavier than other folding bikes
7. EuroMini ZiZZO Liberte – Best for Tall Riders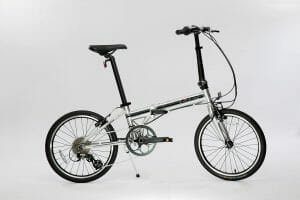 EuroMini ZiZZO boasts its Liberte model as its lightest folding bike out in the market, weighing 23 pounds. Moreover, it features quick-release wheels, lightweight brackets, and its new LX frame. A genuine Shimano Revo 8-speed grip type shifter is also included on the EuroMini ZiZZO Liberte folding bike. Despite the rough roads and terrains ahead, this specification lets you enjoy a more comfortable and hassle-free ride.
EuroMini ZiZZO Liberte could work wonderfully if you're a little taller. According to their website, this foldable bike type can suit riders ranging in height from 4'8″ to 6'3″. Like the other respected manufacturers on the list, the Liberte model employs an aluminum alloy for the frame and fork, which results in a very light structure.
Similar to other brands in the list, the Liberte model has a robust ViseGrip locking mechanism that ensures a secure lock, preventing your folder from being accidentally opened when riding it. Additionally, a great thing about ZiZZO's LX frames is that they're made through state-of-the-art technology. Thus, this ensures your safety and ride quality.
Pros
Includes a 7-speed shifting, giving you steep features

Best for entry-level folders

The lightweight characteristics are something you'll look forward to
Cons
Feature-weenie cyclists and riders may find the model lacking
8. Hummingbird Single-Speed Folding Bike – The Lightest Folding Bike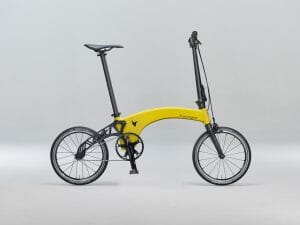 Specs:
Frame Material:: Carbon Fiber
Folding Bike Weight: : 15 lbs. (6.8 kg.)
Max. Weight Capacity: : 242 lbs. (110 kg.)
Folded Dimension: : 46 x 23 x 8 in.
If you're a weight weenie, getting this Hummingbird Single-Speed folding bike might be your priority on the list. It's a beautiful foldie package, considering its light frame material giving you only 15 pounds of weight! Nevertheless, they're the best option if your commuting needs require more walking on stairs or hopping on train stations.
The Hummingbird Single-Speed folder has a unique three-step folding mechanism that folds and unfolds in under 5 seconds. In addition, the frame is made of carbon fiber that has been carefully cut and aligned (this material makes the folding bike lighter than any other brand). As for the wheelset, Hummingbird Single-Speed has a 16-inch tire size, providing a sense of harmony and equilibrium when cycling.
The geared models are in the middle of the weight range, and you may choose between a 4-speed Sturmey Archer internal hub gear with chain or belt drive. Further, this model offers the best of both worlds in terms of frame material and folding mechanism.
Pros
The most lightweight folding bike ever launched in the market

Has an electronic folder version available

Includes gear options for hillier terrains
Cons
Comes with an expensive price tag
9. Decathlon B'Twin Tilt 500 – The Most Affordable Folding Bike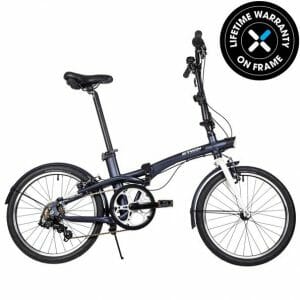 Specs:
Frame Material:: 6061 T6 Aluminum
Folding Bike Weight: : 28.4 lbs. (12.8 kg.)
Max. Weight Capacity: : Not mentioned
Folded Dimension: : 30.7 x 26 x 15 in.
If you're on a tight budget, Decathlon offers one of its affordable folders to customers, which is the B'Twin Tilt 500. It encompasses a 20-inch wheel size and folds-unfolds at just about 15 seconds (another better choice for switching from pedestrian to cyclist).
What you'll love about this B'Twin Tilt 500 is its sturdy and rigid but lightweight aluminum frame. It includes the quality Shimano 7-speed derailleur gears, which means the foldie is easy to adapt to your cycling effort and performance. Besides, you can ensure the bike's durability with the fork material built with hi-ten steel. Meanwhile, the steel V-brake and calipers let you exert progressive braking.
Despite the price, you'll get additional accessories when purchasing Decathlon B'Twin Tilt 500. For instance, you'll get an impressive mudguard, dirt-free chainguard, and front and rear reflectors. The best part? This model comes with a lifetime warranty on the frame and other components!
Pros
Lifetime warranty on the frame, rigid fork, stem, and handlebar

Has a life-long value

Excellent purchase for your money's worth

Great for hills and terrains, thanks to its gears
Cons
Some components aren't from known manufacturers
10. Tern BYB S11 – Best for Swift Acceleration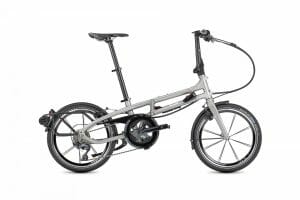 Specs:
Frame Material: : Tern BYB, Aluminum, TriFold patented technology, EFBE tested: ISO 4210
Folding Bike Weight: : 28 lbs. (12.7 kg.)
Max. Weight Capacity: : 231.g lbs. (120 kg.)
Folded Dimension: : 13 × 31.9 × 20.1 in
This 20-inch Tern BYB (Bring Your Bike) S11 features a double-folding mechanism, letting you fold the model into thirds. Even though it has large wheels, the quality riding experience you'll get would be undeniable. You still get an uncompromised cycling quality, the same as traditional road bikes but more stable than smaller-wheeled foldies.
You'll appreciate the adjustable, forged-constructed stem that's made with patented technology. As for the brakes, the front and rear encompass Tektro V, swivel link, race pad. This idea makes the Tern BYB S11 a great companion for urban commuting, but with longer distances.
Pros
Has a solid and rigid handling

Provides you with a great gear range

Lets you have swift acceleration
Cons
Pricey than counterparts

Folding and unfolding might take longer
11. Dahon Launch D8 – Best for Long-Distance Travels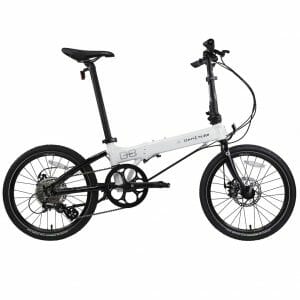 Specs:
Frame Material:: Dalloy Aluminum Sonus Tubeset, Lattice Forged Hinge, w/New jaws hinge
Folding Bike Weight: : 27.2 lbs. (12.3 kg.)
Max. Weight Capacity: : 230 lbs. (105 kg.)
Folded Dimension: : 25 x 14.9 x 32.2 in.
The Dahon Launch D8 model includes an 8-speed Shimano SL-M315 trigger shifter and weighs 27.2 lbs. Despite its somewhat bulky size, this Dahon bike unit features a revolutionary Jaws hinge, making its frame strong, stiff, and well-built. This also means you'll get a more attractive and appealing design, especially on the frame parts.
It's fair to assume that your pedaling efficiency will be maximized. Meanwhile, the gear range is enough for uphills and climbs, even on rough terrain. There's nothing to complain about the riding experience with the Dahon Launch D8, as it comes from the best folding bike brands today.
The folding mechanism of the Dahon LAUNCH D8 has various restrictions. Nonetheless, it provides a beautiful riding experience that is well worth the money.
Pros
Gives you smooth shifting gears with a visual speed indicator

Great for uneven roads or hills

Sturdy and durable Jaws hinge feature
Cons
The folding bike has some limitations

Heavy folder
12. Retrospec Speck Folding Single-Speed Bike – Best for Leisure Rides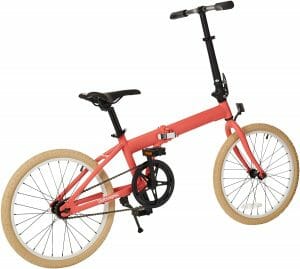 Specs:
Frame Material: : Hand-built Aluminum Frame
Folding Bike Weight: : 23.5 lbs. (10.6 kg.)
Weight Capacity: : 250 lbs. (113 kg.)
Folded Dimension: : 33.7 x 25 x 12.7 in.
Finally, the Retrospec Speck Single-Speed folding bike gives you a well-hand-built aluminum folding frame and fork when you buy this folding bike type. It also comes with Kenda Kwest bike tires in a 20-inch size and a rear coaster brake for a quick yet smooth ride. This simply implies that your road steadiness will be increased.
The Retrospec Speck Single Speed folding bike impresses with its folding mechanics. In fact, Amazon consumers found the model to be enjoyable to ride. It's also simple to fold and light enough to toss in the trunk of your car or slide below your desk without difficulty.
Pros
Ideal for leisure traveling and riding purposes

Lighter than some of the branded folders in the list

Folds and unfolds with ease
Cons
Newly-bought makes a scraping sound when used