Why Are Some Folding Bikes Expensive? (A Price Breakdown Overview)
Several factors contribute to a folding bike's price. Aside from its parts and accessories, you also need to consider the manufacturing and production costs used to create a folding bike before it reaches the market.
Nevertheless, we can denote that the term "expensive" might mean differently among cyclists. Let's say an average-earner cyclist might see a folding bike as expensive while a medical doctor sees it otherwise. 
Why Are Some Folding Bike Brands More Expensive than Others?
Whether you like it or not, a folding bike's brand matters. Bike manufacturers have existing processes and strategies to produce their very own signature bikes. It's also important to mention that these brands invested heavily in technologies and quality materials to make sure you're getting the worth of your money.
After all, famous folding bike brands are recognized and trusted by customers for a specific reason. One of them is that branded folding bikes deliver excellent quality and performance for your cycling needs. Most of them even come up with customization needs, upgrades, warranty, and service inclusions. Thus, adding to a branded folding bike's "expensiveness."
For instance, a folding bike's cost depends on its features and specifications. Typical folding bikes start at $199, mid-range bikes at $499, while premium-quality bikes start at $1499 and up. Yet, it's important to mention that a folding bike's components and manufacturing costs are significant factors in deciding the total price of the bike (which we'll discuss later).
Is There a Difference Between Buying an Expensive and Affordable Folding Bike?
The main difference between buying an expensive and cheap folding bike is the quality you'll get. In general, costly folding bikes have accessories or components that give you excellent and better features. You can easily distinguish those parts by checking the folding bike's durability, compactness, and rigidity.
As mentioned, branded folding bikes are the ones with the highest cost. They give you well-built specs that are sure to provide you with a quality ride and cycling experience. We hate to say this, but the idea "you get what you pay for" applies when deciding to buy either an expensive or cheap foldable bike.
Bike Components That Decide a Folding Bike's Price
Most cyclists tend to question whether to go for an affordable or high-quality bike. They ask about paying more than $1000 for a new folding bike when they can get one for slightly over $200. However, the components used to create a foldable bike make a significant difference. These components include:
Frame Material
A folding bike's frame is considered the most expensive part, attributing approximately 15% of the bike's total price (about $50 to $300). Also referred to as the bike's soul, the frame holds the accessories and components altogether. It's also the main factor when discussing a bike's speed, comfort, and safety.
The frame material also plays an essential role in determining the weight of a folding bike. And when buying a folding bike, you'll obviously pay close attention to the material used in its frame. Further, a folding bike's frame is typically manufactured using one of the four primary materials:
Steel Frames. Steel-framed folding bikes have the strongest and most durable material than any other materials mentioned in the list. It can withstand any beating, scratching, or bending without losing its original structure. What's more, steel is the heaviest yet cheapest frame material in this round.
Aluminum Frames. Compared to steel, aluminum frames are more resistant to rust and corrosion since they contain aluminum oxide. Aluminum material outshines steel-framed bikes for their lighter feature, letting you travel longer distances with less exhaustion. Nonetheless, aluminum frames are more expensive than steel frames.
Titanium Frames. Titanium-framed folding bikes offer the same strength and durability that steel-framed ones provide. Most high-end folding bikes are made with titanium frames, which encompass shock-absorption features. Titanium materials are strong and more lightweight but come with a price.
Carbon Fiber Frames. Finally, carbon fiber frames are ultimately reserved for top-tier folding bikes. It offers the strongest, densest, and lightest material, which means it demands the highest price on the list.
NOTE: It's worth mentioning that as folding bikes get more lightweight, the more expensive they get. This is because manufacturers use high-quality and light frame materials, making them more portable and convenient to use.
Tire Type
Approximately 8% of a folding bike's cost goes to its tire type (about $16 to $160). As such, your bike's wheels and tires generally tell your speed and ride quality. Thus, a good pair of tires would give you a speedy ride without compromising your comfort and posture.
Meanwhile, choosing a tire size also makes a great difference. Tires dedicated for durability are heavier compared to energy-absorbent tires. Most folding bike manufacturers cater to different types of tires, which include:
Normal Tires. Ordinary tires are usually the most inexpensive tire in that market today, which has oh-so-many brands to choose from. They're also the easiest to install, maintain, and repair.
Folding Tires. As the name denotes, folding tires have lesser weight and better traction than standard tires. It delivers excellent portability anywhere you go. Having this said, it's safe to assume that it cost more than the regular tires.
Tubular Tires. If you're opting to have a lighter folding bike, a tubular tire is an answer. They feature a run-flat capability, staying on the rim despite the obstacles in the road. Top-quality tubular tires are so expensive.
Tubeless Tires. This type of tire doesn't need a tube to fit an airtight seal. It reduces the rolling resistance without compromising your comfort and riding performance.
Wheel Size
In addition to a folding bike's tire type, the wheel size is a deciding factor for the total cost. On average, wheel size accounts for 7% of a folding bike's overall price (about $14 to $140).
Folding bikes generally have a 16-inch wheel size. Other manufacturers create 20-inch, 24-inch, and 26-inch wheel sizes as well.
16-inch Wheels (ISO 305mm). With their compactness, expect 16-inch wheels to have a lighter and lesser diameter. They can be folded down significantly compared to 20-inch folding bikes, letting you carry them anytime and anywhere. They also have faster acceleration compared to other bigger-wheeled bikes. However, 16-inch wheels are comparably more expensive than the rest.
20-inch Wheels (ISO 406mm). The most common wheel size for folding bikes is 20 inches. They're most common on adult folding bikes and are known for their maneuverability and geometrical structure. Unlike 16-inch wheels, 20-inch folding bikes are more stable and sensitive for your riding performance.
24-inch Wheels (ISO 507mm). Dahon manufactures 24-inch folding bikes (BRIZA D8), known to have a relatively uncommon size for any bike in the market. Most larger riders, professionals, and youth racers opt for this size because it emphasizes almost the same features of 20-inch wheels.
26-inch Wheels (ISO 559mm). To accommodate taller cyclists, 26-inch folding bikes are good to go. For instance, adults or teens who are more than 5.5 feet can perfectly maneuver this.
Saddle
5% of your bike's cost goes to your bike's seat, also known as the saddle (around $10 to $100). And if you're going to ride your folding bike for several hours, find a saddle that's comfortable and convenient for you.
Some seat pads encompass a plush- or spartan-type padding. Nevertheless, not all thick-foamed saddles provide comfort for everyone. Meanwhile, you'll also have to choose the perfect size and width for your saddle, either broader or narrower.
In addition, some folding bikes have a suspension under the saddle, which adds more comfort to your ride, especially when the roads have more bumps than usual.
Brake System, Gear Shifts, Drivetrain, and Folding Joints
Most newbies (and even seasoned cyclists) overlooked the brake system. Yet, they comprise about 20% of your folding bike's total cost (around $40 to $400). 
Keep in mind that an efficient brake system lets you speed up your ride, giving you enough confidence that you can stop whenever you need to. You can choose from dual pivot side pull, linear pull (or V-brakes), mechanical disc brakes, and hydraulic disc brakes.
As for the gear-shifting technology, most modern folding bicycles implement this feature. This component lets you pedal and cycle efficiently regardless of a terrain's surface. With a gear shifting system, you can switch gears quickly and accurately.
Meanwhile, energy losses are inevitable. But, a drivetrain transmits almost 100% of your riding power to the folding bike. Key components of the drivetrain include the pedals, cranks, chains, cogs, and derailleur.
Lastly, the quality of the folding joints (frame joint and handle post joint) would tell you how compact your folding bike is once it's folded. Moreover, good-quality joints hold the frame's front and rear parts tightly and securely.
Other Factors That Determine Folding Bike's Price
Aside from the folding bike components we mentioned, it's also worth noting that their manufacturing processes add to their overall price. Here are the other factors that determine a folding bike's price:
Crafting and Shipping
Since folding bikes' creations require a keen eye for details, craftsmanship encompasses 10% of the bike's worth. Activities included are welding of frame materials and shaping the structure.
Before any folding bike gets to you, it will undergo processes. These include building the frame, assembling the parts, and branding. From the factory to the dealer, the transportation (shipping) costs about 5% of the bike's overall price,
Overhead and Retail Markup
Leading industries encompass ongoing costs to continue business operation, like labor, materials, and direct expenses. The workforce involves the craftsman, designers, and marketers responsible for the folding bike's promotion. In this case, approximately 15% of the bike's cost goes to a business' overhead charge.
Meanwhile, the retail markup entails 10% of the bike's worth. The cost is held accountable for the maintenance of businesses connected with operations and functions.
Promotional Strategies
Finally, folding bikes won't be recognized in the market if promotional strategies aren't implemented. As such, marketing tactics roughly account for 5% of the bike's total price.
Fun Fact: Affordable, Quality, and Most-Expensive Folding Bikes Today
Popular Budget Folding Bikes: Retrospec Judd and Xspec 20" 7-Speed Folding Bikes
There are good folding bikes that would cost you less than $300. They come in different models and features but give you the same quality that mid-range priced bikes offer in the market.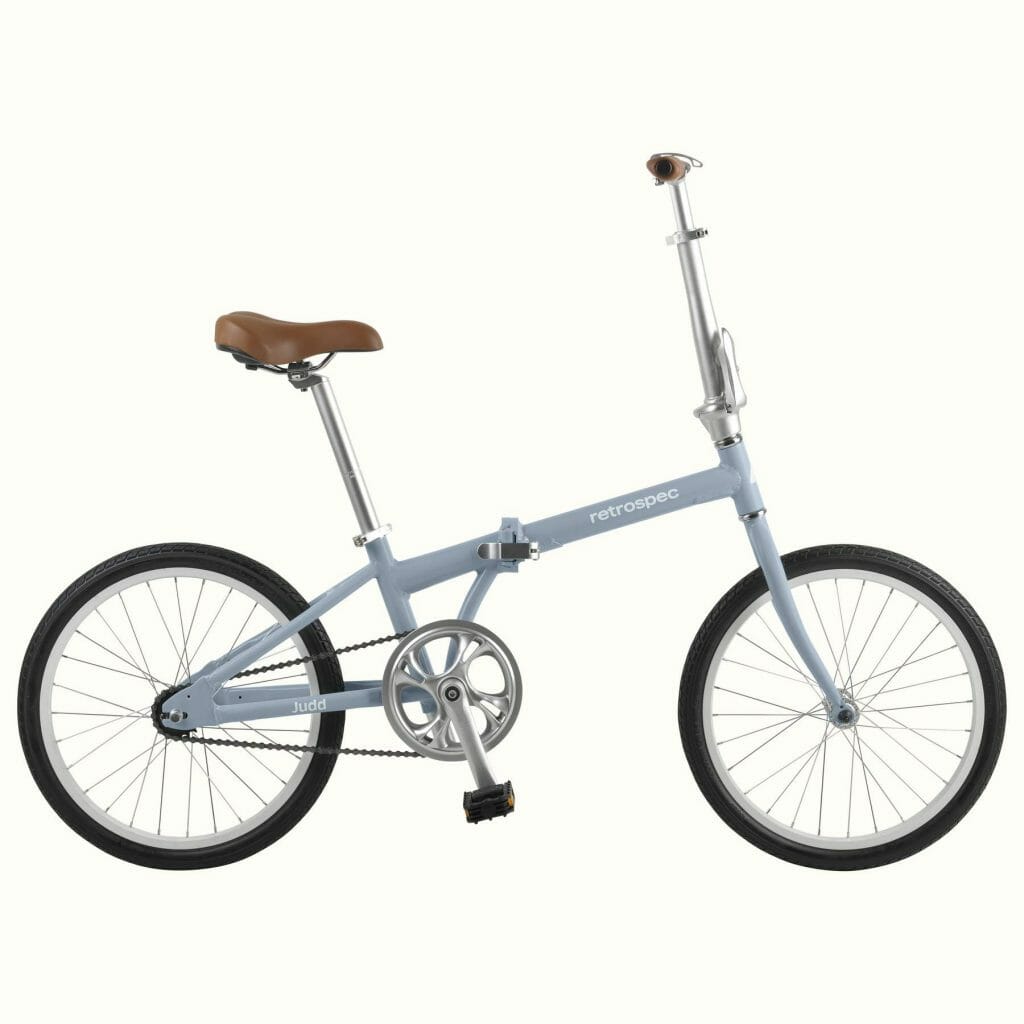 If you're on a tight budget but want to have a folding bike that does the job of regular ones, the Retrospec Judd folding bike is a no-brainer. It's probably the lowest-priced model in this list, which likely fits almost all budgets. 
You'll get a single-speed bike, meaning Retrospec Judd has only one gear ratio, no shifters or hangers. The frame is made with aluminum that's 30% lighter than the best-selling folding bikes in the market, making it ideal if you're into commuting or fast riding. 
Retrospec uses Kenda Kwest tires that give you a fast, long-ride experience without worrying about your safety. Since it has a coaster brake, you can maintain it easily. Nonetheless, customers appreciate the Retrospec Judd folding bike for its low-maintenance specs.
Another affordable option is the Xspec Speed folding bike that features suitable quality components for your buck. It encompasses the same specs as ordinary bikes but incorporates branded parts: a 7-speed SL-TX30 shifter and RD-TZ50 rear derailleur.
Despite the price, you'll get a comfortable seat with this folding bike. Xspec has an adjustable seat that accommodates any type of user ranging from 5 to 6 feet tall. Folding and unfolding the bike is pretty simple—no tools are required.
As for the speed, Xspec can travel 10 to 12 miles per hour. Hand grips give you a nice feel as well. Yet, the only drawback of this folding bike is that you need to remove the seat pole and handlebars if you want to fold it up and store it in the trunk.
Quality Folding Bikes: Dahon SUV D6 and Raleigh Stowaway 7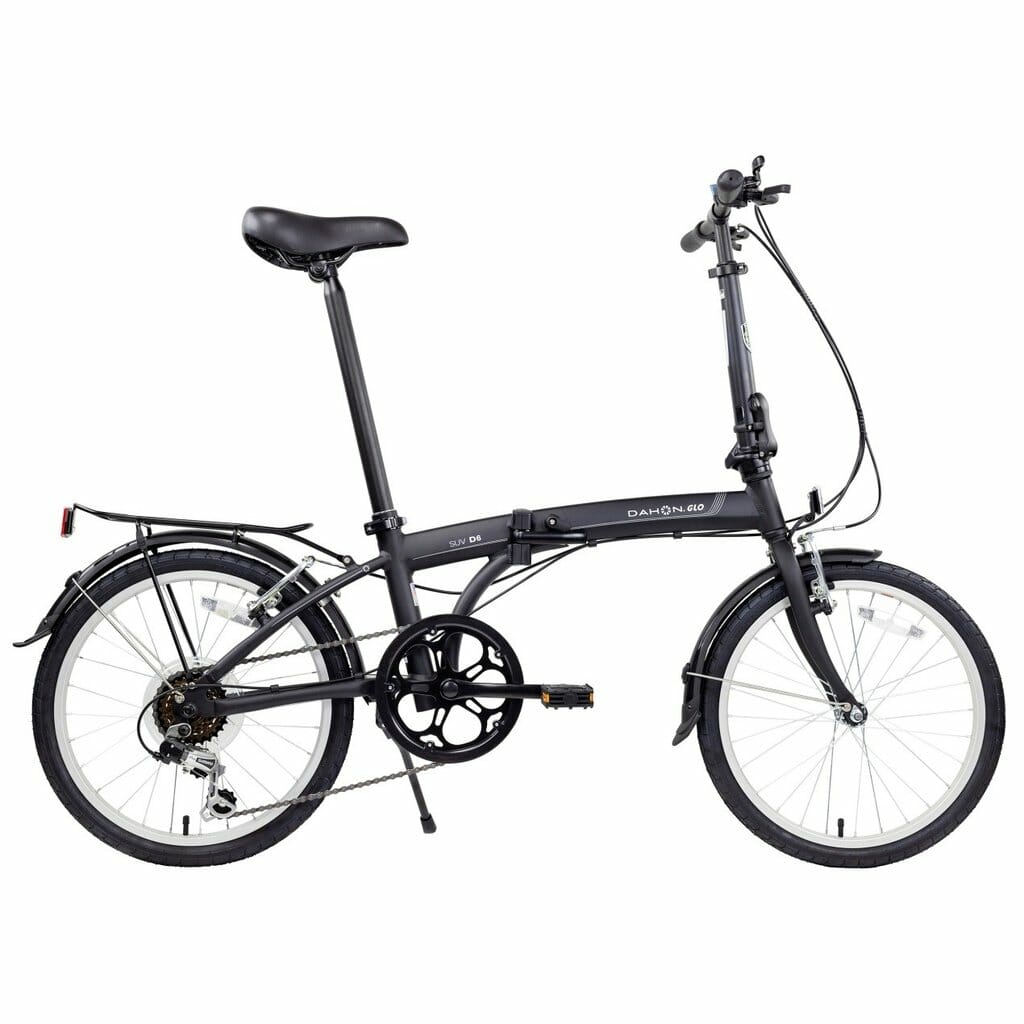 Most cyclists learned it the hard way: it really pays to purchase good-quality folding bikes. After all, mid-range priced folding bikes would give you a more comfortable riding experience than cheaply-made ones.
Every cyclist knows Dahon as among the undisputed kings of folding bikes today. By paying a little bit more bucks, you'll get a high-quality and comfortable experience with the Dahon SUV D6 model.
It comes with a price under $600 and gives you a smoother shifting and gearing experience with its 6-speed Shimano Tourney TY-21 rear derailleur. Besides, customers found no delays or lags—only seamless and efficient transmission.
You'll also be impressed with its responsive brake system and adjustable seat height. As for the ride quality, Dahon SUV D6 delivers. You'll get a steady and stable grip even when traveling on wet, muddy, or bumpy surfaces.
Another good folding bike for a decent price is the Raleigh Stowaway 7 model. It's seriously a compact and good bike, letting you hit the trail or beat the rush hour.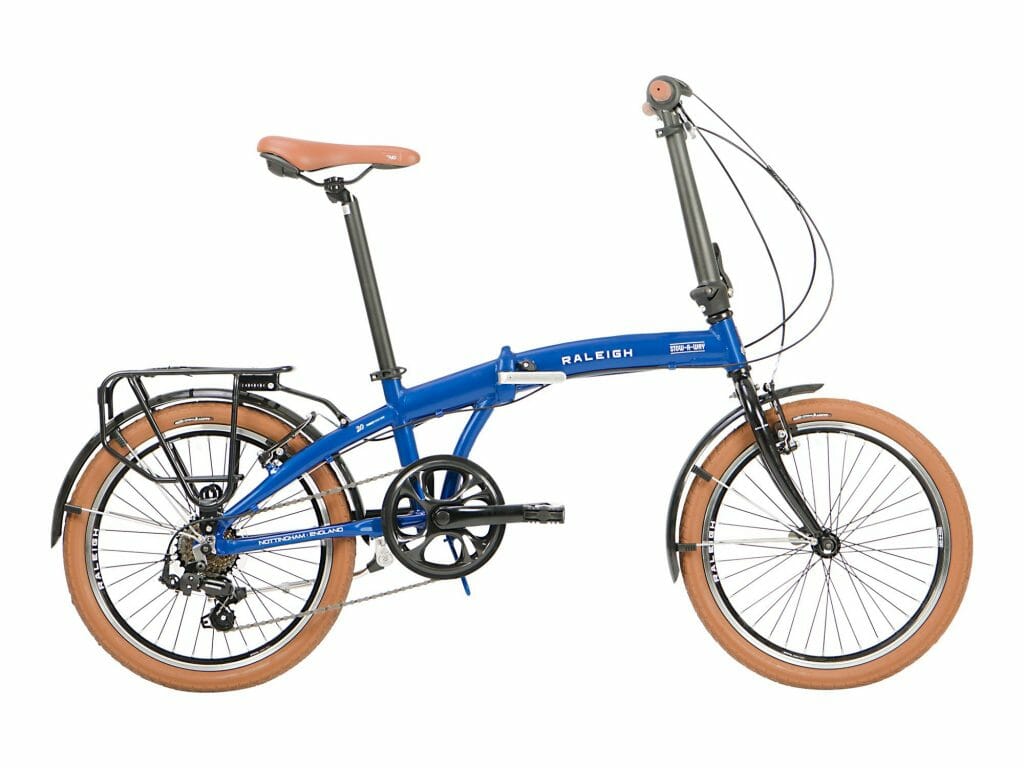 It encompasses 20-inch wheels that can cater to rough surfaces or downhills. However, this feature doesn't compromise its portability since it can still be packed away in tight storage rooms.
You'll also appreciate that this model has a rear pannier rack and fully-fitted mudguards to ensure you have a safe and comfortable ride all year long.
Most Expensive Folding Bike: Golden Brompton Folding Bike
It cannot be denied that globally-known folding bike manufacturers come with premium, high-quality components that significantly add to a bike's retail cost. Nevertheless, they're more than worthy to note with extraordinary features.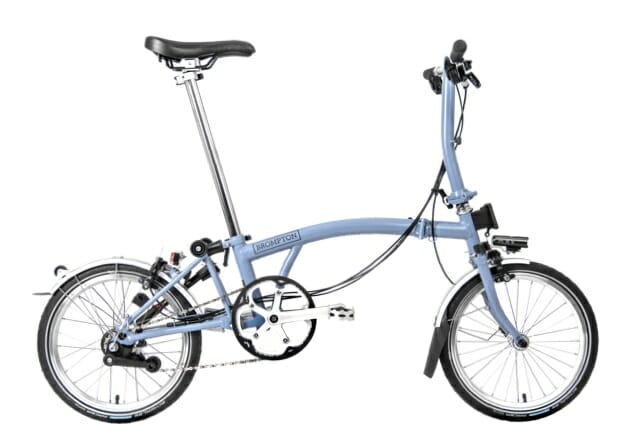 Moreover, the Golden Brompton folding bike is considered the most expensive that will surely give you a hell of a ride (and money) experience, costing around $7500!
Sprayed with gold paint, the Environmental Transportation Association produced the Golden Brompton folding bike as a sweepstake prize. The bike features striking black gloss components, a 16-inch wheel size, a leather Brooks B17 saddle, and quality steel tubings.