Best Mini BMX Bikes for 2022 [Ranked and Reviewed]
Mini BMX bikes are smaller versions of BMX bikes but cater to all ages, from three to forty-year-old adults who want extra challenges on their stunts. Mini BMX bikes are known for having ten-inch tires. 
If you are to see one, the proportion of this bike is unique. It has a normal-looking handlebar portion, a shorter frame width, and small thick tires. They function as regular BMX bikes. The only twist is that they are built for more surface traction and maneuverability. 
1. Moxie's The DISTRICT Mini BMX Bike – Best Overall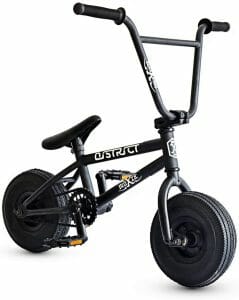 A great Mini BMX bike model available in the market today is Moxie's The DISTRICT Mini BMX Bike unit. This model was first released in December 2017. Moxie is a lesser-known BMX bike brand, but this particular model they manufactured definitely delivers. The company designed this bike to cater to both children and adults into BMX bike tricks. Moreover, it is created for a casual riding experience and skatepark stunts.
The frame of this model is made from Hi-Tensile Steel material. It has threadless forks, which contributes to it being lightweight. It has a top-load aluminum stem. This was integrated with the model to make sure it was stunt-capable.
Moxie claims The DISTRICT model as a heavy-duty trick bike. One component that proves this is its 25T Aluminum chainring system, which is one of the most reliable materials for bike parts. Another is its three-piece bottom bracket, which has sealed bearings for added bearing protection.
Pros
Lightweight for its build, weighs 18 lbs. only

Fat handlebars for improved control

Uses freewheel system that allows the rear wheel to turn faster than the pedals

Uses CNC wheels for less wheel wobble and higher rolling speed
Cons
Limited production quantity
2. Wildcat OG3A Mini BMX Bike – Best Splurge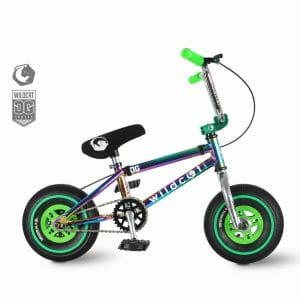 The OG3A Mini BMX Bike model of Wildcat is claimed to be an advanced mini bike in the company's bike collections. Furthermore, it is praised for being the only Mini BMX Bike in the USA and Canada to have disc brakes installed. The model is built for people who spend a lot of time in skateparks and BMX tracks.
The model uses Hi-Tensile steel material for its frame and fork components. It has a 28T chain wheel and uses the traditional KMC Z410 chains. It also uses a one-piece heart forged crank, which is definitely vital. Although not recommended if the bike is to carry riders weighing 175 lbs. and above.
OG3A comes with high-pressure tires to give you a safer ride and better speed on skate tracks. Additionally, this particular model of Wildcat uses CNC aluminum and fiber-infused nylon wheels. Nylon wheels alone are solid. They are made to have an excellent tolerance for wearing and tearing. Furthermore, they can cope with impacts without harming the wheels.
Pros
Uses V2 disc brake system, which is not typical for Mini BMX bikes but offers great braking power

High-pressure tires for smoother Roller rolling

Fiber infused nylon wheel, which is a robust wheel design

Can carry up to 220 lbs.
Cons
Has a one-piece crankset, which tends to spin when doing tricks.
3. Rocker METAL IROK+ Mini BMX Bike – Most Recommended in Market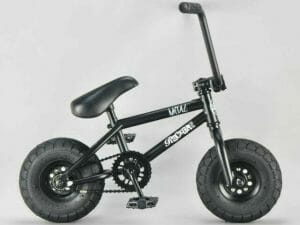 From Rocker BMX is the METAL IROK+ Mini BMX bike model. This particular Mini BMX unit is created to be a mini version of the 20-inch BMX bikes of the brand. Having said so, it has the durability of the larger BMX bike models it is derived from.
The METAL IROK+ model uses the new lightweight Hi-Tensile steel for its frame. It has a 30/13 gearing system which can give you a speed output of 15 mph. For its crankset, it uses a one-piece Hi-Tensile forged steel material. It also uses a front load stem with a forged faceplate. Although some do not prefer front load stem and immediately switch to top-load.
The model is designed for off-road use. It means that it has no brake system, and it is not advised to be used by beginners in BMX biking. This is also the reason why this model is dedicated to adults. Although it can still cater to kids but with guidance.
Pros
Can carry riders 200 lbs. and below

Lightweight steel material for its frame

Reduced fork clearance for better foot jams

Fat padded seat
Cons
Loud sounds from the chain when pedaling

Not the best tires for stunts and bumps

No brake system, children need assistance when using this unit
4. FatBoy Mini BMX Stunt Model – Best for Stunts and Tricks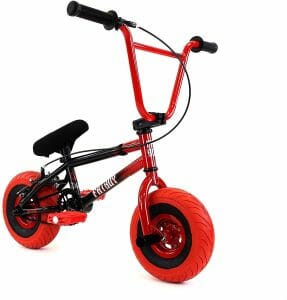 Another entry from FatBoy Mini BMX is its Stunt Model. This particular model is designed and ideal for skatepark riding. FatBoy Mini BMX praises this unit for its robust frame and strong weld technology. Furthermore, it can take on heavier riders.
It has a Hi-Tensile Steel tag weld frame. Tag weld is joining metals by welding them at various isolated points. This makes the bike strong enough to endure irregular terrains and complicated tricks.
The model uses 6-ply 10.5-inch tires, which helps make impactful stunts possible. It also uses 4-bolt CNC wheels. This design makes you achieve a higher rolling speed while getting fewer wheel wobbles.
Pros
Made to carry heavier riders

Uses 6-ply tires for more shock and impacts absorption

CNC wheels for less wheel wobble, and higher rolling speed

Comes with front pegs for more stunt options
Cons
Has one-piece crankset which tends to spin when doing tricks
5. Sullivan Ambush Mini BMX Bike – Best in Visual Appeal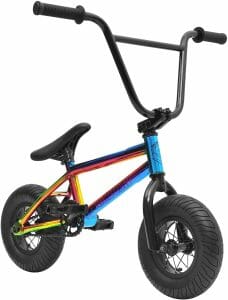 From Sullivan is the Ambush Mini BMX bike model. This particular unit was designed for kids and kids at heart. Suppose you are into fun BMX tricks and stunts. In that case, this is a recommended mini bike model as it replicates what the regular BMX model does.
Ambush Mini BMX has a sturdy steel frame and fork with a neo-chrome finish to make sure that you stand out in the crowd. You can pick its gun-metal variant if you do not fancy the chrome version. Aside from its stunning frame, the model uses three-inch wide patterned tires that greatly absorb impacts from jumps. Aside from being sturdy, its tires are also praised for being lightweight.
The model features a top-load stem for its 25T-9T micro gearing system. This makes the minibike powerful enough for BMX shreds. It has a one-piece Hi-Tensile Steel forged crankset that is lighter and helps make sure that you can pull off your bike tricks.
Pros
Uses 10-inch lightweight wheels for better stunts and maneuver

Uses front and rear caliper brakes for better braking power

Includes an optional brake and chainguard for added security

Comes with 2-year Warranty
Cons
Saddle is fixed and can be annoying for those who want to customize their seat

Uses plastic BMX pedals which can wear easily depending on usage

Uses caliper brakes which tend to wear easily and unevenly
6. Venom Mini BMX Bike – Most Durable Lightweight Mini Bike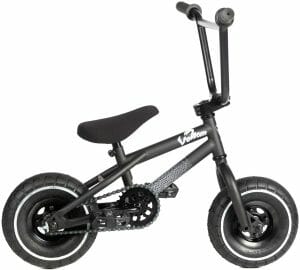 The Venom Mini BMX Bike was created in 2012 and is claimed as the company's best mini BMX bike model. This mini stunt bike model is designed to suit all ages. If you are a beginner and would like to learn BMX bike tricks, this is a recommended model for you.
This particular model offers you great control with its lightweight, compact frame and CNC wheels. It uses 30 PSI for its tires to give you more traction on any rough surface. Furthermore, it protects your tires from deflating when encountering pinches.
Although lightweight, the company ensured that the mini bike model would handle a great amount of impact. The Venom Mini BMX Bike model was beefed up with tapered threadless forks, an updated top-loaded stem, and premium rear dropouts. This is to make sure that the bike can withstand a lot of collisions.
Pros
Has CNC Wheels for less wheel wobble

Has higher rolling speed

Comes with a pair of stunt pegs for more BMX bike trick options

Premium saddle for added comfort

Fully-sealed stainless steel wheel bearings
Cons
Has one-piece crankset which tends to spin when doing tricks

Does not have a brake system, children need assistance when using this unit
7. Genesis 10″ Mini BMX Bike – Best Entry-Level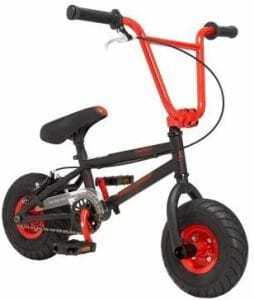 The Genesis 10″ Mini BMX bike model is another mini BMX bike meant to imitate the durability of its larger 20-inch BMX bike version. This model is made for both kids and adults. It is built to endure a serious amount of stress from stunts and road bumps.
The model is designed with a TIG-welded Hi-Tensile steel frame. Tungsten Inert Gas (TIG) welding is a process that uses the heat from non-consumable tungsten electrodes to fuse metals. Furthermore, this process produces a very high-quality weld.
This unit uses a 28T solid steel chainwheel. It also uses a 3.5 inch hot forged steel crankset. Hot forging is a modern process for creating bicycle cranks with extremely high precision. This makes the crankset more defined and more durable.
Genesis 10″ Mini BMX bike model uses a steel caliper brake system. This brake system is the most commonly used brake for most bikes. It is simple and very intuitive, which makes it beginner-friendly.
Pros
TIG welding technology on its frameset

Hot forged crankset for better crank strain rate

Comes with steel axle pegs for extra heel clearance
Cons
Caliper brakes tend to wear quickly and unevenly
8. FatBoy Pro Mini BMX Bicycle – Best Quality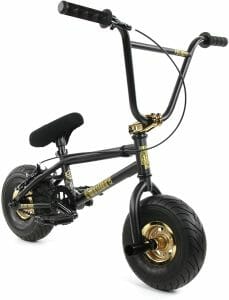 Third entry from FatBoy Mini BMX is the Pro Mini Model. This model is from FatBoy's X-Pro Series. This unit was designed to cater to professional BMX bikers mainly. Although it can also be used by beginners.
The Pro Mini model is designed to execute what 20-inch BMX bikes can do. FatBoy Mini BMX upgraded the components of this series to make sure you are given extra durability for difficult stunts. The unit uses a Hi-Tensile TIG Weld frame, an advanced process in welding bicycle components. Compared to other FatBoy Mini BMX bikes, this model is lighter and is more suited for professional and competitive purposes.
The model uses 6-ply 10 inch tires to ensure that the bike can endure stunt abuses. It also uses a 9-tooth cassette hub for faster and more precise control. Lastly, this model is easy to assemble and does not require any technical knowledge to build.
Pros
3-piece crankset for a more s 

Hi-Tensile TIG Weld frame

6-ply tires for added security on impacts and collisions

Uses 9-tooth cassette hub

Comes with a set of grinding pegs and sticker packs
Cons
Considerably heavy for a Mini BMX bike at 23 lbs.

Some do not find the padded seat comfortable
9. Kobe Mini BMX – Best Mini BMX for Kids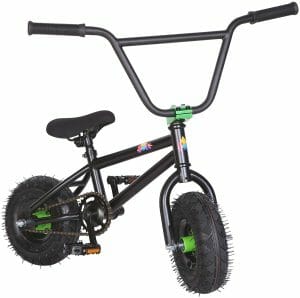 Kobe Toy Company's Mini BMX bike is the best choice if you are into street cruising and casual skate park rides. Kids and adults will find this mini bike unit enjoyable because of its comfortable geometry. Furthermore, it is designed to perform well on different surfaces such as dirt, asphalt, and paved roads.
The model uses a 25T Chainring system which is the same as what actual size BMX bikes use. Its frameset is made from Hi-Tensile steel material, while its stem is made from top load aluminum material. Its build is very lightweight and easy to maneuver, especially for small-size users.
If you are having problems with assembling, this model will make sure that you will have an easy time. You only need to have the correct tools and basic assembling knowledge to build this unit.
Pros
Can do a complete 360-degree handlebar swing

Comes in three different colors/variants

Uses freestyle Big Boy Handlebars for better stunt handling

Weighs 6 lbs. only
Cons
Design best fits kid's style

Does not have the best tires for BMX stunts and tricks
10. Mayhem Riot Mini BMX – Best in Weight Enduring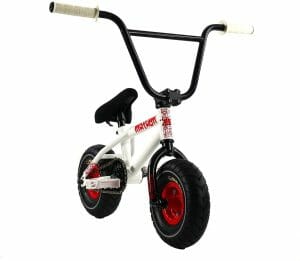 Mayhem BMX's Riot Mini BMX bike model was first released in 2019. The unit does not have a brake system, which is preferable for experienced bikers. It is claimed to be robust and bulletproof with its Hi-Tensile Steel TIG Weld frameset. It uses 6-ply tires that better dampen shocks from stunts and road bumps. Additionally, this strong bike model that weighs 21 lbs. can carry up to 220 lbs.
The model has a top-load stem, which allows its handlebars to be tightly locked and easier to adjust. Putting bars on the top of the stem allows a little bit of rising compared to those who do not use top-load design. Furthermore, this will make you feel that your bars are taller.
When it comes to assembling, the Riot Mini BMX bike is beginner-friendly. Moreover, for what it can offer and do, this mini bike is considerably low-cost at $239.00.
Pros
Uses a durable and bulletproof material

Hi-Tensile Steel TIG Weld material for its frameset

Uses BMX trick pedals

Uses 6-ply 10 inch tires for more impact absorption

Comes with a variety of colors/schemes to select
Cons
No brake system, children need assistance when using this unit

Heavier than an average mini BMX bike at 21 lbs.

Uses a one-piece crankset which tends to spin when doing tricks