Best BMX Bikes Under $500 [Features You'll Get Within This Price Range]
Bicycle MotoCross bikes, also known as BMX bikes, are one of the modern bike classifications popular to both youth and adults today. It can be distinguished with its knobbed tires, strong brakes, and lightweight frame material. Kids use BMX bikes for recreational activities. While adults usually use them for racing and for off-road rides.
BMX bikes are designed to endure bumpy roads and obstacles. This is why they are often used on road exhibitions. Today, they are used in specific sports to showcase your bike tricks and stunts expertise.
Suppose you are interested in purchasing a BMX bike. In that case, you can always start on an entry-level model that can give you surface-level experience. You also have an option to go straight to more expensive options if you can see yourself practicing BMX bikes for a more extended period. Here are some of the best models that will give you the experience you need to know without spending a lot.
1. Mafiabikes Kush 2+ Justice BMX Bike – Best Overall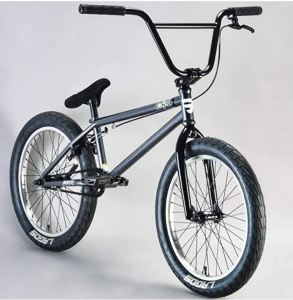 Mafiabikes is a BMX bike brand established in 2009. They are known for producing high-quality BMX bikes that can be used both by freestylers and street riders. The model Kush 2+ Justice is made for both beginners and pro BMX riders. In fact, it can provide service beyond what is expected for its build.
The model's frameset and forks are made from high tensile steel material, which is lightweight and robust. The entire unit weighs around 12 kilograms only. It uses a rear U-brake, a rim caliper brake for BMX bikes, and some vintage mountain bikes. The tires used for this model are the Lagos Crawler in 2.4 inches. It is a fat, massive tire that serves well for the impact being absorbed by the bike during stunts.
The amount of detail is excellent about the Kush 2+ Justice model, aside from being affordable. The bike's frame comes in multiple colors, and the tires come in multiple designs. It is also gyro-compatible, which means that you can turn the bike's handlebars in a complete 360-degree rotation. This helps a lot in gaining more control on the bike and doing complicated aerial stunts.
The only noticeable drawback of this model is that it uses plastic pedals. This is not really the best material considering that the model is praised for its overall complex design. Additionally, plastic pedals easily break, primarily when used regularly.
Pros
Contains rear and front suspension type
Lightweight attributes with high specification
Made with alloy single wall front rim and double wall rim
Comes with an array of colors
Cons
Not for professional or expert bikers
2. SE Bikes Wildman BMX Red – Best Quality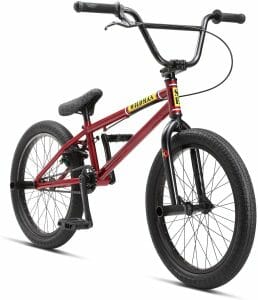 Scot Enterprise Bikes is a 1970s BMX bike company most commonly known as SE Bikes. During the earlier years of BMX, SE Bikes was one of the most prominent bike producers of its generation. The Wildman model is one of its small designs, which is made to be newbie-friendly. It is the BMX bike that you can use to test your control on trails, streets, and skateparks.
Wildman's best selling points are its affordability and its quality tires. The model uses 2.3 inches of Innova Mimosa tires on both front and rear parts. This is a premium quality tire unit that uses high-quality rubber.
It can absorb impacts impeccably and give you an excellent BMX bike stunt experience. Another great quality of the Wildman is its use of Tektro FX340R U-brakes. This brake system has a good reputation for providing stopping power. It gives you more capability in your stunts and better quality of riding.
The model can also be installed with bike pegs. These are cylindrical attachments near the bike's wheel axles. You can use it to ride with a passenger on your BMX bike. It is considered a safer way to ride a bike in twos so long as you are using comfortable shoes since you will have to stand on the pegs.
Pros
Built to take major abuse
Provides an excellent stopping power
Affordable entry BMX bike for newbies
Built with high-tensile steel frames
Provides more traction
Cons
No assembly instructions included when purchased
3. Eastern Cobra BMX Bike – Best for Technical Stunts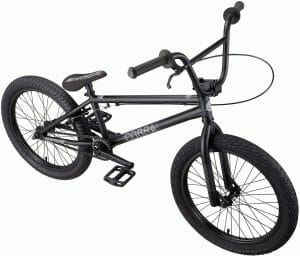 From Eastern Bikes is the Cobra BMX unit. It is designed for riders with a height of 5'2" to 5'8". This model's frame and handlebars are made from Hi-Ten steel material, a very durable material commonly used for bike frames. Compared to the older models of Eastern Bikes, the Cobra unit has sealed front and rear hubs. This protects the bearings of the bike from road debris and weather. Furthermore, the bearings can spin better and with less friction despite prolonged use with sealed hubs.
The Cobra BMX model uses riblet grips. This is a textured grip used by twenty percent of pro BMX bikers. It is designed in such a way to give you a better grip on the handlebars and to dampen the vibration that your hands will receive during impactful rides.
The unit uses nylon material for its pedals. It is considered by the biking community as a great quality material for pedals because it gives an excellent feel for the footing. The Cobra BMX unit uses a forged alloy rear U-brake and a linear brake cable for the brakes. Linear brake cables decrease the chances of twisting the brake's cabling system during technical stunts.
Lastly, the bike uses multi-surface tires. These are tires designed to specialize in different types of terrains. It is advantageous significantly if you do not limit your experience on streets and skating ramps.
Pros
Designed for taller riders in mind
Provides better spin tricks with less frinction
Provides excellent grip, especially when performing stunts
Gives excellent feel for your feet
Cons
No assembly instructions included when purchased
4. Mongoose Legion L80 BMX Bike – Best for Beginners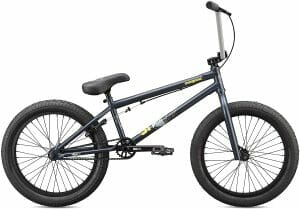 Mongoose is a BMX bike brand producing quality and affordable bikes since 1974. Their aim as a company is to provide beginner-friendly bike units and units required for high-performance biking. One of their most recommended units is the Legion L80 BMX bike.
The Legion L80 model's frame is made from complete Chromoly material. It is a chrome-alloy steel material that is stronger than carbon steel. It has high-temperature resistance and has an increased natural resistance against corrosion. The bike is technically lighter than other units that use steel as the primary material.
This model uses a KMC S1 chain. This chain brand has a trustworthy reputation for producing durable chains. It is mainly used for single-speed drivetrain bikes. It provides smooth spins and has an anti-drop system which is beneficial if you are into bike tricks.
Like the Easter Cobra BMX bike, the Legion L80 unit also uses nylon material for its pedals. It has single wall aluminum rims, aluminum hubs, and aluminum U-brakes. The unit also uses 2.3 inches tires.
One weak point of the Legion L80 unit is its uncomfortable seat. The model uses a Mongoose Pivotal saddle. Most BMX bikes have integrated saddle posts that do not quickly move, even during high-impact activities. Some may find pivotal saddle unstable in the long run.
Pros
All parts are made with Chromoly
Makes a nice fit even for bigger bikers
Feels good and creates solid landing jumps and stunts
Great quality handlebars, grips, and fork
Cons
Assembly instructions was hard to follow as per customers
5. Elite Outlaw Black Combat BMX Bike – Best Aesthetics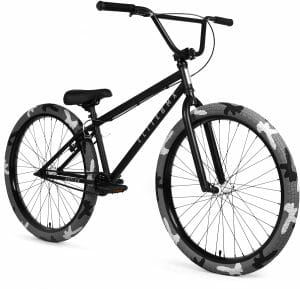 Elite BMX is another famous company making BMX bikes specialized for stunts. One of its well-liked models is the Outlaw Black Combat Edition. The Outlaw BMX line comes in different color editions such as White Combat, Grey Gold, and Neo Chrome. This line is designed for teenagers and adults looking for aesthetically appealing and robust BMX bikes.
The Outlaw Black Combat edition BMX bike is made from Hi-Ten Steel and Chromoly Steel. This makes the bike light and manageable. Like the Wildman BMX bike, it uses Tektro Alloy U-brake, a reliable brake system for BMX bikes. It uses a high-density plastic platform for its pedals. This is a cheap material but can be durable with disciplined use. The model also comes with pegs which is excellent if you will be riding in twos.
One great selling point of the Outlaw Black Combat edition is easy to assemble. If you happen to order it online, it will be delivered into parts that you will have to build on your end. The model is user-friendly and does not require technical knowledge in bike assembling. This also means that if you have the proper tools, you can do the maintenance, replacements, and upgrades easily.
Pros
Made with quality tensile and Chromoly steel
Lightweight and manageable to control
Comfortable to pedal
Cons
Does not come with assembly instructions
Makes a weird noise as you pedal
6. Cult Control BMX Bike 2020 – Best for Stunters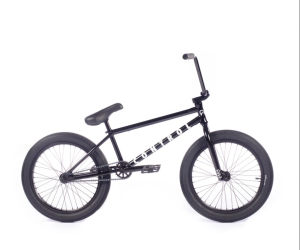 Cult is a more recent BMX bike brand known for its simple, efficient, and top-quality bike parts. One of its latest models is the Control BMX bike, released in 2020. This model was created to be street-ready and sturdy during stunt impacts.
The model's frameset is made from complete Chromoly material making the bike lightweight. It also has a heat-treated Chromoly 3-piece crank. Heat-treating is when the material is subjected to heating and cooling to change its properties. This can further change the material's strength, ductility, and elasticity.
This BMX unit has an integrated seat clamp. It has single-speed gearing. It also uses a rear U-brake system. Its pedal is made from nylon material, which is reliable during BMX bike tricks. If you order it online, it will come to you partly assembled.
The Control BMX model features a collaboration tire called the Cult x Vans tires. It is a specialized tire made to endure different surfaces such as paved, unpaved, and dirt. Some BMX bikes even consider this collaboration tire significant as a racing material.
One of the model's fallbacks is that it does not come with pegs. Meaning you should purchase it separately. Also, it uses freecoaster hubs that allow the BMX bike to roll back even without pedaling backward. Some may find this hard to get used to.
Pros
Created through a heat-treated process for its three-piece crank
Integrates the seat clamp on the frame
Implements a street-friendly geometric frame design
Perfect for learning 360, bars, and feeble stunts
Cons
Does not come with pegs
Some find this bike challenging to ride because it uses freecoaster hubs
7. Kink Downside 20.75″ BMX Bike Matte Dusk Sage – Best Splurge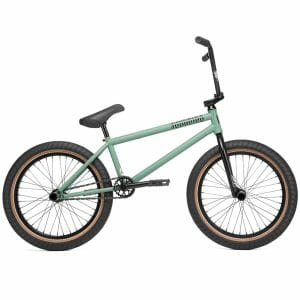 Kink BMX is another young BMX bike company founded by BMX bike enthusiasts. Their main goal is to produce robust, stunning, and lightweight bikes that are more affordable than the market. One of their most praised models is the Downside 2020.
The Downside 2020 BMX model has complete Chromoly frame material, fork, and bars. Because of its material, the unit only weighs 7 kilograms. It also has sealed bearings, making the bike more durable to external elements. The unit is designed to have a short backend part making it more responsive to your maneuvers.
The model uses Mission Cease V2 U-brake kit. It is a brake system made from die-cast aluminum material. It features an extra-wide brake arm for larger tire clearance. This particular brake kit is highly recommended by most BMX bikers because of its affordable price and excellent stopping power.
Downside 2020 BMX bike model features the Kink Sever 2.4 inches tires. These tires feature an aesthetically pleasing pattern. This pattern helps the bike roll faster on different terrains while giving you more gripping power. In addition to this, the tire's width gives you more power when doing impactful landings.
Pros
Includes drive-side plastic pegs
Encompasses removable brakes and brake mounts
Designed with an 80s vibe but with a modern geometric frame set
Cons
Comes with only one color option
8. Redline MX24 BMX Bike – Best for Tall Riders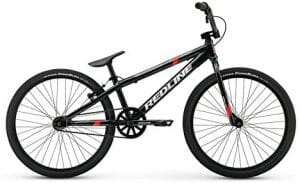 Redline Bicycles is one of the oldest bike brands in the market today. It has been operational since 1974, producing quality and affordable bike units for different groups. One of its top-selling BMX bike models is the MX24 BMX bike. The model was designed both for beginners and those returning to BMX biking.
The MX24 BMX bike model has an aluminum frameset and integrated headtube. The bike weighs 9.9 kilograms, lighter than most BMX bikes sold today. Since the bike is lighter, it is also more agile and gives better speed output.
The model uses Tektro BX310 Linear Pull Brakes. Linear pull brakes provide you with excellent stopping power. Moreover, this brake system does not require much from your budget and does not need much maintenance.
When it comes to the tires, the MX24 model uses Vee Speedster 1.75 inches tires. The tires are slimmer compared to the other mentioned BMX bikes. This gives you great rolls on surfaces such as asphalt and wet paved roads.
One disadvantage of the MX24 model is that it is not built for long trips. It has a lightweight seat, and on long trips, this can make you uncomfortable. Unless you have a spare or budget for a replacement, this bike is best for short tours only.
Pros
Features lightweigh aluminum frame design
Gives bikers a responsive ride
Perfect for taller riders