Here Are the 9 Best Places to Buy Your *Next* BMX Bike [Plus Top Brands With Online Shop]
BMX bikes currently hold a spot in the field of most popular sports –all thanks to the growing number of riders who use them in freestyling, dirt biking, racing, and many more.
Bike motocross continues to be a significant interest among individuals who love more adventure-themed rides than a standard bike. And for this very reason, various places are now catering to provide you with the best BMX bikes at hand. Yet, the only problem is that there are too many places or shops to choose from.
To help ease your mind, we combined a list of the best places where you can buy your BMX bike. Keep on reading, and you'll also find the best brands with online shops worthy of your money and attention.
Top 9 Best Places to Shop Your BMX Bike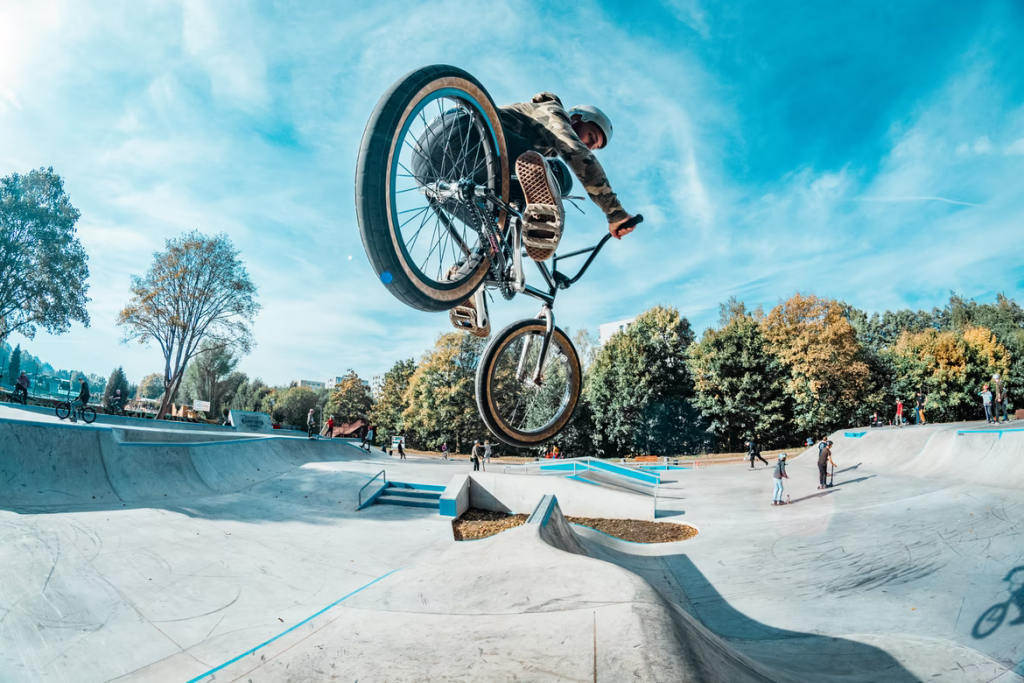 With the continuous demand for adventurous riding sport, several shops make all sorts *and brands* of BMX bikes accessible on their platform. Some of these well-recognized BMX bikes shops are:
Since 2003, SourceBMX has provided the most excellent BMX items at the best rates, as well as the advice and customer service that only a rider-owned business can offer. Because the SourceBMX is operated entirely by riders, you can always expect courteous and candid advice. Additionally, it has been the finest at what they do, winning the Queen's Award for Enterprise 2018 (For International Trade). It has also won several accolades, including Best BMX Retailer from Ride BMX and Vital BMX.
This store is dedicated to giving back to the BMX community by creating and providing facilities for riders, sponsoring dozens of events each year, and supporting many of the sport's top professionals and newcomers. You'll find an extensive range of items at reasonable rates. Besides, you'll enjoy SourceBMX's fast and outstanding customer service, as described by its devoted customers. It's also incredibly simple to place an order on their website. 
Customers praised SourceBMX's quick delivery (which arrived ahead of schedule) and safe packaging. Every order comes with a set of free stickers. The best part? If you spend more, you may get bigger presents like t-shirts, tubes, and toolkits!
The House has been supplying the greatest gear and BMX bikes to riders worldwide for 39 years. With this in mind, The House boasts its reliance on giving the best recommendations to customers and clients worldwide. As such, BMX experts have investigated and evaluated each product they sell online, and end-users have eventually approved it.
Customers who have previously acquired a new BMX bike from The House say that the process couldn't have gone any smoother. To top it off, you'll be pleased with their excellent service and prompt delivery. Moreover, you can shop BMX bikes via their brands or wheel size. For instance, they include DK, Eastern, Framed, GT Bicycles, Kink, Verde, and Wethepeople. 
You may place your purchase confidently, knowing that it will be delivered on time (or sooner) as promised. Overall, you'll be pleased with your shopping experience. Gift cards and certificates are also available!
Being able to discover a one-stop-shop saves you a lot of time and effort in looking for specific BMX components or accessories. Since 1986, Dan's Comp has provided the BMX community with BMX bikes, parts, apparel, and accessories. 
The store wants to service its customers better than anybody else and will continue to invest in cutting-edge technology, warehousing, assortment, and personnel to guarantee that every client receives the finest brands and the best experience.
In addition, Dan's Comp provides a plethora of BMX-related articles and videos for newbies and buyers to flick through. Loyal customers praise Dan's Comp for its excellent customer service and extensive product variety. The items in this online store are from well-known BMX companies. Their customer care representatives are educated and can provide tremendous support if you have any queries or issues about a BMX bike or its accessories.
Compared to other sites listed in this article, BMXMuseum isn't your ordinary shop. It's a platform intended for giving you massive information about BMX bikes, styles, stories stored within its extensive database. Aside from these, you can use BMXMuseum's platform to check user-to-user transactions, trades, and sales. With such a great platform, stopping by here before making your next BMX bike purchase would be worth it.
If you want to trade your BMX bike for another, you can do them as well on this platform. Finally, you may look through available sale items, list your own, or suggest a trade. BMXMuseum is also a site where BMX lovers can connect, talk, and get to know one another.
Amazon is an American multinational corporation that focuses on online commerce and is one of the Big Five businesses in the United States' information technology industry. You are most certainly already familiar with Amazon, having used it to purchase a variety of other items. But did you know they have a great assortment of BMX bikes as well?
Amazon has some fantastic BMX bikes, accessories, and bargains. Customers adore the platform because it allows them to complete transactions quickly and easily, especially when purchasing a bike. 
Additionally, Amazon gives you the most fantastic experience possible, from the cheapest pricing to the fastest shipping and return policies. Amazon's customer loyalty program, "Amazon Prime," is widely regarded as the greatest and most successful. Buying your BMX bike here is, therefore, a no-brainer. You may utilize a chat to talk with a customer representative while shopping online, as if a retail salesperson were right there with you, for more informal queries before making a purchase.
Albe's has been in the bicycle business for almost five decades, growing from a bit of a bicycle shop in Detroit to a world-renowned BMX outlet. In fact, this online BMX bike shop is one of the world's largest BMX bike stores. It includes top-notch and recognized BMX brands. BMX riders own and operate the business. 
They also have tons of great deals and clearance sales. You can shop BMX bikes by brands, wheel size, or style (includes freestyle, race bikes, dirt jumps, balance, and wheelie bikes). What's more, customers find Albe's order and delivery process with no issues. Your BMX bike comes properly delivered and packed. 
This online shop also has incredible customer service; just give them a call, and they'll answer your questions in an instant. BMX bikes are prone to be damaged on any surface. Nevertheless, Albe's is a wonderful spot to get your BMX bike if you want to ride at the skatepark, on the street, or on the dirt jumps.
For being a top dealer, Americancycle has earned several bike dealer honors. To win accolades, such as the 2011 Best Retailer Award and the Great Retailer Award 2014, requires years of hard work, outstanding bike repair abilities, and exceptional customer service.
In their shop, they have some really excellent discounts. You may also get whole BMX bikes, components, and extras shipped right to your door. The manufacturer pre-assembled 75 percent of the bikes.
Simply choose your BMX bike's wheel size, brand, frame size, color, and other features, and you'll be on your way to your ideal bike in no time. Americancycle boasts to the market that they only carry the best freestyle and racing BMX bikes brands like Chase, GT, Redline, DK, Fit, SE Racing, Odyssey, Kink, Sunday, Haro, and many more. You can also speak with a professional customer service representative if you have any questions in mind.
The Secret BMX Shop is the one-stop-shop online for branded bikes from big BMX producers for people who are particular about their rides. The Secret BMX Shop is recognized for its amazing discounts and unique items, in addition to being one of the world's most prominent bicycle merchants.
This shop has the most extensive selection. The site sells popular BMX bikes, which are further separated into subcategories to assist you in making a purchasing selection. The Secret BMX Shop also covers a wide selection of BMX brands, including anything from high-end names to more budget-friendly alternatives. 
The Secret BMX Shop's user-friendly navigational features make browsing for bikes at The Secret BMX Shop a breeze, from mountain bikes to cruisers to hybrids. Filtering and shopping are similar to what you'd find in a traditional retail store. Hence, the shop includes choices filtered by brand, price range, and best-selling, so you can quickly discover the BMX bike of your dreams. 
Nashbar is a long-standing online and brick-and-mortar shop founded in 1974. They stock bikes from most major popular brands, including BMX, road, kids' bikes, and many more. They also sell bike accessories, such as frames and forks. 
You can find excellent deals when shopping for your BMX bike at Nashbar. The user experience is surprisingly simple, making it easier to filter by brand, price range, color, or wheel size. The online store offers a selection of BMX bikes that may travel long distances in comfort. Each product includes technical information, like the frame material, fork, headset, stem, grips, and cranks (just to name some).
Moreover, customers appreciate Nashbar as a leading supplier for BMX bikes and parts and tires-all for great prices. Besides, you can also get great discounts when you join Nashbar's VIP rewards points program. 
Brand-Specific BMX Online Shops
Sunday Bikes has been operating since 2005 and is considered a good bike business that uses high-quality, cutting-edge, and one-of-a-kind materials. Even though most of their BMX bikes are expensive, they promise the most polished bike components you could possibly imagine on a bicycle. 
For instance, they install gussets and tubes that make the frames stronger and more pressure-resistant. Gary Young is among the professional BMX bike riders who exceptionally use Sunday BMX bikes when performing stunts and tricks.
Wethepeople is an excellent choice when looking for a great deal when it comes to BMX bikes. Wethepeople is known among BMX bike riders for three things: high-quality materials, a strong reputation, and expensive BMX bikes. It has been producing sophisticated and creative BMX bikes, frames, and materials for almost two decades.
Moreover, Wethepeople BMX bikes are generally categorized according to wheel size. These sets include 20-inch, 12- to 18-inch, and 22- to 27.5-inch wheel sizes. The online shop also sells bike frames and components. 
Wethepeople also caters to a variety of BMX riders, including experts, beginners, teens, and kids. This company includes a standard 12-month warranty against manufacturing defects on all complete bike frames, forks, and handlebars from the date of purchase, which you'll truly appreciate.
Haro was a driving force behind the mainstreaming of freestyle BMX. The online shop rapidly became known for creating and manufacturing cutting-edge BMX and freestyle bikes and accessories. For example, it produces a broad range of BMX freestyle bikes to let you do just that, ranging from high-end models to less expensive but equally capable machines.
Haro makes it simple with its bike purchase guide, guiding you through the process of determining what type of bike you require (freestyle, race, lineage, balance, legends, and cruisers). Appropriate seat width, frame material, handlebar height, gearing, and more are available at the shop. Haro makes a wide selection of BMX freestyle bikes to let you accomplish precisely that, from high-end models to more cheap but equally competent bicycles.
It's easy to understand why GT Bicycles has become one of the country's most famous cycling and gear stores. GT Bicycles is an economical alternative to traditional sports goods stores. It consistently receives excellent reviews for its exceptional customer care and quick shipment. Filter by price, color, and category to find your ideal BMX bike. As a result, this online bike shop has made buying a lot easier.
GT bicycles come with a one-year warranty against material and workmanship faults. Any products proven to be faulty within the usual scope of usage shall be repaired or replaced by GT with the same or most nearly equivalent model or component then available.