What BMX Size Should You Get for a 10-Year-Old Kid?
Does your 10-year-old kid want to level up his skills on BMX cycling, but you don't have any idea where and how to start? Not to mention, you'll also end up overwhelmed with the number of BMX bikes available in the market today.
In general, the BMX bike choice for a ten-year-old kid would be about an 18-inch or 20-inch wheel size (Mini, Junior, Expert, and Pro sizes). However, your kid's height and weight will also play considerable roles when buying them a BMX bike.
In this article, we'll help you provide the appropriate BMX bike size for your kid. We'll delve into the right wheel size, top-tube length, cranks, and tire size based on your kid's height and weight. And to narrow down your choices, we've also put a list of our top and recommended BMX bikes for ten-year-olds.
The BMX Bike Sizing Guide for Parents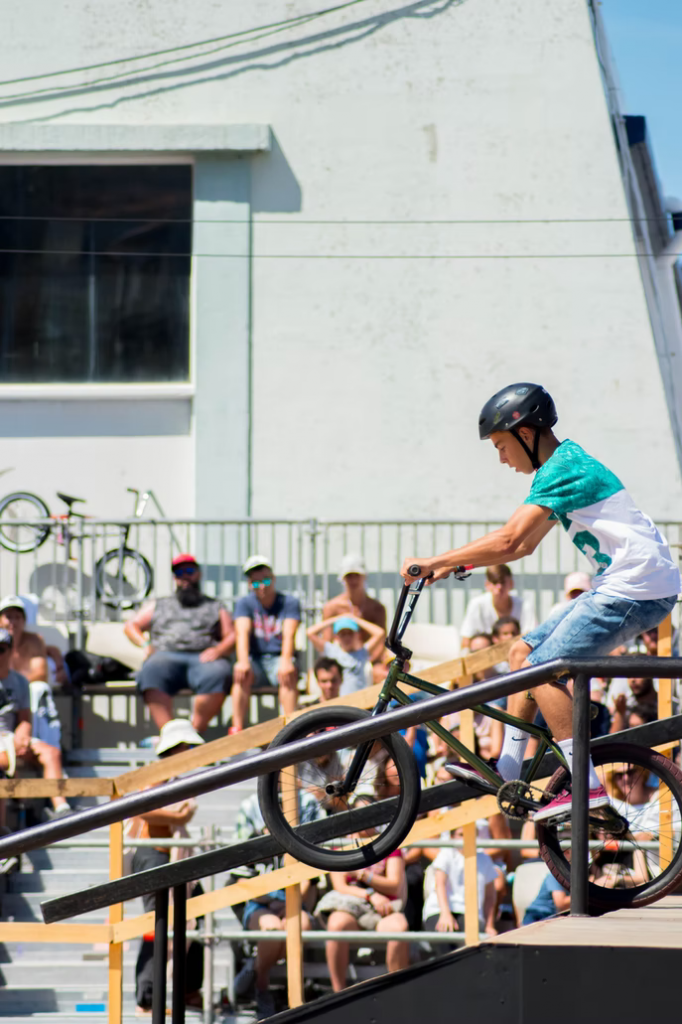 Different Sizes of BMX Bikes
Here's all you need to know about BMX bike names for different sizes" It's also a good idea to familiarize yourself with these names as part of your purchasing process later.
| | | |
| --- | --- | --- |
| BMX Bike Size Name | Frame Size | Wheel Size |
| Micro Mini | 15 to 16 in. | 16 in. |
| Mini | 16 to 17 in. | 18 in. |
| Junior | 17 to 18.5 in. | 20 in. |
| Expert | 18.5 to 19.5 in. | 20 in. |
| Pro | 20 to 20.5 in. | 20 in. |
| Pro XL | 20.7 to 21 in. | 22 in. |
| Pro XXL | 21.5 to 22 in. | 24 in. |
| Pro XXX | 22 in. | 24 in. |
| Cruiser | 24 in. | 24 in. |
BMX Bikes Sizes Based on Kid's Age
One of the critical considerations when buying your kid a BMX bike is their age. At this point, BMX bike manufacturers cater to kids and teens by creating frame length, cranks, tires that differ in size. Below is a table comparing the size name and general components accommodating kids' ages for a 20-inch BMX bike.
| | | |
| --- | --- | --- |
| Kid's Age | BMX Bike Size Name | General Components |
| 4 to 6 years old | Mini | Frame: low standover heightCranks: 155 mm.Tires: 20 x 1 ⅛ in. |
| 6 to 9 years old | Junior | Frame: larger than MiniCranks: 165 mm.Tires: 20 x 1 ⅜" in. |
| 9 to 13 years old | Expert | Frame: longer top than JuniorCranks: 170 mm.Tires: 20 x 1.5 to 1.75 in. |
| 12 years and above | Pro | Frame: full-size tubeCranks: 175 to 180 mm.Tires: 20 x 1.75 to 2.2 in. |
Appropriate Wheel Size Based on Kid's Age
Another way to determine the perfect BMX bike for your kid is to determine the appropriate wheel size for them. This is an important aspect, given that the BMX bike should fit your kid precisely.
| | | |
| --- | --- | --- |
| Kid's Age | Wheel Size (in cm.) | Wheel Size (in inches) |
| 3 and below | 70 to 90 | Balance Bike |
| 4 to 6 years old | 80 to 100 | 12 in. |
| 6 to 9 years old | 90 to 130 | 14 in. |
| 9 to 11 years old | 100 to 140 | 16 in. |
| 10 years and above | 130 to 150+ | 18 to 20 in. |
Appropriate Wheel Size Based on Kid's Height
You may want to consider your kid's height as well. It's one of the most crucial factors in buying your kid their very first BMX bike. Take note that a too small or too big BMX bike for your kid can cause them such discomfort, and nobody wants that! So, here's what you need to know on top of the other factors mentioned above.
| | | |
| --- | --- | --- |
| Kid's Height | BMX Bike Wheel Size | Top-Tube Length |
| 2 to 3 ft. | 12 in. | 11.8 to 13 in. |
| 2' 8" to 3' 4" | 14 in. | 12.8 to 15 in. |
| 3' to 3' 8" | 16 in. | 14.5 to 17 in. |
| 3 to 4' 6" | 18 in. | 17 to 18.5 in. |
| 4 to 5' 6" | 20 in. | 18 to 20.25 in. |
| 5 to 5' 8" | 20 in. | 20 to 20.25 in. |
| 5' 6" to 6' | 20 in. | 20 .25 to 21 in. |
| 6 ft. and above | 20 in. | 20.75 in. and above |
Appropriate Tube Length Based on Kid's Weight
Finally, you'll need to determine your kid's weight before buying them a BMX bike. After all, heavier riders would require a bigger wheel size compared to smaller riders.
| | | |
| --- | --- | --- |
| Kid's Weight | BMX Bike Name | Top-Tube Length |
| 70 lbs. | Mini | 18 in. |
| 90 lbs. | Mini and Junior | 18 to 18.5 in. |
| 110 lbs. | Junior | 18.5 in. |
| 130 lbs. | Junior and Expert | 18.5 to 19.5 in. |
Other Things to Consider When Buying Your Kid's BMX Bike
Aside from the lists we mentioned above, here are the other factors you'll need to keep in mind before buying your kid their BMX bike.
1. Determine Your Kid's Main Interest
A big question you'll need to know is the type of BMX bike your kid wants to ride. After all, BMX activities involve two categories: freestyle and racing.
The freestyle discipline primarily involves your kid performing flatland, dirt jumping, and street riding. Meanwhile, the racing category refers to more competitive cycling wherein there are tracks.
Flatland. As the name suggests, BMX riders do stunts and tricks on a flat surface. Thus, this doesn't require many parks or spaces intended for BMX bikes. Generally, flatland riders opt for light and short BMX bikes for ease of control and maneuver.
Dirt jumping. One of the most common competitions in the BMX discipline is dirt jumping, wherein riders take a couple of jumps in the air. In this case, bikers choose a BMX bike that can withstand the pressure upon landing, such as 20-inch tires with 36 spokes.
Street riding. Another way to enjoy a BMX bike is to ride it on the streets, similar to skaters. Kids with high adrenaline levels like skaters would be particularly interested in this discipline. As such, the chosen BMX bike should be robust enough to take impacts and abuse.
BMX racing. Finally, this type of activity shares the same component as motocross competitions. It involves short tracks, which means that a BMX bike needs to have a maximum speed set to win the competition.
2. Focus on the Important Components of a BMX Bike
Now that you've learned your kid's interest, it's time to check the essential components of a BMX bike. Such as: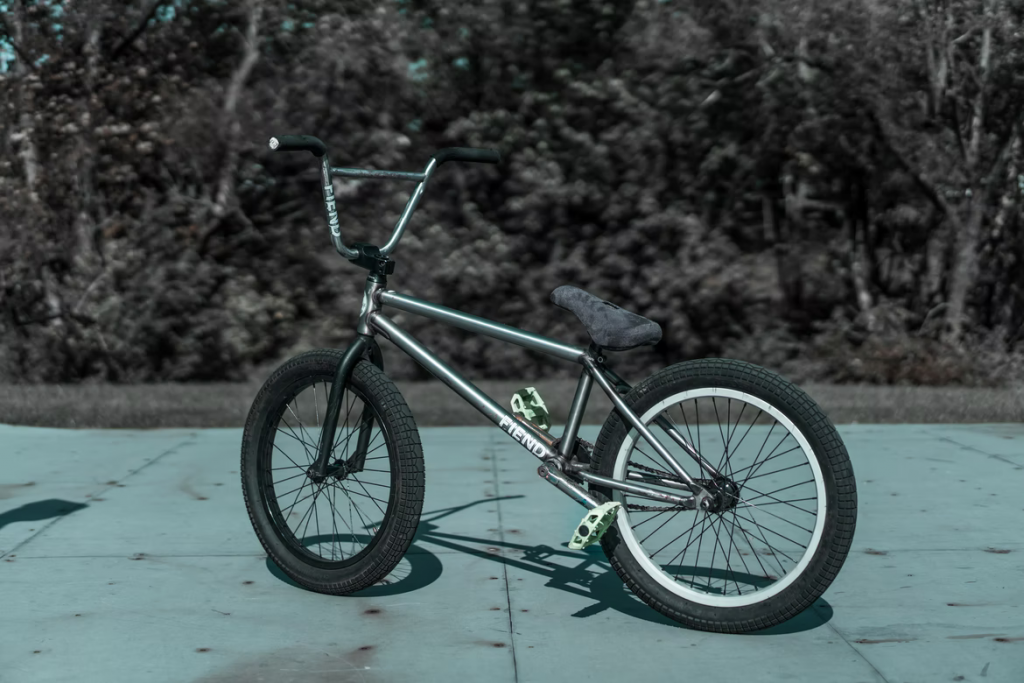 Frame material. BMX has a record for withstanding a lot of harm from varied riding styles. Moreover,  selecting a BMX bike with a strong frame material is essential. The materials utilized will have a considerable impact on the bike's endurance. Steel is by far the most cost-effective substance for the frame; however, aluminum is also an excellent choice for weight reduction.
Wheel and tire size. If your wheel size is incorrect, your kid's ride might be a total nightmare. On more challenging roads, we recommend choosing more aggressive tires with more excellent traction. A BMX bike with an 18-inch or 20-inch wheel is the most common choice for children.
Brake. On each bike, you'll discover a braking system. As a result, investing in an alloy U-brake system is recommended because it is more valuable than a cantilever system.
Weight. Lastly, the weight of a BMX bike should not be overlooked. The weight of your BMX bike determines how readily it can be hoisted and managed when performing air stunts.
3. Consider the Bike's Brand and Quality
True, high-priced bikes do not necessarily guarantee high-quality materials and components. But it does most of the time. The materials used to manufacture a BMX bike compensate for its shortcomings.
Hence, the greater the grade of materials utilized, the more expensive the BMX bike becomes. This also implies that you'll get top-notch performance from a bicycle that caters to the following vital BMX bike features: lightweight, sturdiness, and reactivity. World-recognized BMX manufacturers include the Sunday Bikes, Wethepeople, and Haro Bikes.
Top 5 Best BMX Bikes for 10-Year-Old Kids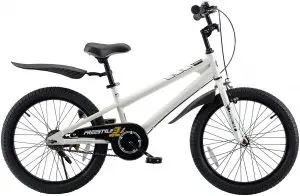 One of the highest-rated freestyle BMX bikes on Amazon is the RoyalBaby, catering to children and teens' cycling needs. Nevertheless, this RoyalBaby BMX bike comes in several colors. Your kid can choose blue, fuchsia, green, orange, pink, red, and white.
It comes in a 20-inch wheel-size bike, which means your kid can use it for street and road biking. Besides, customers praise how this BMX bike is easy to assemble, thanks to the tools and instructions included when purchasing this product.
RoyalBaby prioritizes your kid's safety with secure grips and hand brakes added with durable calipers and rear coaster brakes. Besides, the pneumatic tires are wide enough to provide your kid with a stable and solid ride. Finally, the chain is covered and protected against harsh elements. There are several wheel size options available, and the tires provide excellent traction.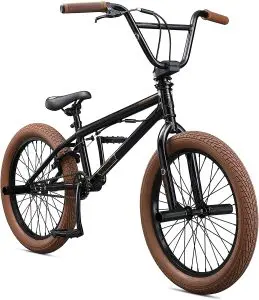 Mongoose is another kid-friendly bike manufacturer on the list. They bring fantastic BMX bike designs and sleek aesthetics that your kid would definitely love. Mongoose Legion L20 is a 20-inch BMX bike that kids can use for freestyle and trail disciplines. This is primarily a great product if your child is a newbie and wants to explore the world of BMX bikes.
Mongoose L20 features a hi-tensile steel frame, secure brake mounts, and a 20.25-inch top-tube length. Besides, it sports 170 mm. one-piece forged steel cranks, added with a 25T alloy chainring and an American loose ball bottom bracket.
You also don't have to worry about the BMX bike's precision speed control. This Mongoose BMX freestyle L20 is integrated with a threadless headset for an excellent steering performance. As per some customers, it only took them about 15 minutes to install the bike's components.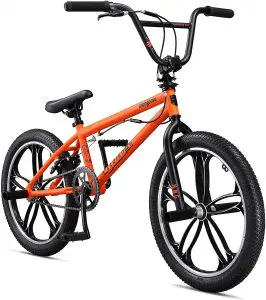 Another Mongoose-manufactured BMX bike is the Legion Mag model. Legion Mag encompasses a 20-inch wheel size best for freestyle and off-road disciplines like other bikes on the list. Your kid can choose from an array of colors available: green, orange, red, and silver.
The superior hi-tensile BMX frame and fork used have low-stance construction for a durable, precise ride, as well as alloy rear U-brakes for reliable stopping.
In addition, Legion Mag incorporates cast aluminum mag wheels with secured bearings that are sure to impress, and the wire detangler allows for 360-degree handlebar rotations. Finally, this product includes four freestyle Mongoose pegs.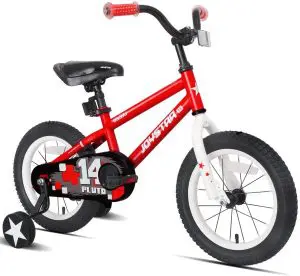 Suppose your kid's a little picky about colors. In that case, JOYSTAR Pluto offers several hue choices: blue, fuchsia, golden, black, blue, green, orange, pink, and red. Nevertheless, it features a rigid suspension type and lightweight components that are sure to kickstart your kid's journey toward BMX biking.
This 18-inch BMX bike includes a sturdy training wheel for the early rider and a fast-release seat to make height adjustment easier. What makes this fantastic is that it has a foot brake, which is ideal for children who lack the strength to operate the hand brake.
Nonetheless, the robust steel frame of the JOYSTAR Pluto is crafted of superior steel to withstand the shocks of learning. It also has a black tire and a single-speed, and the simplistic design needs little maintenance. This bike also features a unique serial number on the frame to track quality information. The strong bike frame can handle rocky and uneven terrains.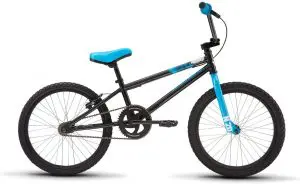 You wouldn't want to miss out on Diamondback Bicycles Youth Nitrus, featuring a 20-inch wheel size that's perfect for trail and off-road riding. The Nitrus has an appealing design and offers your kid outstanding performance in all areas of the bike.
With the linear-pull brake and coaster brake, it provides unparalleled safety and fun. You'll also get a comfortable seat and a controllable BMX bike.
As such, the bike's frame is made of high-tensile steel, providing your child with the necessary strength and reinforcement for off-road disciplines. Nonetheless, this model incorporates the necessary stability for fast and balanced cycling. The built-in mudguard that prevents any unnecessary splatters will also save you a lot of stained clothes.