How Much is A Beach Cruiser Bike?
Getting a beach cruiser bike is a good investment, especially for people who prefer to ride in comfort. Yes! Beach cruiser bikes are the most congenial type of bicycle regardless of whether they would be used to pedal on beach sand or paved roads or not. If you are searching for a laid-back recreational bike experience, this would be the best bike to put your money into. So the real question is, how much will it cost to buy a beach cruiser bike?
Depending on the level of customization done and accessories attached to the beach cruiser bike, a cruiser bike's average cost can range between 300 USD to 400 USD. But for starting bikers, a beach cruiser bike can be purchased on a budget of 200 USD to 300 USD. 
Types of Beach Cruiser Bikes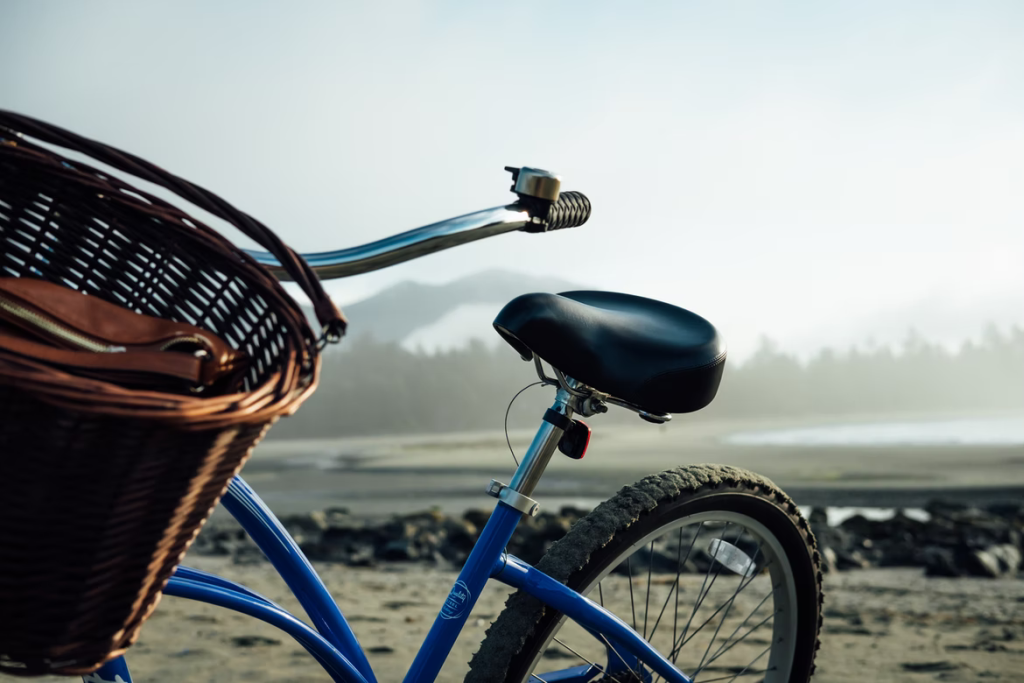 Beach cruiser bikes are built to provide easement, stability, and durability. That is correct! Even though its name is 'beach cruiser bike,' it is not mainly built for beach rides. Beach cruiser bikes are made for providing leisure rides in parks, within the neighborhood, and many other terrains. It is not generally created for racing since it is heavier than a standard bicycle and wider tire design.
This type of bike may already be specific enough, but more classifications are under beach cruiser bikes. Some of them are classical beach cruiser bikes, commuter cruiser bikes, and electric-assisted cruiser bikes. 
1. Classic Beach Cruiser
A Classic Beach cruiser bike is the most common type of cruiser bike. This type of beach cruiser bike is ideal for beginners. It has a more straightforward set of components than the other types of beach cruiser bikes. Also, it has the easiest maintenance practice.
The standard build for a classic beach cruiser bike is with a single-speed drivetrain and a coaster brake. A single-speed drivetrain refers to simple gear and chains used in a bike. This classic beach cruiser bike component makes it worthwhile when commuting within the city, regardless of the weather. The coaster brake is a braking system where a biker has to pedal backward to trigger it. This is why it is also called backpedal brake.
In maintaining this type of beach cruiser bike, all you have to do is make sure that the tires have the proper amount of pressure. The recommended pressure for most classic beach cruiser bikes is 35-65 psi. Another simple way to maintain the classic beach cruiser bike's health is by lubricating the chains regularly. Since this bike has coaster brakes, it provides safer rides when the chains are greased.
2. Commuter Cruiser
From its name, Commuter Cruiser bikes are ideal for around-the-town rides. Bikers choose this type of bike because of its excellent mobility while providing comfort and convenience. Most bikers using this type of bike attach a basket in front of the handlebars. Since it is commonly used for commuting, an attachment basket helps carry packages. 
The commuter cruiser bike usually comes with three to seven-speed drivetrains. Multiple-speed drivetrains help bikers be comfortable pedaling. Although it is more complicated than a single-speed drivetrain, multiple drivetrains help in good gear shifts.
Another difference that a commuter cruiser bike has is rear caliper brakes. Caliper brake is a cable-actuated brake system attached near the bike's rim. This is also the reason why it is seldom called rim brake. Unlike the backpedal brake, the caliper brake operates with a grip trigger attached to the handlebar. This type of braking system provides good stopping power.
Commuter cruiser bikes also have fenders. These are attached accessories near the bike tires to protect the biker and the bike from rain, wet roads, and mud. This is why fenders are also called mudguards. This bike accessory ranges from 10 USD to 30 USD.
3. Electric-Assisted Cruisers
The electric-assisted cruiser bike is a recent innovation. Electrical components are added to a regular bicycle for a more effortless riding experience. Some of the electric components integrated are the motor, battery, and controller.
This type of cruiser bike still has pedal and handle components like any other bike. The only difference is that the pedal power is augmented due to the electric components attached to the bike.
Choosing the correct components for an electric-assisted cruiser can be tricky. There are a variety of electrical components a biker can choose, such as the power rating of the bike's motor. Motors with 200W to 1000W can be used on eclectic-assisted cruiser bikes. But the standard legal limit is 750W. 
The higher the power rating, the more weight the bike can handle. This also means that the bike can provide greater ease to the biker. The only disadvantage of having a higher power rating is increased battery use. So, suppose a biker prefers a higher power rating. In that case, you must invest in a battery with greater capacity. 
In choosing the battery, the factors to be considered are the weight, battery material, and battery lifespan. Some of the battery types used in electric-assisted cruiser bikes are sealed lead-acid (SLA) and lithium. 
SLA is considered the standard battery type for most electric-operated bikes because of its low price. The downside of using SLA is that it is heavier than other batteries, has a shorter lifespan, and requires immediate recharging after being drained for maintenance purposes. 
Lithium batteries are the latest in the market. This battery technology has two to three times longer lifespan than SLA. It also has lighter weight and is maintenance-free. The only disadvantage is that it costs a lot more than SLA batteries. Lithium batteries can range from 1500 USD to 3000 USD. 
The controller is another electric component integrated on an electric-assisted cruiser bike. This component allows the biker to start and stop the assistance and operate the bike faster or slower. There are two types of controllers used in bikes: pedal-activated controllers and throttle-based controllers.
A pedal-activated controller, also called pedelec, is a control system that activates when a biker presses down on the pedals. The controller is mounted on the bike's handlebar and lets the biker change the level of assistance received as the biker pedals. This controller has a display system showing the level of assistance it gives to the rider.
Throttle-based controllers use a mechanism that triggers only when the biker interacts with the throttle. This can either be a twist-grip type throttle or a thumb-press type throttle. Once the throttle receives the command, the electric assistance starts, and the biker can ride without pedaling. Unlike the pedal-activated controllers, this type of controller does not have any assistance level. It is simply on or off.
Best for Beginners Beach Cruiser Bikes ($200-$300)
When investing in a beach cruiser bike, it is not advised to purchase a high-end bike immediately, especially for beginners. Consider a reasonable budget for the bike with which you can have a whole experience. This will help determine whether it is fair to invest further in a more complex beach cruiser bike or stop at what is at hand. 
A beach cruiser bike for around 200 USD to 300 USD is reasonable for beginners. Below are some of the beach cruiser bikes under this price range.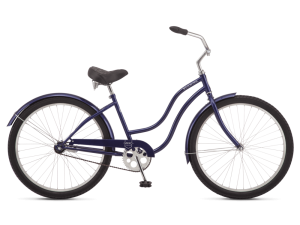 The Schwinn Mikko Cruiser Bike costs 299.99 USD. It has a dual-spring saddle, coaster brake, aluminum alloy rims and frame, and seven-speed drivetrain. This specific cruiser bike is ideal for hill terrains. It is also ideal for bikers that have a taste for retro. The cruiser bike comes in a variety of colors such as navy, lavender, turquoise, and red.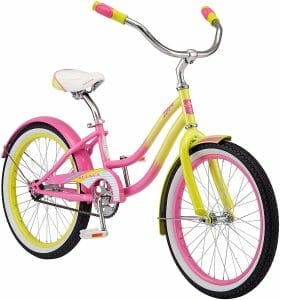 The Kulana Lakona Cruiser Bike is a flexible bike suitable for young and adult bikers. It costs 250 USD. This cruiser bike brand is made with a durable steel frame. It has rear coaster brakes, a single-speed drivetrain, and an extra-large spring seat. With its steel frame, this bike can withstand rocky terrains, bangs, and falls.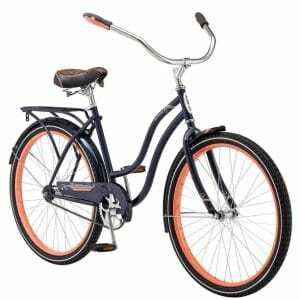 The Schwinn Baywood Cruiser Bike is the ideal cruiser bike for any beginner. It costs 273.75 USD. This bike has a step-through cruiser frame which allows easy rider mounts and dismounts. The other features of this bike are its single-speed drivetrain, rear coaster brake, and padded cruiser saddle. The bike is available in blue and navy blue color variants.
Best-Value Beach Cruiser Bikes ($300-$1000)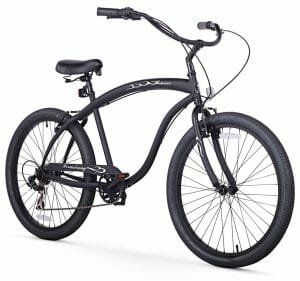 The Firmstrong Bruiser Prestige 7 Speed Men's 26″ Beach Cruiser Bike comprises a 19-inch bike frame. It is available in single, three, and seven-speed drivetrains. This particular bike has front and rear brakes and offers smooth shifts. It costs 420.00 USD and comes in matte black.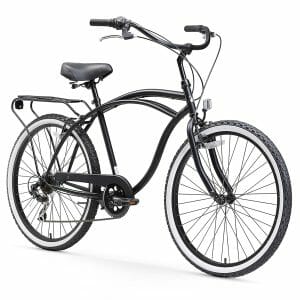 The Sixthreezero Around The Block Men's Beach Cruiser Bike can have a 15-inch or 19-inch bike frame and can be used with a 24" or 26" wheel size. It is available in single, three, seven, and twenty-one-speed drivetrains. This bike also has front and rear hand brakes. It costs 329.99 USD and can be purchased in matte black or matte grey color.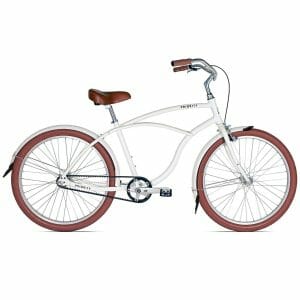 The Priority Coast Cruiser Bike features a Shimano Nexus three-speed drivetrain. The bike has a front hand brake, a coaster rear brake, and a double kickstand. It also has fenders on the rear and front wheels to protect the rider and the bike. This particular bike is ultra-light, rustproof, and sturdy due to its stainless steel spokes. It also has an aluminum frame and forks. It costs 599.00 USD.
Best Splurge Beach Cruiser Bikes ($1000 and Above)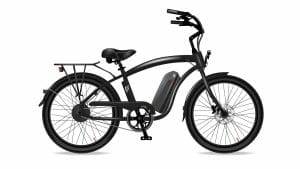 The Model X is an electric-assisted cruiser bike that can run up to 28 mph and go as far as 160 miles. It has a battery power of 1500 W and weighs around 300 lbs. This particular bike is built to give the biker an easy riding and maneuvering experience. It can be handled by riders of different heights as well. The cost of this bike is 1949.00 USD.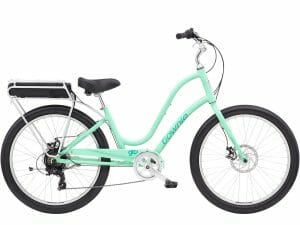 The Electra Townie Go! 7D is another electric-assisted cruiser bike built for the biker's comfort and ease of handling. It has 3 different assist levels for varying terrains. This bike can run up to 20 mph and go 50 miles. It costs 1599.00 USD and comes with mint mojito, zinfandel, cream, and icy blue variants.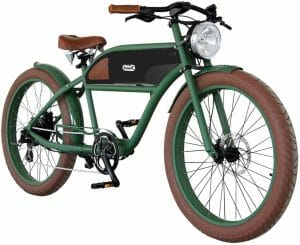 The Michael Blast Greaser is a vintage-style, electric-assisted cruiser bike. It costs 3999.99 USD and has a customizable frame, tank, accent, and tire color. This bike can run up to 21.75 mph and go as far as 30 miles. It has a seven-speed drivetrain and disc brake. The Michael Blast Greaser has a pedal-assist, making riding easy, especially in urban areas.
Where to Buy Cruiser Bikes?
After knowing the types of beach cruiser bikes, their respective specialties, and their average price, the next thing to ask is where to buy one.
One option is through online purchasing. This provides convenience but can also be quite expensive due to the delivery fee. Delivery fee may vary depending on the store's location and the parcel's weight to be shipped. 
In-store or walk-in purchase is an option as well. This will help in securing the item's status before purchasing. It will also allow the biker to check the bike's comfort before finally taking it home. The only downside of walk-in purchasing is that time must be allotted, especially if the store is quite distant from the biker's location. 
Before buying, it is advised to check on different stores prior. This will help get the best deal and price for the particular bike desired.