How Much Is a Brompton Folding Bike? (Choosing the Right Bike for You)
A Brompton folding bike's price depends on its category (Classic Range, B75, Superlight, and Electric) and the customization involved. 
Generally, Brompton B75 costs less than $999, which is the cheapest and most affordable Brompton folding bike in the market. Meanwhile, Brompton Classic Range ranges between $1399 and $2099, Brompton Superlight ranges between $2799 and $2999, and the Brompton Electric folding bikes start at $2799 up to $3299.
What Makes Brompton so Special?
Brompton's excellent workmanship, reputation, and engineering make its folding bikes more special. Besides, Brompton uses innovation and technology to give customers a worthy ride experience for their money.
Andrew Ritchie established and invented Brompton in London in 1975, making it the United Kingdom's largest bike manufacturer. In 2011, Ritchie opened his first Brompton Junction in Kobe, Japan, and the rest is history.
Moreover, Brompton is recognized worldwide for its fast folding system, letting you fold and unfold the bike in approximately 20 seconds. What's more, it offers the most flexible, hassle-free, and secure folding mechanism that a folding bike can have. 
Another interesting fact is that Brompton allows you to build and customize your own folding bike the way you please with your preferred specifications. Without a doubt, Brompton provides a fantastic riding experience and reliable folding mechanism to cyclists.
Finally, Brompton's folding bikes don't have any weak points that could outweigh its premium-class features and benefits to customers in the market. Here's additional information on why customers deem Brompton an industry-leading bike manufacturer:
Built on years of experience. The Brompton brand has been building bicycles in London since 1975. With decades-long experience, Brompton is undoubtedly up to something, providing customers excellently made workmanship piece by piece.
Company culture. Perhaps Brompton employees take quality engineering seriously, giving each client the perfect and smooth riding experience.
Customization. One of the impressive tactics that Brompton implements is allowing customers to personalize their very own folding bike according to their needs. This strategy ensures all customers are satisfied with their made-to-measure folding bikes.
Premium-quality construction. Brompton folding bikes are made with sturdy and durable materials that passed their strenuous stress assessments. For this matter, Brompton folding bikes will surely last a long time.
Which is the Right Brompton Folding Bike for You?
Brompton dedicates its time and effort to put more value on customers' satisfaction. With the customization process, you'll have thousands of possible combinations. You can work to build the frame up from the handlebar, gearing system, components, lighting, and aesthetics (for Brompton Classic Range and Superlight).
| | |
| --- | --- |
| Components | Options |
| Color | Black, House Red, Cloud Blue, Tempest Blue, Racing Green, Black Lacquer, and Signal Orange |
| Handlebar  | S Type (low), M Type (neutral), and H Type (high) |
| Gear System | 2-speed, 3-speed, and 6-speed |
| Version | E Version, L Version, and R Version |
| Saddle Height | Standard, Extended, and Telescopic |
Further, they made several range options available for your next journey, which are as follows:
1. Brompton Classic Range ($1399 to $2099)
The Brompton Classic Range is considered the globe's "most iconic folding bike," which involves classic city bikes reengineered through customers' suggestions and feedback.
2. Brompton B75 (less than $999)
Brompton made sure to connect with newbies to seasoned cyclists, launching its most affordable and cheapest folding bike Brompton B75 in early 2019.
Nonetheless, B75 has been made to a price to make a Brompton folding bike more accessible to cyclists globally. Yet, it only comes with one color, which is Water Blue.
Standard Brompton folding bikes and the B75 encompass subtle differences. For instance, the B75 contains a classic and shorter M Type handlebar, same solid steel frame, 3-speed gear system, no mudguards, replaceable saddle, extended seat post, and reflectors (only) for the lighting.
3. Brompton Superlight ($2799 to $2999)
Another category of Brompton folding bikes is the Superlight, featuring the lightest folding bike with a weight of 1.6 pounds.
Moreover, it includes pretty much the same components and options that the Classic Range offers. But the Superlight model's classic steel mainframe fuses with a titanium rear frame that gives you excellent portability.
4. Brompton Electric ($2799 to $3299) 
Brompton promises genuine, fast, and reliable folding bikes powered by a rechargeable battery. Brompton boasts its in-house designed technology that would still give you a comfortable riding experience. It also features an intelligent pedal assist for a securer and more stable push, especially when climbing uphills.
Brompton Electric folding bikes can be personalized as well, but with limitations. For the handlebar type, you can only choose between H Type or M Type. You can also go either a 2-speed or 6-speed gear, depending on your choice. Meanwhile, three colors are available for Brompton Electric folding bikes: Gloss Black, Gloss Turkish Green, and Bolt Lacquer.
Are Brompton Folding Bikes Fast?
Brompton folding bikes aren't as fast as road bicycles but aren't the slowest bike either. Moreover, a folding bike's wheel size influences how fast or slow your ride could be.
Since Brompton incorporates a 16-inch tire tread diameter, expect it to have less momentum than road bicycles. In addition, your pedaling matters in determining your cycling speed. Furthermore, it's best to use this folding bike for commuting or leisure traveling, not for setting records or racing.
Is a Brompton Folding Bike Worth Your Money?
A Brompton folding bike is worth buying due to its durable quality, tensile strength, and excellent craftsmanship despite its jaw-dropping price tag. Yet, it's important to note that Brompton folding bikes aren't a substitute for full-sized bicycles or for sporty riding.
Brompton folding bikes have been in the market since 1975 and are known for their impressive bike craftsmanship in London. 
Buying one is generally worth your buck. Brompton's folding bikes are re-engineered to give the best flexibility, convenience, and comfortable riding experience for your leisure touring.
How Can You Tell if a Brompton Folding Bike Is Real?
Checking the serial number and frame number is the ultimate way to determine if your Brompton folding bike is authentic or not.
For customers who bought a Brompton folding bike before 2016, the serial and frame number can be located on a silver sticker containing a barcode. Meanwhile, folding bikes manufactured in 2016 onwards have a unique identity located on the identification plate on the seat tube.
Nonetheless, Brompton advises customers to register their bike's unique identification number to keep the information safe and receive an extended frame warranty for up to 7 years.
Should I Buy an Old/Used Brompton Folding Bike?
Bargaining a second-hand Brompton folding bike from an online marketplace or local shop would give you many good deals. Still, several things are worth checking before buying it.
There's no doubt that technology today made it possible for everyone to post and sell their things online, having someone purchase the item for an affordable price. Yet, you need to ask the right questions when buying a used Brompton folding bike, such as:
How old is the bicycle?
Do you have the original receipt of the bike?
When's the last time it was serviced or upgraded if any?
Are there components or accessories replaced?
In addition to these questions, you may need to check several components of the Brompton folding bike. Check first for the joint between the rear and mainframe; it should be smooth and free-turning. Second, assess the frame and hinges if there are significant damages.
You may also want to try the seat post by riding it for a minute and check if it slipped down too much. If that's the case, the seat post should be replaced (additional cost for you).
And finally, check the Brompton frame's unique identification number. It is crucial to find whether the used Brompton folding bike is authentic or not, or it might be a stolen one.
Best Places to Buy Brompton Bikes
Finding authentic Brompton bikes would generally be a nerve-wracking experience, considering they're expensive. While the conventional way to buy a real Brompton folding bike would be visiting its physical store, you can turn to online dealers, such as:
Brompton's official website. There's nothing better than creating your order on Brompton's official website. Here, you can customize your folding bike or book a test ride to experience the benefits personally.
Online-selling platforms. Customers are now more familiar with Amazon and eBay as online shopping platforms as these sites contain every item needed.
Marketplace. If you're on a tight budget, an online marketplace would be another option. You can buy used or second-hand Brompton folding bikes at an affordable price.
Brompton dealers. There are over 1,450 official Brompton dealers worldwide. Each dealer is awarded one of the three levels of accreditation.
Most Popular Brompton Folding Bikes Today
With its decades-long history, it's no wonder customers continue to buy Brompton folding bikes.
Nonetheless, here are the most popular Brompton folding bikes that cyclists find the best: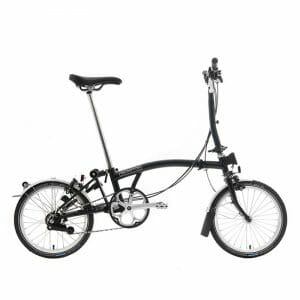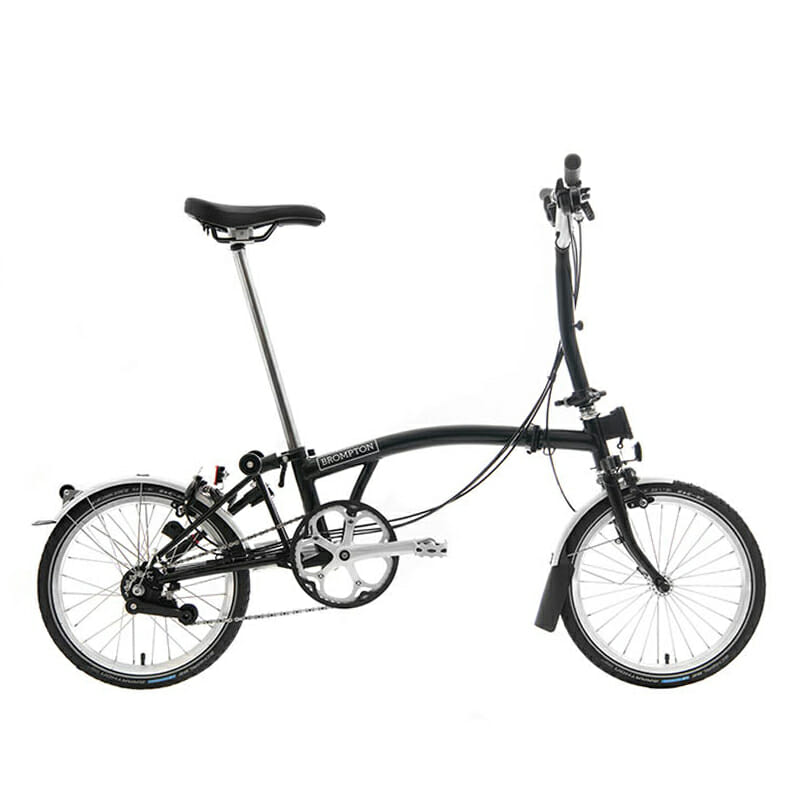 The Superlight is the most popular Brompton folding bike category for most cyclists. Besides, it features an M Type of handlebar that gives you a neutral riding position. This type lets short riders find a comfy position. In contrast, tall riders will find themselves in a slightly sporty riding position.
Aside from the handlebar, this model comes with 6-speed gear, providing enough support for long-distance rides and demanding terrains. Yet, expect to have a heavier bike construction since it weighs 1.9 lbs.
As for the version, you'll get an L Type that includes mudguards. Overall, cyclists find this convenient and portable to use, considering its weight of 26.19 lbs.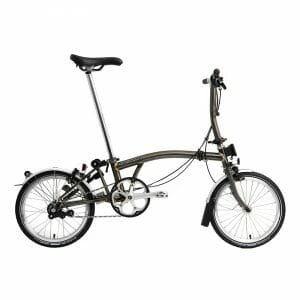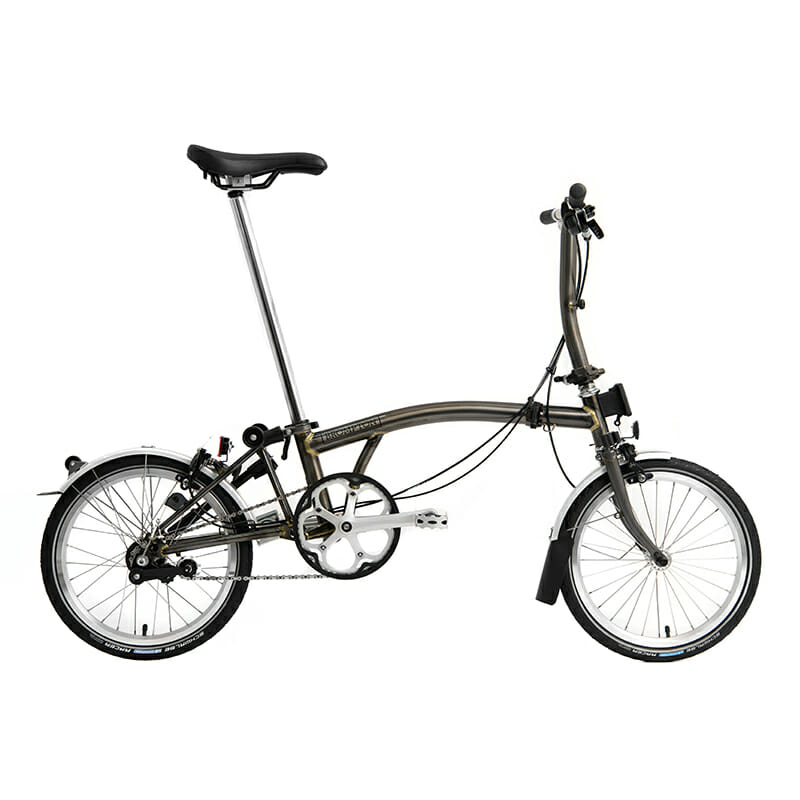 Another Superlight model that cyclists are impressed with the most is the Brompton S6L. As the model name implies, it encompasses an S Type handlebar. With this handlebar type, short riders would have a good feeling about their riding experience. Meanwhile, tall cyclists will have a lower ride position, bringing them an athletic look.
Likewise, it also incorporates a 6-speed gear technology and an L Version. It only has reflectors as the light source, and the tires are made with Schwalbe Marathon Racer.
Superlight S6L is a little heavier than the M6L model, weighing at 26.76 lbs.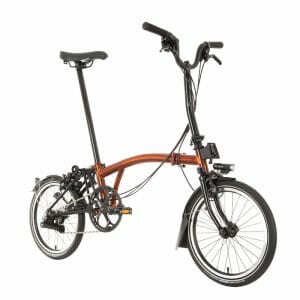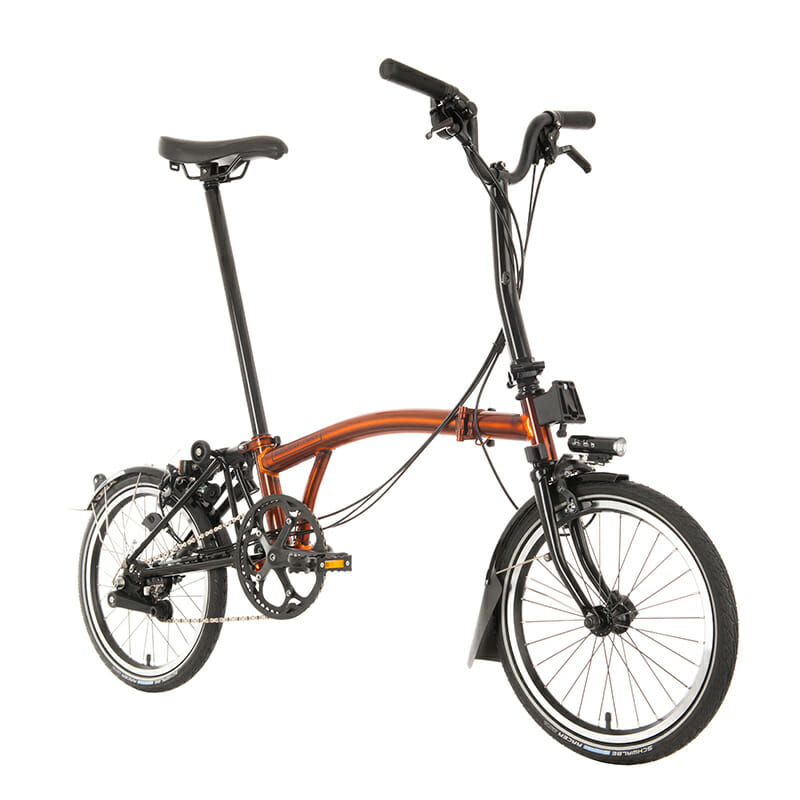 It seems cyclists are fond of Brompton's M6L model, whether in the Classic Range or Superlight category.
This Classic Range Brompton M6L model offers the same speed gear, version, and handlebar type as the Superlight M6L model. Yet, the main difference is that the Classic Range features a battery lighting kit: removable USB rechargeable Cateye Volt 400 front light and rear battery lamp.
Moreover, the Brompton Black Edition weighs approximately 26.98 pounds.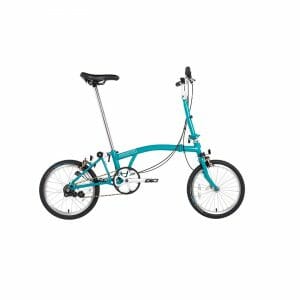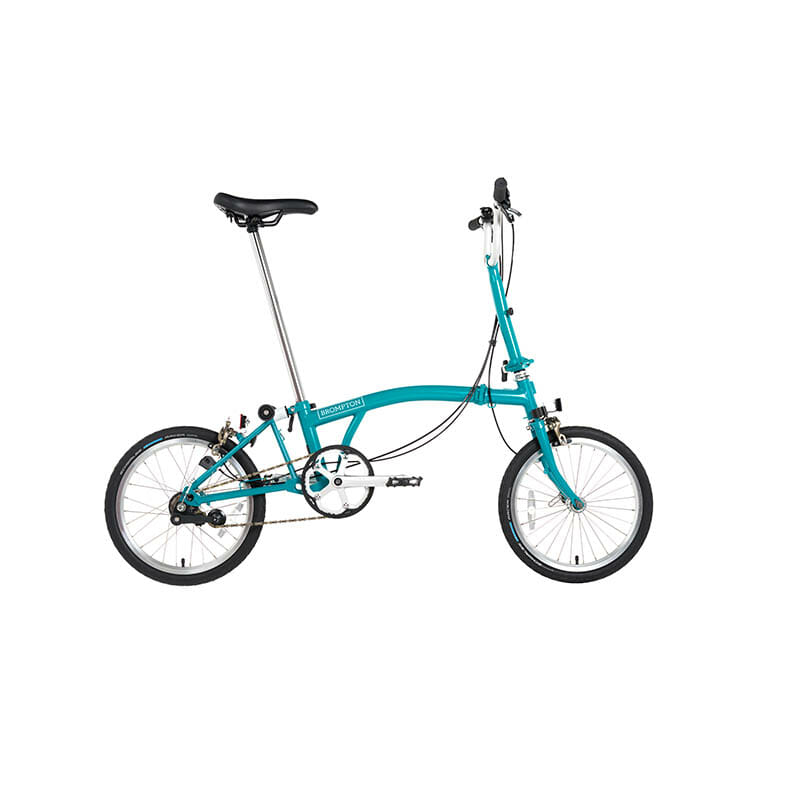 And finally, the robust Brompton B75 made it to the list of the most popular Brompton folding bikes today. It currently serves as an entry-level folding bike. Still, it gives newbies and cyclists a great chance to discover Brompton's excellent features.
Unlike other models mentioned in the list, the Brompton B75 is cheaper because the manufacturer limits the customization price. In fact, the model comes with one available color and has no mudguards.
Despite the lackings, Brompton's introduction of this model is a game-changer, reaching different cyclists and riders in mind.
Why Are There No Brompton Bikes?
Brompton currently faces issues with accessories and component delay due to problems at the United Kingdom ports—the reason why the manufacturer is challenged to keep the production moving.
Nonetheless, several articles reported that the pandemic influenced Brompton sales positively, increasing its market sales by five times. This is because people seek excellent public transport to commute their way to work.