How to Make Your BMX Bike Lighter? 8 Easy Ways to Do It!
If you've stumbled upon this article, you're probably already at a point in your BMX bike riding where you think of ways to elevate certain facets of your skill development further. Among the critical aspects of honing your craft as a biker is making your bike much lighter to gain better control and pull off the tricks and stunts you've practiced making a perfect result.
Achieving a lighter BMX bike would depend on which parts you often consider essential to your performance and which parts should be removed or replaced for a lighter version. From that point, you should analyze and assess your own bike from its strengths and weaknesses to move forward.
Another significant aspect you should consider is determining how much money you'll be willing to invest for your riding growth and progression. This article teaches you some crucial tips to help your BMX weigh much less.
1. Take Away the Unnecessary Parts
Once you have assessed which parts of your BMX bike are not for practical use in your everyday ride and performance, then you should act upon it and take those things off. For instance, the following parts and materials could be those that you should take a closer look at:
Reflectors: If you bought your bike with a complete package with some reflectors or lights but only ride during the daytime, you should consider throwing it away for good. You'll get some weight off your BMX bike while making it look neater. 
Pegs: If you have four pegs attached to your bike, consider keeping only 2. Pegs provide a lot of excess weight to your bike. Probably, your bike came with all four pegs, and you are not using them. Consider removing them and putting them in storage instead.
Seat: Some BMX riders may not even be using it. You should take it off and leave it in your storage area. That way, you're about to shed some weight on your bike.
Gyro: With all prior points taken, consider removing your gyro if you don't use it, as it will save all the weight from your BMX bike.
Kickstand: If your bike arrived with this item, you could simply get rid of it. While it could sometimes be helpful, you can still get through your usual ways without it. 
Chain guard: Sure, you must be cautious in rides a little more, but taking it off would give you a lot of space for your BMX bike's weight issue.
Brakes: You should try discarding the front ones if you're not using them that much.
2. Cut Off Some Parts
You might be surprised with this one, but cutting off some parts of your BMX is common for experienced bikers. Its primary intent is to eliminate unnecessary steel chunks to eliminate some weight concerns. You could use a metal saw to perform this procedure. 
Here are some parts of your BMX bike that you could break off using a saw:
Handlebar: Some bars could prove to be too broad. Hence, you could try cutting some of that length for your convenience. Just ensure that you'll measure the length you want to take off from one side to another to have an equal size from both ends of the bar. 
If you're not too confident about performing this process, you may try to do it little by little because once you trim a portion, there's no turning back. Once you've successfully cut it, get some sandpaper to polish the edges and prevent the grips from tearing off. You could also cut off the crossbar if you want.
Seat post: Most often than not, you'll be using your BMX bike seat on a very low level. Hence, you could save some weight by cutting a significant portion of your seat post. While it is optimal to obey the 'min' or 'minimum' mark on your post, you could try to get off 3 or 4 inches from the clamp's hidden part if you don't see that indication.
Hub axles: Getting rid of this one basically depends if you use pegs or not. You could try to cut down a massive chunk of your axles if you observed that they plug away a lot.
Steerer tube: This one's optional as you could only attempt getting rid of it after cutting your handlebars. Try to look at your steerer tube after trimming some parts of your bars and see if you could cut out an inch of this part.
3. Look for Lighter Replacements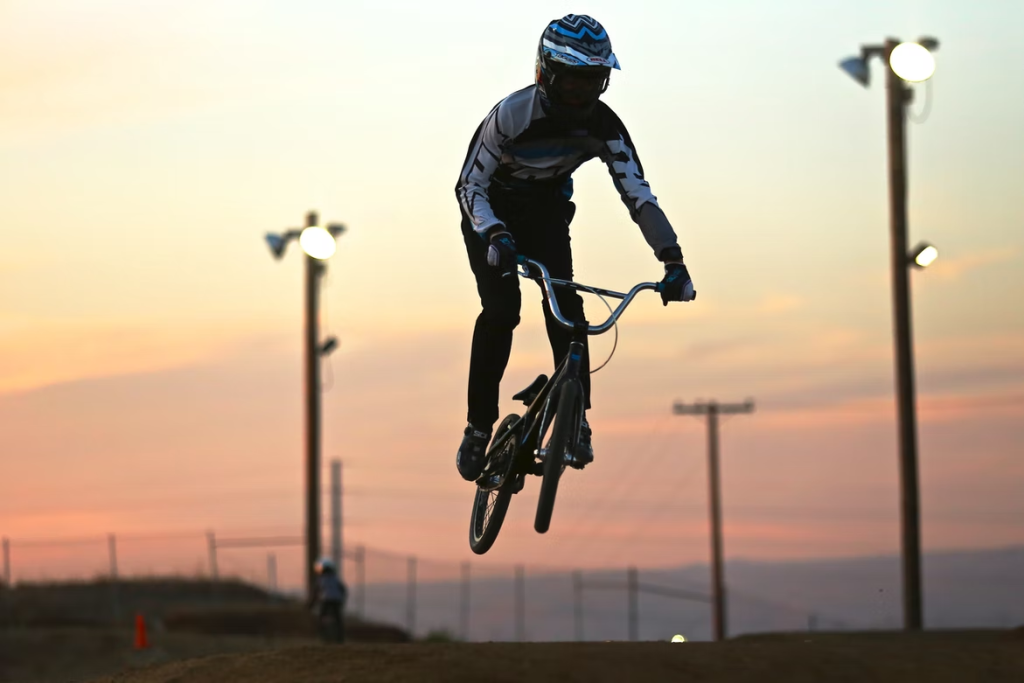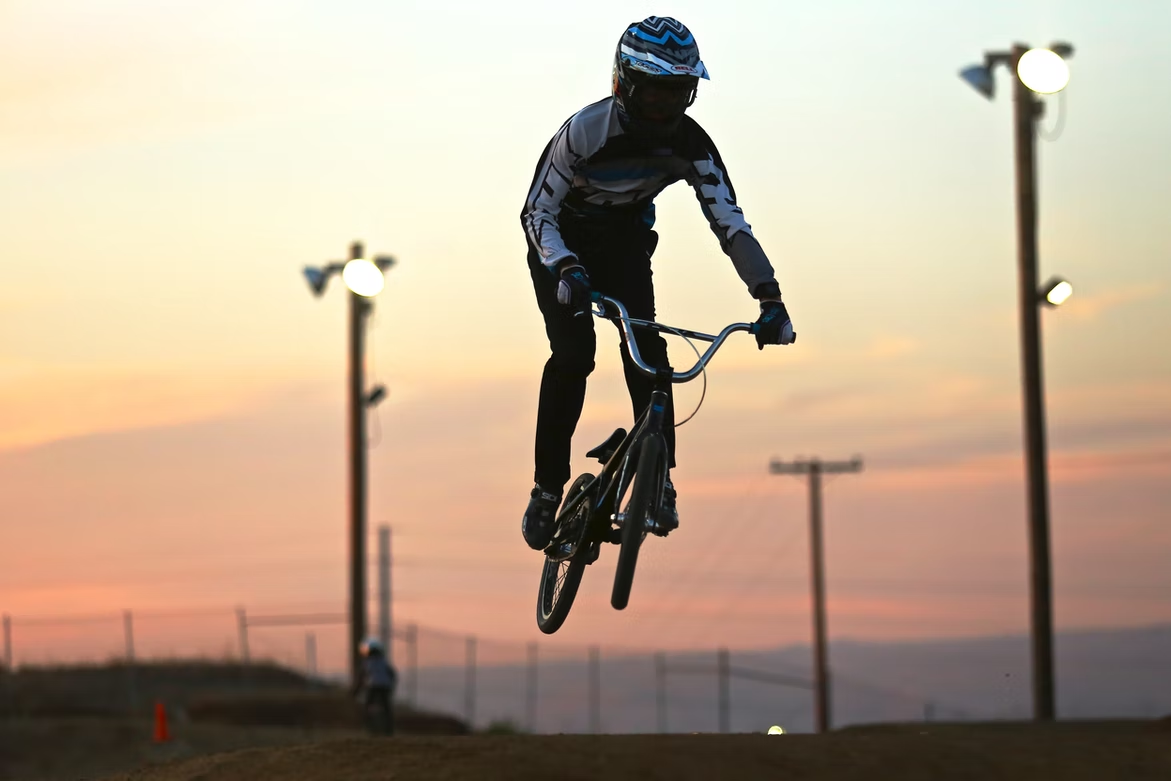 Beware, as this part could require you to shell out some bucks. If you're determined to buy new parts for improvement, prioritize upgrading your new replacements to new, lighter materials.
Pegs: If you still have pegs in your BMX bike's arsenal, you should compare the ones with you to those available in the market. They offer pegs in various materials, including plastic, aluminum, titanium, Chromoly, etc. Plastic is apparently the lightest, but you should also consider its durability and longevity as you take your bike under the pressure of landing and impact through tricks and stunts.
Sprocket: This one would be a practical choice if you're not into racing. You may downsize your sprocket to change your bike's weight significantly. For a freewheel hub, you should have a 36-13 gearing. For a cassette hub, try to look for a 25-9, 28-10, or 30-11 gearing. Replacing your sprocket with a new, lighter one would significantly impact your quest for an unbothered light ride.
Seat: Obtaining a lighter seat post combo to replace your current one in use will take off some unnecessary weight on your BMX bike. Find a one-piece seat combo for a lighter feel while having easy access to adjust your seat angle.
Stems: While it seems like a small piece and may appear light from the eye test, a stem's internals contributes a lot to your bike's weight. If your items are not hollowed, you should opt for a hollowed version.
Wheels: Perhaps replacing your wheels could spell the most significant difference in reducing your BMX bike's weight. Try to buy a fresher set of wheels to make your bike lighter. When you opt to replace your wheels, you could also attempt to lessen the number of spokes.
4. Drill Some Holes
Similar to the above concept, it would be up to you to decide whether to go for this process or simply go with the norm. Sure, drilling some holes in your bike would alter its authentic feel and its overall outlook, but it's an instant way to take off the excess weight. 
While it may add to your bike's appearance as a strainer, you'll still like how it makes your ride light as you use it. In fact, you could transform your bike to make it more artistic by adding some cool designs full of holes.
Beware when you handle the drill, as you'll go through curved surfaces. Also, remember that the more holes your bike has, the lesser its durability. With that, it is crucial to note that not all parts of your bike can be drilled. Stated below are some of the BMX bike parts that you could put a hole on:
Frame
Rims
Handlebar
Forks
Cranks
Hub shell
5. Choose Kevlar Bead Tires
Also known as foldable tires, this item is made from light materials that aren't seen on the traditional steel bead tires. This would perfectly embody an ideal weight concept for your BMX bike. Since tires are the farthest part of your rotating weight, it would totally spell a big difference in the overall feel of your ride.
6. Look for Thinner or Smaller Tubes
Old school and traditional bikers used to opt for a heavy-duty and thorn-resistant tube. However, gone are the days when many would prefer to have heavier bikes as they perform on specified tracks. You could opt for thinner and leaner rubber tubes, which considerably weigh less if you go for 18-inch tubes. In turn, lighter tubes would eventually expand, enough to fill your wheels and help you reduce some grams of rotating weight.
7. Observe the Little Things and Details
Believe it or not, small pieces of metal from your bike contribute considerably to its weight. The bolts, nuts, spacers, and washers are just some pieces you could replace with a much lighter element in the form of aluminum, carbon fiber, or titanium. Moreover, you could simply find a smaller or lighter version as a replacement.
8. Go Paint-Free
Lastly, paint and a clear coat add extra weight to your frame. If you're keen on minimizing your bike's weight, toning down to a simple and nitty-gritty way would be an optimal way to achieve it.
While it may seem surprising, everything adds to your bike's weight, including the kind of paint you'll apply. You could opt for a raw carbon version instead of a painted one, as it would ultimately bring your bike on a lighter scale. Sure, it won't be a massive reduction, to say the least, but saving up to 100-200 grams to your frame's weight would still help.