Top 10 Best BMX Bike Tires Today
Your BMX bike tires run through different kinds of abuse, which results in wear and tear over time. It takes a substantial amount of beating and treatment compared to other types of bikes. Thus, it requires a delicate and advanced consideration when you choose tires for your BMX bike.
A BMX bike should possess the needed grip to provide maximum performance in doing different stunts and tricks without the risk of slippage. However, note that the tires should not be buttoned like other road bikes, as it would lessen the smoothness in maneuvering turns and twists vital for good BMX riding.
The complex issues surrounding the qualities and features to look for in BMX bicycle tires make them difficult to spot in the market. In this article, learn the essential qualities you should consider before buying tires for your BMX and explore the best available products today.
Characteristics of BMX Bike Tires
Quite often, you'll go through terrains with bumps using a BMX bike. That's why your tires must have the needed dynamics of speed and balance for a better riding experience. To achieve the desired efficiency and security, your tires should be lightweight to acquire speed quickly and maintain stability.
Nowadays, the topnotch quality BMX bike tires are models with a considerably smooth yet solid tread with knobs on both sides for an improved grip when you corner. A significant upside of a treaded rubber on the side is its ability to provide consistent safety support when you corner and its excellent stability while performing.
A BMX bike can be versatile as it is usable indoors, outdoors, and on dedicated tracks. When you run through the latter, expect your tires to thrive due to the stability and smoothness of the surface, which also means they wouldn't endure too much stress or damage. When using outdoors, it would be challenging for BMX tires to excel. Hence, you need to opt for thicker tires with a better resistance on terrains.
Essential Aspects to Consider Before Buying a New BMX Bike Tire
Grip: Clearly, the most critical feature to look for in your new BMX street tires is the grip. An excellent performing grip prevents your tires from slipping, which may put you in dangerous circumstances. If you are an avid BMX performer on custom tracks, you should check out tires with good grip ratings. Moreover, tiny rubber spikes and patterns help your tire grip perform well.
Low riding resistance: A good BMX bike riding provides low resistance. Ideally, it is normal to experience riding resistance when you use any kind of bike. However, you could have the option of choosing a great tire that can reduce it to a crawl. Opt for BMX tires that are guaranteed low riding resistance as it ensures you'll have smooth riding and improve your overall performance.
Good pressure rating: You may find some tires claiming to have good pressure ratings, upwards of 65psi. But beware, as it is proven that not all of those products will live up to that description. Having tires with a high-pressure rating is a significant contributor to improving your BMX bike's durability and longevity. Moreover, they are more likely to hold out against high pressure and enhance your tire's robustness.
Rims: Having a top-notch quality rim says a lot for your BMX bike tires. Great rims are reliable during tough stretches of your rides. From its appearance up to the standard conditions it provides, rims are significant to a better riding experience. It provides the structural soundness of your bike and the rubber tires attached to it.
Material: Always check on the tire's rubber quality as it indicates your bike's ability to absorb bumps and shocks.
Top 10 BMX Bike Tires: Ranked and Reviewed
1. Maxxis Grifter BMX Tire – Best Overall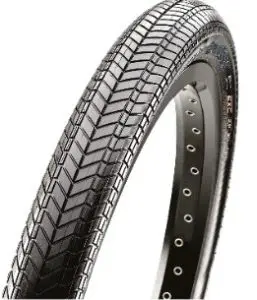 The Maxxis Grifters could be a great choice if you're looking for simple, lightweight, and excellent-performing tires for your BMX bike. 
These lightweight BMX street tires come with foldable beads, enabling you to pull off unique tricks easily. Additionally, these tires give sufficient traction to absorb great impact without sacrificing the excellent aerial display since it does not add much weight.
This Maxxis tire model is one of the best freestyle of its kind available in the market. It also has a double compound technology that lets you roll much quicker on the streets and provides max grip for longer rides. With these slick tires, you'll surely love the faster and more comfortable pace it'll provide for you.
Pros
Fast-rolling tread pattern

High volume casing

Lightweight

Available in urban and BMX assault options
Cons
Flat issues may arise over time
2. MAXXIS – Hookworm BMX Wire Bead Clincher Tire – Most Cost-efficient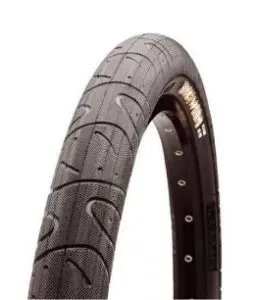 Maxxis Hookworm clincher tire provides a curved, seamless polished appearance that brings a great minimalistic vibe, perfect for people who love simplicity. They offer an all-black theme that looks aesthetically pleasing and elegant on your rides.
This tire's pattern and design suits BMX bikers who love to keep a low profile riding. It has a relatively high pressure at around 65psi. They also offer a rim to rim tread protection on the sidewalls to enable an unbending performance and cornering ability, which is crucial in riding a BMX bike.
Furthermore, its outdoor grip is also excellent due to its stable and robust features. This Maxxis tire model is such a great steal for its price.
Pros
Guaranteed durability and traction 

Long lifespan

Versatile tires
Cons
Could be too big for 26-inch frames

Unreliable for commutes
3. Kenda K-Rad Standard BMX/Mountain/Commuting Bike Tire – Best in Style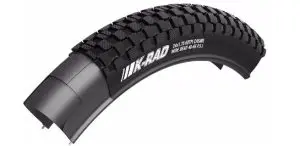 The Kenda K-Rad bike tire brings incredible qualities to your BMX bike. First, their tires come in a relaxed and radiant black color theme with a touch of a blue complexion to add to their classic and elegant looks.
It has a slim design paired with an inverted tread pattern and knobby tread surface to give a very simplistic vibe to your rides. It could also provide a quick role without having to compromise its traction.
But there's more. 
With this tire model by Kenda, you can ultimately have the best grip on the road and the capacity to get through sharp corners quickly. The tires contain a wide bead of SRC compound and a slick K-905 tread pattern. 
Overall, the tire is perfect for its durability, ability to endure long rides, and low rolling resistance.
Pros
Unique checkerboard-shaped knob design

Knurled tread surface

Improved traction and control
4. Sunday Odyssey Street Sweeper Tire – Best in Pressure Limit

The Sunday Odyssey Street Sweeper BMX tire has a 2.4 inches wide size suitable for almost 20 inches rims. This tire has been lightly threaded, meaning you'll gain sufficient traction for safe rides on the road and pull off incredible stunts on the tracks. 
What's even more remarkable is the fact that the tire features a maximum pressure limit of 100psi. The tires are strong, durable, and thick enough to protect your rims against wear and tear over repeated use on the road and tracks.
This tire model from Sunday Odyssey is manufactured to fit easily on different rims. In addition, the elegant and slick design and mold of the tire are also a plus to getting the perfect BMX bike you desire.
Pros
Incredibly tacky tread

Grippy

Excellent traction

High maximum pressure
Cons
Longevity issues could arise
5. SUNLITE Freestyle BMX Kontact Tires – Most Versatile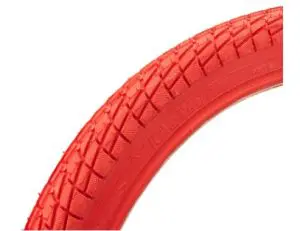 If you're looking for BMX street tires with unique internal and external features, the SUNLITE Kontact tires are worth considering. It has a funky and colorful display combined with superb gripping ability.
These SUNLITE tires offer a wide range of color schemes from red, blue, and black, and they also have color combinations to provide in their arsenal with the likes of black/blue and white/black. Indeed, you'll feel a personalized experience when you go with these BMX bike tires.
 Its pressure capacity ranges from 40 up to 65psi. The Kontact tires have such an excellent grip on the road while also having the qualities of robustness and longevity. Overall, it would give you a fantastic and groovy way of performing.
Pros
Extremely tacky tread

Suitable for parks/streets

Wide selection of colors
6. Goodyear Folding Bead BMX Bike Tire – Most Convenient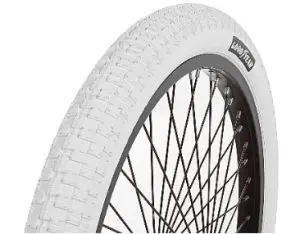 In terms of reputable and proven high-quality BMX tires, this product offered by Goodyear brings you a tremendous 18-inch tire that has topnotch features and premium grips on the road. It offers an all-black color theme which gives an elegant, classy, and simplistic look.
A folding bead is also installed in the tire to give your rides the needed convenience and flexibility. Furthermore, the on-road grip is also smooth and highly efficient, with the tire able to cut sharp corners without presenting complex issues along the way.
When riding, this folding bead BMX tire goes smoothly and is quiet on the road. Additionally, its metallic rims improve robustness and longevity for a long and cozy riding experience.
Pros
Fits a variety of rims

Excellent grips

Smooth performance

Simple yet elegant
7. Diamondback L-Train Freestyle BMX 20 Inch x 1.95 Inch Wire Blackwall – Great Versatility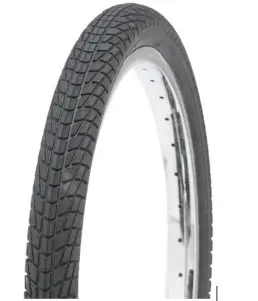 Diamondback offers a 24-inch BMX bike tire with a classic comp 3 tread design with L-Train Wire Blackwall. Its color scheme isn't similar to those previously mentioned items as this one only offers a simple black tire. However, the minimalist approach on this tire makes it look extra elegant and has an effortless vibe on your riding.
This model gives a maximum pressure capacity of 65psi, which means it could endure high pressures without sacrificing its quality down the road. It has such an unparalleled grip due to its classic comp 3 treads.
Moreover, the L-Train Wire Blackwall tire has a hexagonal grip pattern to enable low resistance and high traction for a smoother and sustainable riding experience. This is an excellent tire considering its price point.
Pros
Versatile in rides

Great for various track surfaces

Excellent PSI pressure

Grippy
Cons
Tire attachment could easily get loose

A bit flimsy
8. SE Bikes Cub Wire Bead Two Bike Tire – Most Unique

Are you looking for a street tire that could catch everyone's attention as you perform on tracks? This BMX bike tire made by SE surely delivers a conventional performance from the design up to the important aspects of tires.
It has the pattern and design of a vintage SE bike. In addition, these tires are highly durable, robust, and have a long life. It is engineered to thrive under all kinds of pressure in terrains. They are highly suitable for ripping the streets and showcasing your deep bag of tricks to your peers and fellow BMX bike enthusiasts.
It is a catch considering its very affordable price, so you could never go wrong with SE's BMX bike tires.
Pros
Unique and vintage styling

Long lifespan

Versatile on all kinds of terrain
Cons
Unreliable for long commutes
9. Cult X Vans Tire – Most Classic and Iconic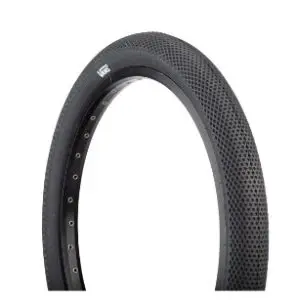 The ever iconic waffle patterns on this BMX street tire are manufactured to give you a secure and safe grip on all surfaces. 
The hexagonal-shaped design in the middle part enables quicker rolling while securing your braking system. This BMX tire item by Cult X Vans is specified to excel on BMX bikes and performance race tracks. 
Moreover, the side patterns and stylish features are specially made to cater to the overwhelming bumps and shocks from performing BMX-specific stunts and tricks.
Pros
Iconic Vans waffle pattern

High maximum pressure

Extremely grippy, especially on hard pavement
Cons
Could be easily punctured
10. SE Bikes Speedster Beast Mode – Good Grips

If you're trying to find a BMX bike tire that will perfectly suit your style and provide an unmatched level of grip, this product from SE Speedster is worth a closer look. 
These tires are a megahit for performing stunts and tricks, especially on specific tracks. You can rely on the SE Speedster's excellent quality performance with your BMX, first jumps, and acrobatic finishes. 
Moreover, this tire model contains an MPC long-life compound to make your BMX bike tire versatile and functional on various terrains.
These tires are suitable for indoor and outdoor riding.
Pros
Suited for BMX racing and dirt jumps

Beast Mode logo on sidewalls

Excellent grips