Top 8 Best BMX Bikes Under $200: Ranked and Reviewed
Entering the world of BMX bike sport does not necessarily have to be expensive. Anyone can start on entry-level bikes just to experience the surface of the sport. From there, they can improve their bikes and skills further.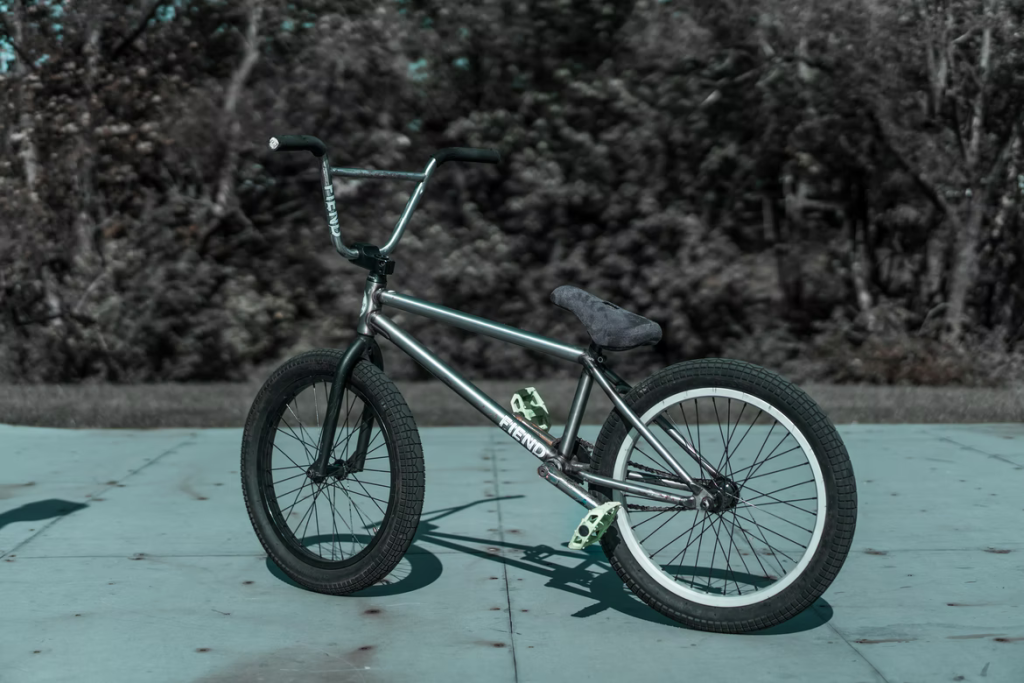 In getting a good glimpse of BMX biking while staying on a tight budget, it is essential to do thorough research on what kind of bike fits you the best. A great tip for beginners in BMX bike riding is starting with an entry-level bike around under $200. Why? Several great beginner bikes are budget-friendly that let you do the job. 
Below are some of the BMX bikes under the $200 budget you may consider.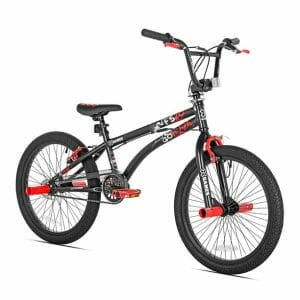 X-Games FS20 Freestyle is a BMX bike model from Kent Bicycles. Kent Bicycles caters to different groups but primarily creates bike models suited for kids. The X-Games FS20 Freestyle is an excellent example of a kid's BMX bike. Aside from being affordable, this freestyle BMX bike is also created to be safe for beginners.
X-Games FS20 Freestyle BMX bike has a custom-freestyle welded steel frame and fork. This frame build impacts the bike's pricing the most since steel is cheap but durable. Additionally, steel frames can absorb more impacts and endure more damage than other counterparts. In fact, most beginner-friendly bikes are made with steel frames.
Since the X-Games FS20 Freestyle BMX bike is a custom-freestyle model, it comes with a front and rear alloy hand brake. This brake mechanism is best for youngsters starting with BMX as a sport. Front and rear alloy hand brakes are cable-enabled and allow more control over the stop-and-go motion of the biker while maneuvering the BMX bike.
Although the X-Games FS20 Freestyle BMX bike has a great safety feature for young BMX bike enthusiasts, it can be pretty heavy compared to other entry-level BMX bikes. It also has two variations, for boys and for girls. Although of the same model, this variation gives a price difference.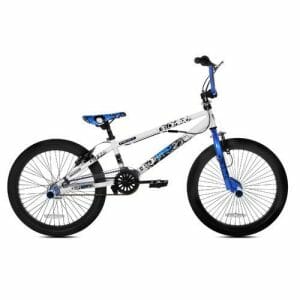 Another candidate from Kent Bicycles is the Kent International Boy's 20″ Kent Pro BMX Bike or the Kent Pro 20 Boy's Freestyle BMX Bike. Although tagged as a BMX bike, it is considered a cruiser-type bike making it hybrid. This BMX bike model suits young enthusiasts between seven to twelve years. Also, it is not just built for bumpy roads but also on the streets.
The Kent Pro 20 Boy's Freestyle BMX Bike comprises a high-quality tig-welded steel frame and fork, making it stable and durable for young bikers. Aside from its strength, one of the selling points of this bike model is that it is made from 100% non-toxic materials.
This is a tremendous promotional description for the BMX bike, mainly because it is marketed for young individuals. Additionally, this bike model comes with reflectors, a chain guard, an ergonomic saddle and hand grips, and a padded handlebar. Lastly, the bike model has an adjustable seat for a more straightforward seat height modification.
One of the few downsides of this model based on user reviews is that it is only suitable for kids, as it is built for kids. BMX bike models can cater to both young and adults, but not this BMX bike model. Another is that since the bike requires its parts to be assembled, it has the tendency to lose its parts, especially if not maintained well.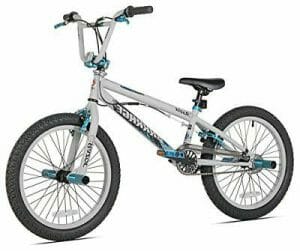 Third on the list is a BMX bike model from Razor, the Razor Barrage 20″ Boys Bike, or the Razor Barrage BMX/Freestyle Bike. It is another freestyle BMX bike with a heavy-duty frame and double-wall alloy rims.
This means it is built for stunts and absorbing impact from BMX bike tricks. This Razor bike model is similar to BMX bikes that professionals use during competitions based on user reviews.
The Razor Barrage BMX/Freestyle Bike has a 360-degree brake rotor. This is a metal disc attached to each bike's wheel hubs and runs between brake pads on the bike frame. This feature allows the biker to turn the handlebars of the BMX bike in a complete 360 degrees rotation without tangling up the brake cables. The bike's unique brake technology allows greater control for the BMX biker and better execution of BMX bike tricks.
Finally, this bike model does not have a lot of color options, which is considered a disadvantage compared to other BMX bike models. Also, the Razor Barrage BMX/Freestyle Bike uses standard wheels for beginners.
From the Diamondback Bicycles is the Grind 20" BMX Bike. It is advertised as an affordable, entry-level freestyle bike for kids interested in learning freestyle skills in the BMX bike world. This particular model fits young enthusiasts who tend to push a bike's durability to its limits with its high-tensile steel frame. It can handle rough rides and tumbles with its anodized aluminum rims.
The Diamondback Bicycles Grind 20" BMX Bike has a single-speed drivetrain which is mechanically simpler and lighter than other multi-geared drivetrains. This BMX bike model is light enough to be handled by kids but strong enough for intermediate BMX bikers as well. It also has a rock-solid steel crank component.
This BMX bike model has a rear-mounted U-break, which is considered a disadvantage since it has no front brakes, unlike the other BMX bike models previously mentioned. However, what's good about this brake technology is that it gives the BMX bike rider more control over the pressure of the brake pads.
It also allows the biker to freely maneuver its speed and stops. It also has a front brake line detangler that aligns its brake lines during bar spins. The other selling point of the Diamondback Bicycles Grind 20" BMX Bike is its rotating hub. The rotating hub allows the handlebar to spin for tricks without raveling its brake cables. This is an uncommon feature for affordable entry-level BMX bikes.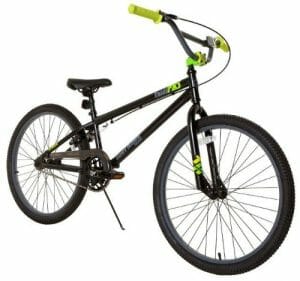 The Dynacraft Park Series 720 Boys BMX Freestyle Bike is a candidate from the Tony Hawk brand. It was first available in October of 2013 and weighs approximately 14 kg. This bike model is another freestyle BMX bike and caters to beginner and intermediate BMX bike riders. Additionally, some bike enthusiasts consider this model a hybrid of BMX and cruiser-type bikes.
The Tony Hawk Dynacraft Park Series 720 Boys BMX Freestyle Bike is composed of a strong metal frame, Promax alloy rear U-brake (which allows better control and balance for the rider), alloy threadless handlebar stem, alloy clamp seat (which is adjustable), and alloy rims. Just the components alone, this BMX bike shows a lot of durability and controllability for the biker.
One of the downsides of this bike model is its weight. It requires a generous amount of power to perform complex tricks because of its durable but heavy components. Aside from that, if a BMX biker is aiming for a fantastic layout, this isn't the best bike model as it does not have a variety of color schemes.
Although its base paint job is already stunning on its own. Some buyers also noticed that the bike model's saddle was a bit hard and stiff compared to other BMX bike models. Lastly, the see-through chain guard included in the BMX bike model isn't beneficial and is often removed by the buyers.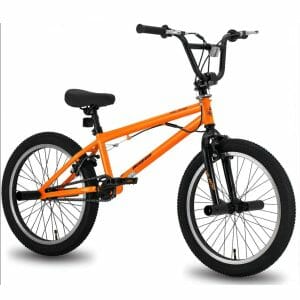 Advertised with its affordable price and excellent safety features, Hiland Redeem HIFR039 BMX Freestyle Bike is another ideal BMX bike model for beginners. This BMX bike model is ideal for individuals 4'4'' and above height.
The Hiland Redeem HIFR039 BMX Freestyle Bike is made with a Hi-Tensile steel frame, an excellent material for sturdy bike builds. This allows the bike to endure more pressure from rugged terrains and roads. The bike model uses a 25x9T gearing system which allows smooth rides.
It also comes with a broad seat which is a comfort feature. Aside from that, the BMX bike model has double U-brakes for safety upgrades. This brake mechanism has both front and rear brakes, unlike most U-brakes. With the separate front and rear brake option, the BMX bike rider can modulate the bike's stopping power depending on the riding conditions.
For BMX bikers who love to seek thrill, the brakes of this bike can be eradicated. Lastly, the bike model has a 360-degree rotor that enables the bikers to turn the handlebar completely.
The only con part of the Hiland Redeem HIFR039 BMX Freestyle Bike is that it is not suitable for short people.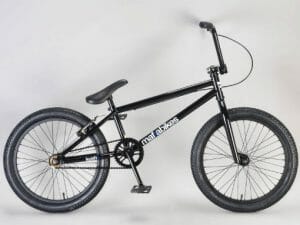 The Kush1 Black BMX Bike from the Mafiabike brand is an entry-level BMX bike built mainly for adult BMX bikers. It is ideal to be used on the streets and skate parks for obstacles.
This particular bike model has a TT precision Hi-Tensile steel frame which is said to last longer than most steel frames. It has a one-piece heat-treated forged crank, 36T and 16T gearing system (advantageous during peddling), an integrated seat clamp, and 3-inch fat tires.
The geometric build of the Kush 1 Black BMX bike is praised for its user-friendly impact, saving BMX bikers from chronic back pain from long and rough rides. Another good thing about this bike model is an upgrade-available bike. This allows the BMX biker to keep the main build and adjust the other components based on the biker's comfort and stunt needs.
The standard negative review of this bike model is its plastic pedals, which are not visually appealing for some. The pedals can also be off-putting because it has a weaker material that quickly wears down. The bike model cannot give the BMX bike rider enough explosive power to create pro stunts. Lastly, the bike tends to be heavier than other BMX bike models.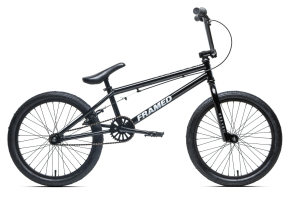 The Framed Impact XL BMX Bike model is built by the Framed brand to cater to almost all BMX bike enthusiast groups. In fact, it is considered one of the most excellent deals when it comes to entry-level BMX bikes.
The bike model comprises a Hi-Ten steel frame and fork, framed alloy front load stem, lever and clamp, controlled alloy rear U-brakes, and single wall anodized alloy rims. One of the bike model's promotional points is its Neco Headset.
The Neco Headset is an integrated headset system that does not use cups. The bearings of this system sit directly into the frame's headtube, helping it save weight and decrease the number of parts. It also comes with Velo Mushroom Grips, which hold incredibly with the stainless steel handlebars of the bike.
The Framed Impact XL BMX Bike has a 9T paired to 36T gearing system, which is partially larger than other gearing systems but is more suitable for a broader range of riding styles. Additionally, it provides more responsiveness from the bike. The BMX bike's seat is naturally tilted to allow more comfortable riding and cruising, especially to more prominent bikers.
Most BMX enthusiasts do not favor the unsealed bearings of the Framed Impact XL BMX Bike. Seal on bearings helps protect the bike's bearing from road debris and weather. It also helps the bearing spin cleaner with lesser friction for a more extended period. Having an unsealed bearing will cause higher maintenance for the bike. Aside from that, the bike model does not have front brakes.